A Visit to the Tomaquag Museum in Exeter
This award-winning museum illuminates the culture and history of the Narragansett people.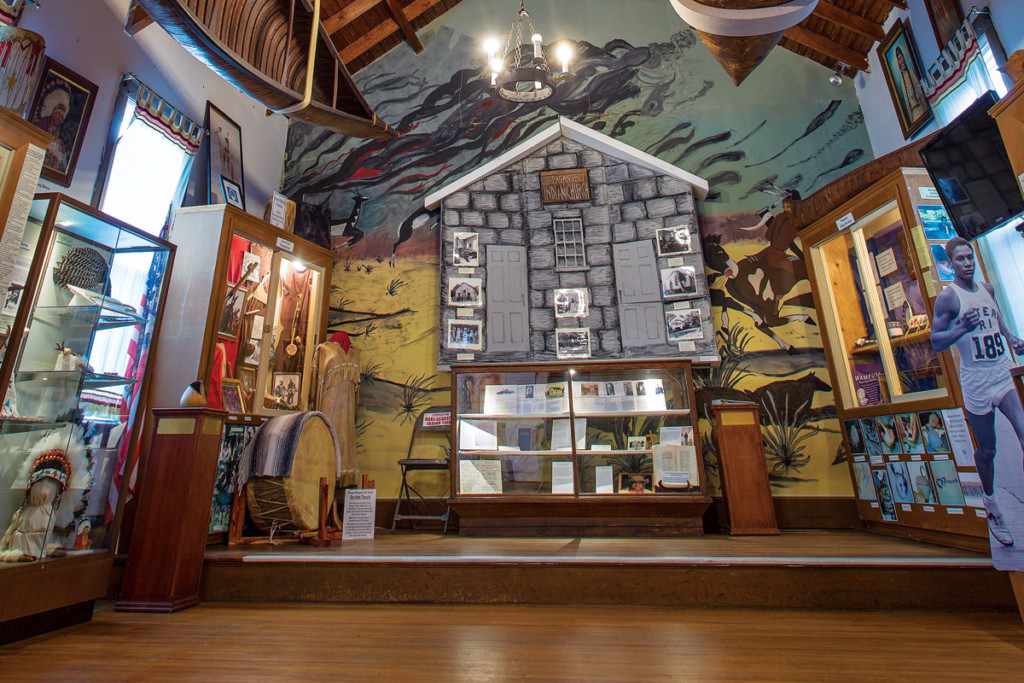 What do you think of when you hear the word "wampum?" I'll admit, when Silvermoon LaRose, assistant director of the Tomaquag Museum in Exeter, posed this question to me, my first thought was of my childhood home on Wampum Road in Narragansett.
But then I recalled a time in third grade when my teacher brought up the name of my street in class. She had explained that wampum beads were the Narragansetts' version of money.
"That's what most people say," LaRose affirms. "But it wasn't used that way originally. It comes from the word "wampi," which means white, because the beads were made from the white parts of whelk shells. If you've ever held a shell, you know that they're hard but fragile, so they're not easy to work with. Wampum took a lot of time and effort to make, which is why it wasn't something that everyone in the community had."
In fact, wampum was mostly used amongst spiritual and political leaders as a form of status, and also to broker treaty agreements between tribes. Only messengers sporting wampum belts or pieces of jewelry were seen as legitimate, because it was understood that a chief wouldn't trust just anybody with something that was held in such esteem.
"Well, what do Europeans hold in high regard?" LaRose asks. "Money. So, when they came and saw this exchange between tribes, they equated wampum with currency. In order to trade with us, they used steel to fashion the beads much more quickly than we could with our antlers and rocks. We eventually adopted that practice, and the Narragansetts became one of the largest manufacturers of wampum beads around. It took on that currency value eventually, but that idea was introduced to us."
The Tomaquag Museum dispels a lot of myths like these. My mind was blown when I learned that native gatherings weren't originally called powwows; Europeans again created their own meaning when they often heard the word "pawaw" (the Narragansetts' name for their medicine man) used at monthly thanksgiving gatherings, and then they spread the misnomer across the nation. Such revelations only expose how woefully ignorant I am when it comes to our state's original settlers, the very same people for whom my hometown is named. Perhaps it's why I was drawn to the Tomaquag Museum, Rhode Island's only indigenous museum. A hidden gem if there ever was one, the small but mighty institution lies deep in the woodlands of the Arcadia Management Area. But the crazy thing is, it's not like the museum is new; it's celebrating its diamond jubilee this year.
"It was founded in 1958 by Princess Red Wing, a Narragansett/Pokanoket-Wampanoag woman who wished to educate people, both natives and non, about indigenous history, culture and rights," explains Loren Spears, the museum's executive director. "She partnered with an anthropologist named Eva Butler and they opened the first iteration on a Butler family property in Tomaquag Valley in Hopkinton."
After Eva Butler died in the 1960s, Princess Red Wing went to Spears' grandparents, Ferris and Eleanor Dove, in search of a new home for the museum. The couple owned and operated the Dovecrest Indian Restaurant in Tomaquag's present day Exeter location, and they happily welcomed the addition of another native-forward organization on the estate.
"We called it the trading post back in the day because there was also a homestead and a gift shop on premises. It was really a tourist destination," Spears recalls. "But then when my mother, Dawn Dove, took over as the volunteer director in the mid '70s and got Tomaquag its nonprofit status, the museum had to move to an old farmhouse next next door because it couldn't be run on a for-profit property. In 1984, however, the restaurant changed ownership and locations, meaning the museum was allowed to move back on-site in 1997."
After that, with the absence of the regular lunch and dinner crowds, the museum struggled a bit in its isolation. Then along came Spears. Having essentially grown up in the museum, she found herself serving on its board as a young adult. Much like Princess Red Wing, Spears had a passion for both teaching and for her culture. So in 2002, she convinced the rest of the board to let her open the native-focused Nuweetooun school next door to the museum. This operation would rejuvenate Tomaquag and start it down a new, triumphant path.
"I ran the school from 2003 to 2010 [when it was forced to close due to extreme flooding], and during that time the Tomaquag board decided to name me the executive director of the organization," says Spears. "Back then, the museum was run entirely by volunteers, but we've since grown to six staff members and a number of interns from local schools like the Met and North Kingstown and from the Exeter Job Corps. Plus, we still have community volunteers!"
The museum is also now chock full of exhibits that both enlighten and celebrate native culture. When you step foot in the white building, you may not know what to take in first: Should it be the intricate details of the stamped basketry display in the right-hand corner? The girth of the two magnificent oceanic canoes strung along the ceiling? The vibrant coloring of the featured native art pieces? During our walk around, LaRose explains that while the museum focuses on southern New England tribes, many of the exhibits are geared towards the Narragansetts not only because of their local ties, but also because a majority of the staff are direct descendants.
"When we're giving tours of the space, we do it from a first-person perspective and everyone does it a bit differently given our connections. Some take a spiritual approach while others take a political one," she clarifies.
With LaRose, the theme seems to be agency and empowerment. One story she shares highlights the origins of the Narragansett Indian Church.
"It's near and dear to my heart because I think it tells a unique story of who we are as a people," she says. "One historical point that's always been a negative was the way that Christianity was introduced to the native people. It was used as an assimilation practice, often a violent one. But that's not our history with Christianity."
While she points out that most local natives are not in love with Rhode Island's founder, Roger Williams, LaRose does commend him for sticking to his ideology of religious freedom. He even personally petitioned England not to forcefully impose Christianity on the Narragansett people, and thus they were able to explore the religion on their own terms. While other communities were required to participate in European-led services, the Narragansetts were able to build their own church on their reservation in Charlestown and head it with their own ministers.
"I think often times native people are portrayed as victims, but it doesn't mean that we never fought back and tried to take control when and where we could," LaRose says.
Today, the Narragansetts are still fighting.
"On the East Coast, we're really invisible as a community," she explains. "You don't think, see or hear a lot about the indigenous people of this part of the country — not like you do in the Southwest."
Luckily, though, someone did notice. Back in 2016, Sheldon Whitehouse nominated the Tomaquag Museum for the National Award of Museum and Library Services in recognition of its impact on the local indigenous community, and it won. To put it into perspective just how big a deal this is, you should know a few key things: One, there was a very long and arduous vetting process involved and they were chosen out of hundreds of nominations; two, this is the highest honor that a museum can receive in the nation; and three, Tomaquag is the only museum in Rhode Island to earn this award to date. Plus, Spears was personally handed the medal by the one and only Michelle Obama.
"For her to… And I always say her, because I really feel that Loren was the one who won that medal," LaRose reveals. "We're such a small organization in middle-of-nowhere Exeter, so for her work and community impact to be recognized on a national level is just incredible."
But Tomaquag's mission is nowhere near complete. The museum still aims to have its voice heard through the Indigenous Empowerment Network (a new project that focuses on creating more opportunities for native youth through partnerships with local universities) as well as with a big bash at Trinity Repertory Company on September 8 in celebration of the museum's sixtieth anniversary. The event promises to feature traditional music and dances, big-name cultural speakers, honorings and more.
"We're really tackling that issue of indigenous invisibility by putting ourselves out there on a stage where people can see us, right in downtown Providence," says LaRose. "We've been around sixty years and people still say, 'We never knew you were over here!' We can't have that anymore."
We see you, Tomaquag.