Today is Food Day!
Celebrate this year's theme, "Toward a Greener Diet," at planet-friendly eateries in Rhode Island.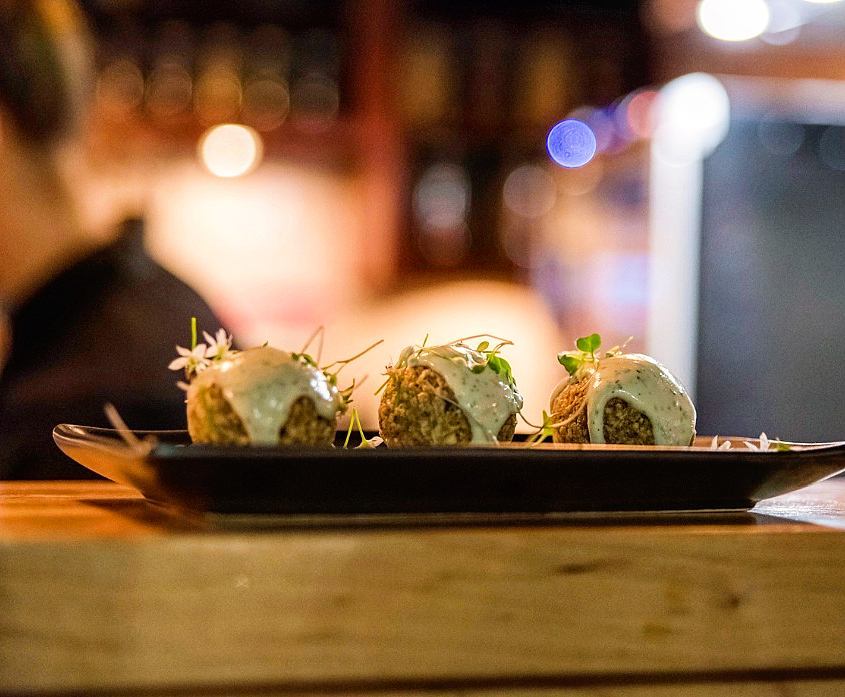 Food is used to celebrate a number of events throughout the year: Thanksgiving, birthdays, weddings and more. But what about a day that celebrates food itself?
That would be today: October 24.
This year's Food Day celebrates a greener diet. Today is a day to enjoy local food, green food and great food.
The Food Day website offers insight on the toll that unhealthy food takes on the country. In addition to the threat of obesity, Americans should be aware that too much meat in a typical diet reflects poorly on our environment.
Here in Rhode Island, Social Enterprise Greenhouse is hosting a free panel discussion at 5:30 p.m. with five food experts, plus bites from local eateries. (Register here). And students and teachers at Pell Elementary School in Newport all bit into apples at 2 p.m. on the dot today.
True, you should celebrate good food everyday, but especially today. Here's a list of Rhode Island restaurants that focus on vegan, vegetarian or local foods to ensure that you celebrate Food Day the right way.
Vinya Test Kitchen
Did you know? The answer to your raw food dreams lies right in the heart of Downcity. Vinya Test Kitchen, 225 Westminster St., Providence, offers a plant-based, raw cuisine menu crafted by chef Sam Bonanno. A couple of items include: broccoli chard arancini made with almonds, habanera and cilantro cheese or the spinach pie made with mushrooms, baby spinach and lemon cashew cream. Stop in and order one of Vinya's mocktails made with nutrient-rich ingredients such as chamomile, green tea and ginger straight from the garden. Hours are Tues.–Thurs. 5–10 p.m., Fri.–Sat. 5–11 p.m.; view the full menu here.
Garden Grille
Join in saying "no" to GMO with your next visit to Garden Grille. Whenever possible, the restaurant, located on 727 East Ave., Pawtucket, uses organic ingredients. Garden Grille partners with more than twenty-five local farms and food sources. No matter your dietary restrictions, the Grille has you covered, whether you're vegetarian, vegan, gluten-free, raw or just a healthy eater. Brunch, lunch and dinner are available with menu items including: a falafel wrap on whole wheat; gluten-free macaroni and cheese; apple and cheddar pizza; avo toast and eggs; and vegan whole wheat pancakes. The good stuff does not stop there; check out the full menu here. In addition to the food, the drink menu is nearly endless as well. With cocktails, coffee, tea, juices and vegan smoothies, you will not go thirsty here. Stop in Mon.–Sat. 11 a.m.–10 p.m., Sun. brunch 10 a.m.–3 p.m., Sun. dinner 5–9 p.m.
Wildflour Vegan Bakery
When it comes to a plant-based diet, we've come a long way. Wildflour offers mouthwatering dairy and egg-free sweets, including chocolate chip cookies, cupcakes, fruit tarts and more tasty items, plus gluten-free selections and kale chips in five flavors. The meatless raw lasagna is all the rave as well. In addition to the food, Wildflour has juices, green smoothies, fruit smoothies and seasonal sips such as a pumpkin shake. Wildflour is located on 727 East Ave., Pawtucket, and is open Mon.–Thurs. 7 a.m.–9 p.m., Fri. 7 a.m.–10 p.m., Sat. 8 a.m.–10 p.m., Sun. 8 a.m.–9 p.m.
The Grange
Located on the West End of Providence at 166 Broadway is the Grange, a vegetarian-friendly spot that serves up lunch, dinner and brunch while giving off comfy vibes. On the lunch menu, you can find general tso's tacos made with seitan, queso fresco, green onions, chili aioli, kimchi and guacamole. On the brunch menu, try the biscuits 'n' gravy, prepared with tofu along with pulled mushroom gravy and fried oyster mushrooms. For dinner, check out the blackened butternut squash dish with chili creamed corn, blackeye pea salad and saffron aioli. Take a seat at the bar and try something from the bar food menu while sipping on a cocktail or mocktail made from juice squeezed daily at the Grange for freshness. The Grange is open Mon.–Wed. 11 a.m.–10 p.m., Thurs.–Fri. 11 a.m.–midnight, Sat. 9 a.m.–midnight, Sun. 9 a.m.–10 p.m.
Keenwah
The mission of Keenwah, 311 Broadway in Newport, is to provide a simple menu made with real ingredients. The sassy name stems from the popular grain, quinoa, which is a source of complete protein. Try the signature organic edamame hummus on a wrap; the local yokel breakfast sandwich with eggs from Baffoni farm; and a Keenwah veggie burger made from brown rice and aduki beans. Try a superfood smoothie to pair with your main dish and leave feeling better than ever. Keenwah is open daily from 8 a.m.–4 p.m.
Beehive Cafe
From the farm to the Beehive table, freshness is a priority. Beehive Cafe, located on 10 Franklin St. in Bristol, cooks with local ingredients and works with local farms; it is more fun that way. Every day from 7 a.m.–3:30 p.m., you can get breakfast or lunch at Beehive; from 5–9 p.m. daily, dinner is served. For breakfast, try the egg sandwich cooked with two Baffoni Farm eggs, Vermont cheddar cheese, tomato and arugula on a homemade potato bun with the added option of bacon, ham or sausage. For dinner, order the pesto grilled chicken made from Baffoni's chicken, mashed butternut squash, Atwell's gold cheese and pesto. On 87 Gooding Ave., Bristol, Beehive's Pantry is now open and serving coffee, bakery items and prepared foods. Stop in Mon.–Sat. 7 a.m.–6 p.m., Sun. 7 a.m.–4 p.m., for a grab and go purchase. Have a dietary restriction? No worries, Beehive gets it.
Veggie Fun
Have fun with your veggies at Veggie Fun, located at 124 Dorrance St., Providence. Some vegan or vegetarian menu items might spice up your life while others are offered gluten-free. Start your meal off with the spring rolls appetizer filled with cabbage, mushrooms, celery and carrots. Try the lettuce wraps as your main course; they're gluten free with diced vegetables, shiitake mushrooms, peppers, carrots, onions, celery and pine nuts. Each entree is served with brown rice, miso soup and a salad. Pair a housemade drink, such as Thai iced tea, with your tasty veggies. Veggie Fun is open Mon.–Thurs. 11:30 a.m.–10 p.m., Fri. 11:30 a.m.–11 p.m., Sat. noon–11 p.m., Sun. noon–10 p.m.
b.good
Be good and stay healthy at b.good restaurant, located at Garden City Center, 62 Hillside Rd., Cranston. Co-owners Anthony and Jon launched b.good because they loved the fast pace of fast food but didn't like the way the food made them feel. At b.good, they maintain the quickness but offer real food from all over the Northeast, such as cheese from Cabot Creamery Co-op in Vermont. Power up your day with the power bowl, consisting of quinoa or b.good's super grain mix, kale, sauteed vegetables, bok choy, mint and more. Have a burger any way you please with the choice of a homemade veggie patty, a hand-packed turkey patty or all-natural beef or chicken. You can even substitute the bun for a gluten-free option or vegetables. Stop in Mon.–Sat. 11 a.m.–9 p.m., Sun. 11 a.m.–8 p.m. or click here for b.good's full story and menu.
Julians
Do you find yourself constantly searching for a place where you and your health-conscious buddies can enjoy a meal together? Julians is the place for the whole group. With vegan and vegetarian options but also meat choices, Julians, located at 318 Broadway, Providence, has it all. Brunch is served from 9 a.m.–4 p.m., Mon.–Fri., and from 8 a.m. – 2 p.m. on Sunday. As a plant-based option, enjoy princess peach vegan French toast or a non-vegan option of chicken, applewood smoked bacon, boursin and baby spinach on a roll. Dinner is served daily from 5–11 p.m., where both vegan and carnivorous options are available. This brewpub is awaiting your entire friend group.
AS220
AS220, a nonprofit community space that hosts art classes, kids' programs, galleries, theater and music events and more, also serves some tasty cuisine. AS220 Foo(d), which is open Tues.–Sat. from noon–10 p.m. at 115 Empire St., Providence, serves locally sourced food that is affordable and good for the environment. Menu items include: herb ricotta gnocchi, arugula nosh and garlic, basil chickpeas as a starter and much more. Profits from AS220 Foo(d) support AS220's arts programming. Check out the full menu out here.