Tini
It may be teeny tiny, but there's nothing small about the inspiration behind Tini, an international-style bar and the newest creation from the chef/owners of Al Forno.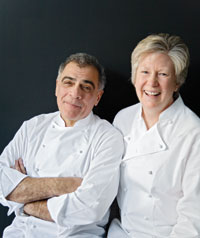 Tini
200 Washington Street, Providence, 383-2400. Open for dinner Tuesday through Saturday. Reservations accepted only for meals between 5 p.m. and 6 p.m. Wheelchair accessibility is up to code: The front door is not a problem, but the bar is tall and requires sitting on a high stool. Street parking. Cuisine European with an international impression. Capacity Twenty, tops. Any more and the oxygen level dips. Vibe Ingenue meets established. Price Small plates $5–$15. Karen's picks Anything with a side of fries. Finish it off with a lime custard cup. Key
Fair
Good
Very Good
Excellent
Half-star
What's black and white and glass all over? Give up? Maybe the riddle's too vague.
What's black and white, glass all over, and just large enough to hold the Duggar family? The aptly named Tini, the minute and budget-conscious offspring of the sprawling and well known Al Forno. Thirty years after the inception of their landmark establishment, George Germon and Johanne Killeen have revisited the restaurant world with a more modest approach: Tini holds just twenty drinking diners around a U-shaped bar. To put things in perspective, the dining area is roughly the same size as Al Forno's entryway.
One would expect the newest culinary child of two RISD grads to be swathed in artistic detail and it is, in a controlled way. A warm brick wall is the primary splash of color in this glossy space, along with two shadow boxes that hold carved dragons and flying figures from the Far East. The restaurant was originally slated to open almost a year ago but, as I mined for information last July, rumors swirled that Germon was too focused on tile work for a summer opening. (Perfectionists are not always quick.)
Stylistically, the menu—which flashes incrementally from a large TV—is the lone incongruity. It dominates the space with a modernity that's a bit jarring. (Try to sit under it without suffering whiplash.) Aesthetics aside, it's a culturally diverse menu, tied no more to rustic Italian than to French or American. Where other restaurants toy with small plates, Germon and Killeen—along with Al Forno chef and Tini partner, David Reynoso and ex-ecutive chef Darius Salko—commit fully. Most dishes are well under $10 and everything tells a geographic tale. If you like to start your journey close to home, there's the Tini Weenie, a System-inspired, thumb-sized hotdog topped with corn relish and served in a toasted bun ($7). For more adventurous gastronomes, the world awaits.
Three years in the belly of the French countryside have influenced Germon's and Killeen's palates, even when it comes to snack food. Gone are bread and dipping oils. French fries are in again and they're addictive, so much so that I overcame a fifteen-year aversion to mayonnaise, born of daily culinary school practice. Tini's sliver-shoestring version comes doused in aioli and hot sauce ($5), the former cushioning the blow of pungent peppers.
From the Norman regions comes a take on traditional meuniere: three flattened, panko-crusted scallops anchored by pineapple-braised endive ($12). It's a tiny (uh, tini) plate that small appetites love, complete with divergent textures and flavors, tart lemon playing off the sweet fruit-tinged endive. Add to the mix a neoclassic sole Veronique (minus its usual veloute sauce), a filet of seared sole that relies on little more than its own delicate features and a handful of roasted grapes ($14). If Al Forno's rustic, grilled-meat version is big and burly, Tini's rendition is full of grace.
The familiar pasta dishes that made Germon and Killeen famous do show up at Tini, but they're scaled back and given kitschy names such as Bowl of Buttons, airy gnocchetti paired with button mushrooms ($8). A spicy tomato sauce that relies on fresh ginger for its heat, rather than the power of peppers, coats ribbons of egg noodles (Tini Noo-Noos, $8). A handful of cherry tomatoes only add to the bright flavors and toothsome texture of the dough.
There are other hybrid plates that don't belong to one distinct culture or technique: spicy broccoli with red peppers is sauteed in Italian olive oil but relies on a good French blanching ($5). The Tini Eggie, an open-faced, tissue-thin omelette, has its toast built right in, small cubes of sourdough croutons embedded in its yolky host ($6). European in theory, perhaps, but with a whiff of American diner.
The minimalist execution extends to the restrained steak tartar. Like foie gras, chefs tend to push how they present tartar, trying to escape the classic pairings that have defined it in the past. That's not the case here. Pickled capers, herbs and olive oil complement a tender minced filet, molded and served with grilled slices of peasant bread. At $10, it may be the best warm-weather burger out there. Similar to Al Forno's approach, most dishes rely on just a few ingredients but there's a certain refinement at Tini, somewhat akin to Tom Colicchio's Craft but with a broader cultural reach and a less ostentatious attitude.
Desserts are noticeably less dramatic than Al Forno; there's no space for churning ice cream to order or platters of hot cookies. (There's barely enough room for a sheet pan.) Tini's are morning-made desserts and slightly retro. A chocolate icebox cake ($6) is circa 1950s though the trio of panna cotta ($6) is decidedly more updated with flavors such as coffee malt and the slightly spicy eggnog. The Tini cookies ($4) are adorably small. Marble-sized Mexican wedding cookies come nestled on a plate, ready to dissolve on the roof of your mouth. But the real star is a citrus dessert, vastly undersold as a lime custard cup ($6). It's really an old-fashioned pudding cake that, when baked, separates into a custard level on the bottom and a sponge cake on top. Classic Americana in the heart of a European bar.
Hard liquor adds color accents to the chromatically restrained space: Baby blue curaçao and pastel pink cranberry juice swirl in the petite sugared and salted martini glasses filled with cosmos and lemon drops. The wine list is straightforward but highly drinkable, with just enough reds, whites and the occasional rose to provide options without being overwhelming. All are affordable and all are true food wines that highlight the dishes rather than dominate them.
So what's the difference between this seasoned pair of restaurateurs and a hired advisory board that puts together a restaurant? Vision. Despite the focus on small dishes, Tini's not about culinary trends. Menu, technique and aesthetics are all strong in their own way. The only thing that's noticeably absent, in fact, is ego, something Al Forno thrives on. Tini, on the other hand, is far more inconspicuous. Don't misunderstand; there's still attitude. But it's one of camaraderie, rather than exclusivity. (Unless, of course, you're waiting for a seat.) To boot, a bill for two including four drinks, light dinner and dessert seems to hover around $100. That's not a fad, that's a miracle.