Throw Your Own Backyard Party
Rhode Island chefs provide the summer recipes.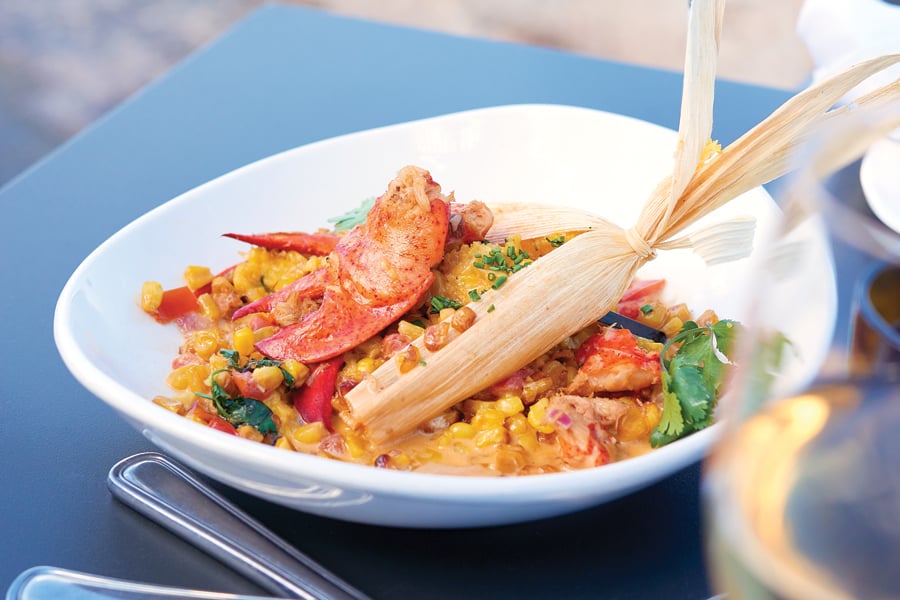 Menu
Lobster Corn Tamale – Coast Guard House
Herb Crusted Hake with Ragout of Chickpeas, Chourico, Tomato and Brabant Potatoes – Chef Rolando Robled, Boat House
Stuffed Zucchini Blossoms – Pane E Vino
Coctel de Camarones, Watermelon Agua Fresca and Elote (Mexican Street Corn) – Chef Jake Rojas, Tallulah's Taqueria
---
Lobster Corn Tamale – Coast Guard House
40 Ocean Rd., Narragansett, 789-0700, thecoastguardhouse.com
Serves 4
For tamales:
4 corn husks
¼ stick of butter
2 Tbs baking powder
2 to 3 ears of corn
2 cups Masarepa Goya (corn flour)
2 tsp salt
2 Tbs honey
3 Tbs parmesan cheese
1 small onion, chopped
For lobster sauce:
1 Tbs butter
1 shallot, chopped
2 tsp chopped garlic
¼ of a cooked lobster
½ cup white wine
1 cup heavy cream
2 Tbs parmesan cheese
Salt and pepper to taste
1 Tbs chopped tomato
2 Tbs chopped cilantro
Put the corn husks in water and soak for 20 minutes to make soft.
Place butter and baking powder in food processor or mixer and beat until fluffy.
Cut kernels from cob and place two cups in food processor and pulse till a little chunky, then reserve remaining un-pulsed kernels for sauce.
In a large bowl, mix the chunky corn kernels, Masarepa, salt, honey, parmesan cheese, onion and the fluffy butter/baking powder mixture.
For the sauce, saute butter, shallot, garlic, lobster meat and remaining kernels, then deglaze the pan with white wine. Add cream, parmesan, salt and pepper. Finish with chopped tomato and cilantro.
Stuff corn husks with Masarepa mixture and steam for 20−25 minutes. Then remove and plate with warm lobster sauce.
---
Stuffed Zucchini Blossoms – Pane E Vino
365 Atwells Ave., Providence, 223-2230, panevino.net
For the filling:
1 cup ricotta
1 Tbs freshly chopped basil
1 egg yolk
3 anchovy filets, chopped
Kosher salt to taste
Freshly ground black pepper
Zucchini blossoms:
2 dozen zucchini blossoms (find them at a local farm or farmers market, or grow them at home)
Vegetable oil for frying
1 ¼ cup all purpose flour
1 tsp kosher salt
12oz lager-style beer or club soda
Combine ricotta, basil, egg yolk and chopped anchovies in a bowl. Season with kosher salt and freshly ground black pepper. Using a spoon, fill each blossom with about 1 tablespoon of ricotta mixture.
In a large pot, heat about 2 inches of oil over medium heat until a deep-fry thermometer reads 350 degrees. Combine flour and salt in a medium bowl, then whisk in beer until almost smooth (some small lumps are welcome — don't over whisk or you'll deflate the batter).
One by one, dredge the blossoms in batter, shaking off the excess. Gently lay them in the oil, without crowding the pan. Cook, flipping once with a slotted spoon, until golden brown, which takes 2−3 minutes total. Transfer to paper towels to drain. Sprinkle with sea salt and eat hot.

Herb Crusted Hake with Ragout of Chickpeas, Chourico, Tomato and Brabant Potatoes – Chef Rolando Robled, Boat House
227 Schooner Dr., Tiverton, 624-6300, boathousetiverton.com
Serves 4
1 bunch parsley
1 large Spanish onion
3 garlic cloves
½ lb grape tomatoes
1 lb chourico sausage links (Portuguese-style)
1 ¾ lbs fresh hake
1 cup panko bread crumbs
1 cup Ritz crackers, crushed
2 Idaho potatoes
Olive oil
1 cup dry white wine (use any kind you would drink!)
2 ½ cups chicken stock
1 Tbs tomato paste
14 oz can chickpeas
5 Tbs unsalted butter
Kosher salt and black pepper
Wash and dry parsley, then pick leaves from stems and finely chop. Julienne onion, peel and mince garlic and cut grape tomatoes in half. Reserve each separately for later use.
Cut the chourico link in half lengthwise. Remove the casing. Cut into half-moon shaped slices approximately ¼-inch thick.
Cut fish into four 7-oz portions.
In a bowl, combine half the parsley, the panko and Ritz cracker crumbs.
For Brabant potatoes, dice into ¼-inch cubes. Hold the potatoes submerged in cold water until ready to cook.
Preheat oven to 450 degrees while heating a large saute pan over medium heat. Add 1 Tbs of olive oil and the chourico to the pan. Cook the chourico over medium heat to render the fat. Once the chourico is browned, add onion and ½ Tbs of salt. Use a wooden spoon to scrape bottom of the pan to prevent burning. Cook onion until soft and translucent.
While onion cooks, drain potatoes from water. Let dry, then put in a bowl. Add 2 Tbs of olive oil, 1/2 Tbs pepper and 1 Tbs of salt. Mix to coat the potatoes.
Spread potatoes evenly on a sheet pan. Put in pre-heated oven and roast approximately 20 minutes, or until golden brown. Move the potatoes around 2–3 times during roasting.
Back on the stove top, add the minced garlic to the pan with the onions. Mix and continue cooking for 3 minutes.
Turn the heat to high, and wait 30 seconds. Then, add white wine.
As the wine sizzles, use the wooden spoon to scrape the bottom of the pan.
Reduce wine by 50 percent, then add chicken stock and tomato paste. Mix well and bring to a boil.
Add chickpeas and grape tomatoes. Turn off heat and set aside. Coat fish with olive oil and season with salt.
Lay fish out on a sheet pan, evenly spaced. Put 1 Tbs of butter on top of each portion. Then liberally top the fish with the panko-Ritz cracker mixture.
Place in 400-degree oven and cook 6−8 minutes, until the fish is opaque and flaky, and has reached an internal temperature of 145 degrees.
As the fish finishes cooking, bring the chickpea ragout back up to a boil. Add half of the remaining parsley to the ragout. Turn off heat and stir in 1 Tbs of cold butter until completely melted. Taste, and add more salt and pepper if needed.
Serve in a bowl with ragout and broth on the bottom, then add roasted potatoes and top with baked fish. Garnish with remaining parsley.

---
Coctel de Camarones, Watermelon Agua Fresca and Elote (Mexican Street Corn) – Chef Jake Rojas, Tallulah's Taq
146 Ives St., Providence, 272-8226, tallulahstaqueria.com; 252 Narragansett Ave., Jamestown, 239-9999, dutchharborboatyard.com
Serves 6
2 lbs shrimp, cooked and peeled
48 oz Clamato juice
4 oz ketchup
3 avocados, diced
3 cucumbers peeled, deseeded and diced
3 stalks celery, peeled and diced
1 bunch of fresh cilantro, chopped
Juice of 2 limes
2 limes, quartered
2 Tbs Valentina hot sauce
1 cup Fanta orange soda
1 tsp cumin
1 sp smoked paprika
Salt to taste
Cook and clean shrimp.
In a large mixing bowl, add all ingredients except avocado and cilantro and mix well.
Add shrimp and marinate for 4–6 hours. Add avocado and cilantro before serving.

Watermelon and Tarragon Agua Fresca – Tallulah's Tacos
Serves 8
6 cups watermelon, seeded and diced
3 cups water
¼ cup tarragon leaves
8 Tbs agave nectar
¼ cup water
¼ cup lime juice
Garnish
2 limes, sliced
2 sprigs tarragon
Add the watermelon, water and 1 Tbs tarragon to a blender and blend till smooth.
In a small pot, add agave, water and remaining tarragon, bring to a slight boil and muddle. Remove from heat and let steep until agave is fully scented with tarragon.
Add the agave and lime juice to the watermelon mixture to taste. If watermelon is fully ripe then you may need less sweetener.
Add ice to each glass, garnish with lime slices and tarragon sprigs and serve.

Elote (Mexican Street Corn) – Tallulah's Tacos
Serves 6
2 Tbs ground cumin
2 Tbs ground coriander
2 Tbs paprika
3 Tbs salt
6 ears of corn, shucked
juice and zest of 2 limes
1 tsp ancho chile powder
1 tsp smoked paprika
1 cup of mayonnaise
1 bunch of fresh cilantro, chopped
4 oz Mexican crema
4 oz grated cotija cheese
In a pot, add 8 cups of water, cumin, coriander, paprika and salt and bring to a boil. Add corn and cook for 4 minutes at a rolling boil. Remove and place on grill. Cook until charred on all sides. Add lime juice, zest, ancho chile powder and smoked paprika to mayo and mix well.
Slather the chile mayo on the corn and top with cilantro, crema and cotija cheese.
Squeeze fresh lime juice on top and enjoy.