This Sweet Red Ride Addresses the Summer Slide
Providence's Mobile Library brings reading, math and literacy programs (and prizes!) to the community all summer long.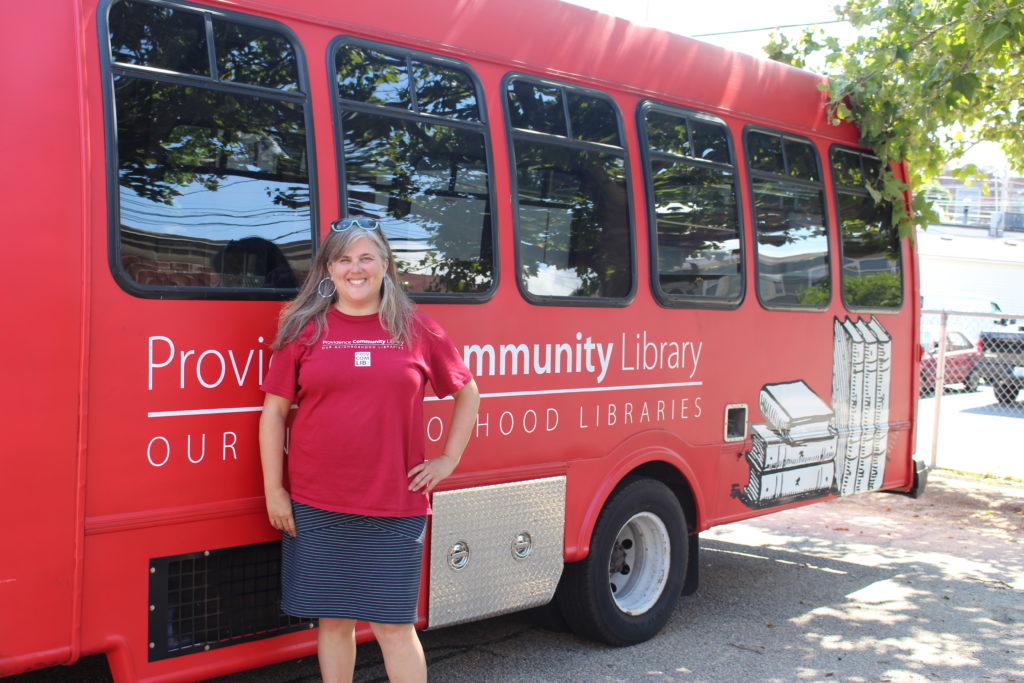 In a shaded corner next to a playground on the North End of Providence, just downwind of LaSalle Bakery, Justin Acevedo and his sister, Liz, lounge on red camp chairs in a breezy outdoor living room. In a semicircle in front of them, four bookshelves on wheels contain more books than they could read all summer — think: Harry Potter in English and Spanish, the Wimpy Kid series, and a stack of Big Mike books, a funny series, Liz explains, about a kid who's "crazy with his skateboard."
Not that they won't try to read them all. Over the last few days, Justin, six, Liz, nearly nine, their mom and their brand new baby sister have tracked down Providence Community Library (PCL)'s new Mobile Library, a huge red truck packed with books and activities, at sites across the city. Justin and Liz plan to rack up the recommended twenty minutes of reading per day and participate in the Mobile Library's math and literacy activities all summer.
The project, which is funded for three years by the United Way, launched after the Fourth of July. On weekday mornings and afternoons, the Mobile Library's driver, Jacky, navigates the bus to neighborhoods without a PCL branch nearby. It sits at each site for two-and-a-half hours, where PCL employees and interns unload bookshelves, activities and brown-bag meals for participants.
The mission of the project is to combat the "summer slide," a phenomenon in which students lose academic skills over the course of the summer. According to Mayor Jorge Elorza's Summer Learning Task Force, more than 60 percent of students in Providence lose reading skills, and more than 50 percent lose math skills, during the break.
Although the leafy reading area is the most inviting spot on this warm summer day, other stations buzz with activity under white shade tents. Kids and adults navigate the web at a table outfitted with laptops connected to WiFi. Nearby, children's specialist Garrett Locke leads a literacy activity on boats, where kids explore books about the sea and make paper vessels of their own.
At another table, Deanna Resendez, a teacher at Harry Kizirian Elementary School, leads a math activity where children add and subtract on coloring sheets. Adjacent to Resendez, an al fresco circulation desk serves as a central hub, where kids can sign up for library cards, check out up to three books from the Mobile Library, report their daily reading minutes and get their Passport to Summer Reading booklet stamped.
"If they come and report their reading, they get a prize," says Cheryl Space, PCL's youth services coordinator who spearheaded the Mobile Library project. "Or if they sit here and read for twenty minutes, they get a prize."
Last summer's pilot Passport program, which was sponsored by the Providence Public Library before PCL's Mobile Library hit the road, reported 750 completed passports. This year's goal, Space says, is more ambitious: PCL would like to see at least 1,500 kids complete 800 minutes of reading over the course of the summer.
Space says PCL entered a data sharing agreement with Providence Public Schools, which will examine whether Passport participants maintain or gain reading skills over the summer. The system will stack participants' standardized test scores in literacy from the spring against scores from this fall.
A statistical improvement would be nice, Space says, but it's far from her mind at the moment. She recalls a family of six who happened upon the Mobile Library at Frank D. Spaziano Elementary one Thursday morning. They'd never been to the library before but, after two hours of reading, math and literacy activities, every member of the family left with a new library card.
The Mobile Library "is like my favorite thing I've ever done," Space says. "It's just so awesome."
Siblings Justin and Liz like it, too. And the prizes certainly help. Justin's school, for example, hands out certificates to students who complete their Passport to Summer Reading. Space says some schools give out rewards of their own, and Justin has eye on his school's prize.
He explains enthusiastically: "I really want to go to the Children's Museum!"
The daily Mobile Library prizes — pencils, watercolor sets, key chains, bubbles — are a draw, too. Rumor has it, Justin says, a math teacher once gave out Play-Doh to kids who finished their work. He completed the day's math coloring activity but, alas, no Play-Doh.
The summer is still young.
To learn more about the Mobile Library, visit provcomlib.org/mobile.