This Sunday: Branching Out Birdhouse Fundraiser
Soak up the sun, listen to live tunes, snack on food from local vendors and bid on funky bird abodes for charity.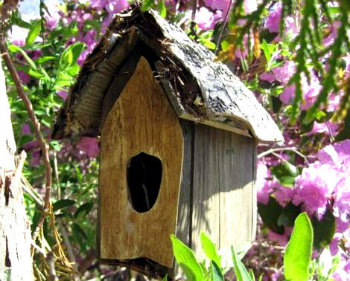 Give your feathered friends a new home and help support Hera Gallery and the Welcome House of South County, an emergency and transitional shelter and soup kitchen in Peace Dale.
The second-annual event, which will be held this Sunday afternoon at the Farmer's Daughter in South Kingstown, features live and silent auctions of some of the prettiest birdhouses around. Bid on a bird tenement like the one designed by Tom Degremont or some very cool Steampunk-inspired birdhouses by South Kingstown High School students (below). Then, stick around for live music, children's activities and snacks from food vendors. It might be worth browsing the greenhouses for some spring plant-spiration, too. Just sayin'.
And if you're interested in contributing to the cause, drop off your own artsy birdhouse at South County Art Supply or Hera Gallery until this Friday, April 24. The less-than-crafty among us can also pick up a prefab birdie abode at South County Art Supply (below), paint it and cross our fingers that somebody actually buys it. Hey, no harm in bidding on your own birdhouse. It's for a great cause.
The second-annual Branching Out Birdhouse Fundraiser will be held at the Farmer's Daughter, 716 Mooresfield Rd., South Kingstown, on Sunday, April 26, from 1 to 4 p.m. Click here for more information.