This Old Frat House
Author Ron Tanner is coming to town to talk about his epic renovation.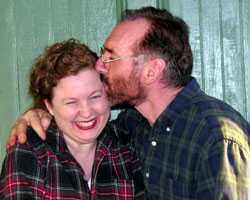 Are you one of those people who falls in love with old houses? Who can see the promise under the crumbling plaster, even though you might not know exactly how to stop that plaster from crumbling? Author Ron Tanner was one of those people.
He's coming to Providence Sunday to chronicle how he and his now-wife, Jill, managed to restore a former frat house to its original splendor.
"In 2000, we bought 'as is' a 4500-square-foot, Baltimore Victorian brownstone that had been wrecked by a fraternity," Tanner writes. "Jill and I had been dating for only six months. We knew nothing about fixing old houses. It was a recipe for disaster."
Their story was featured in This Old House magazine, and Tanner has also written a book about their comic misadventures in renovation called From Animal House to Our House: A Love Story. They also write a blog for DIY-ers called Houselove.org.
His talk is scheduled for Sunday, October 27, at 2 p.m. Free, but reservations are required. Governor Henry Lippitt House Museum, 199 Hope St., Providence, 453-0688.