This is Not Your Weird Uncle's Taxidermy
"Dead Animals" is a stunning, melancholic audit of taxidermy in contemporary art.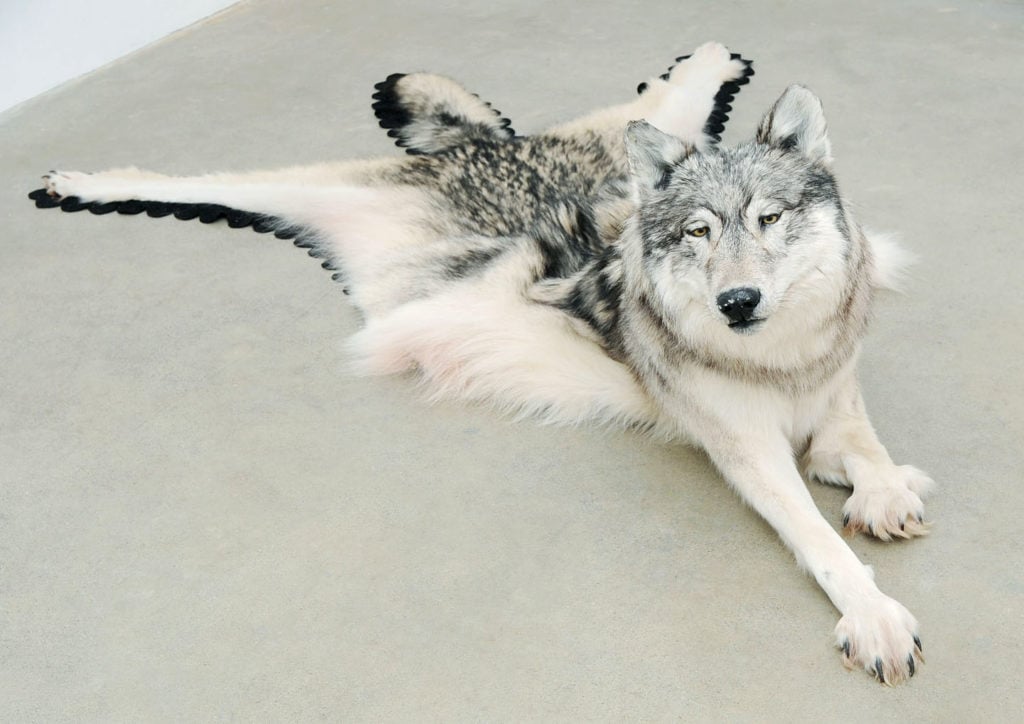 Is it ethical to use animal bodies for artistic expression? Why is a 500-year-old practice re-emerging in modern art? What happens when you stitch a peacock and a penguin together?
"Dead Animals, or the curious occurrence of taxidermy in contemporary art" tackles these questions and more with an exhibition, three artist talks and a day-long symposium at Brown University's David Winton Bell Gallery, opening this Saturday, January 23, and running through March 27.
According to the press release, the exhibition's themes are "…death (both human and
animal); hybrids — both animal-and-animal and animal-and-human; animal-human relations (humanity's treatment of and effect upon nonhuman animals); and, within photographic artworks, taxidermy's display in natural history museums."
The show doesn't shy from controversy. In fact, some of the artists, including New Zealander Angela Singer and American artist Mark Dion, use taxidermy to criticize modern culture. Singer's "Spurts," a decapitated deer with pink gore bubbling from its neck, condemns trophy hunting. Dion's "Concrete Jungle" takes shots at contemporary consumer culture with an installation that illustrates the feral animal's plight in twenty-first-century cities. Dion's work features a taxidermied cat and rodents climbing through urban detritus: overflowing garbage cans, a broken bicycle, toxic paint cans and discarded books.
Here's the full schedule of events:
Jan. 23: Show opens.
Feb. 5, 5:30 p.m.: Opening reception and a conversation with Polly Morgan, an artist who uses taxidermy to present animals in death. Her work stands in direct opposition to traditional taxidermy, which most often preserves deceased animals in a lifelike state.
Feb. 26, 7:30 p.m.: Writer and curator Rachel Poliquin explores the cultural history of taxidermy, from the sixteenth-century to today.
Feb. 27, 9:30 a.m.-5:30 p.m.: The gallery hosts a symposium featuring conversations with artists and academics that explore taxidermy as craftivism, botched taxidermy, the ethics of animal bodies in art and more.
March 17, 5:30 p.m.: Alaskan artist Nicholas Galanin hosts a talk at the gallery. Galanin created "Inert Wolf," above, a combination of two pre-taxidermied wolves. In a statement on his website, Galanin writes, "Mainstream society often looks at indigenous or Native American art through a romantic lens, not allowing a culture like my Tlingit community room for creative sovereign growth. The back half of this piece is contained, a captured trophy or rug to bring into the home, while the front continues to move. It is sad and the struggle is evident."
All events are open to the public. Visit brown.edu/bellgallery for more information.