Think Global, Eat Local
Rhode Island may be best-known for seafood, but fresh beef is just as close to you as the ocean.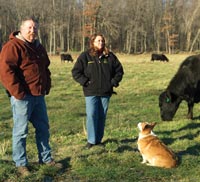 Raising cattle is a family affair for Ann-Marie Bouthillette and her husband, Kevin. They—along with daughter, Samantha, and sons, Brandon and Troy—tend to more than fifty cattle at Blackbird Farm. Most of the bulls are Angus, chosen for optimal breeding and taste, though they've added a few Hereford as well. "We create as little stress for the animals as possible," says Ann-Marie. "We feed them a mixture of grain and grass for optimal nutrition and only give antibiotics when absolutely needed. I'd never dream of giving hormones to our animals."
Blackbird's cattle are sent to a New York facility for grading and processing. Customers can choose smaller packages or buy the whole darn bull. Kevin's sampler includes twenty-five pounds of meat for $200. That's twelve and a half pounds of hamburger, stew meat and short ribs, as well as twelve and a half pounds of steaks and roasts. Many beef-lovers opt for half a steer, which yields 150 pounds of fully trimmed meat and runs about $1,300. Bear in mind that you won't get every single steak from a half a steer but, anatomy chart in hand, you can designate your own cuts, right down to the thickness.
"Our beef usually falls between choice and low-prime, which is some of the best meat out on the retail market," says Ann-Marie. "People should get to know something more than what's plastic-wrapped in their supermarket. It's a totally different experience."
Blackbird Farm
122 Lyme Rock Road
Smithfield
401-742-6990