They've All Come to Look for America
How Syrian refugees found a home in Rhode Island.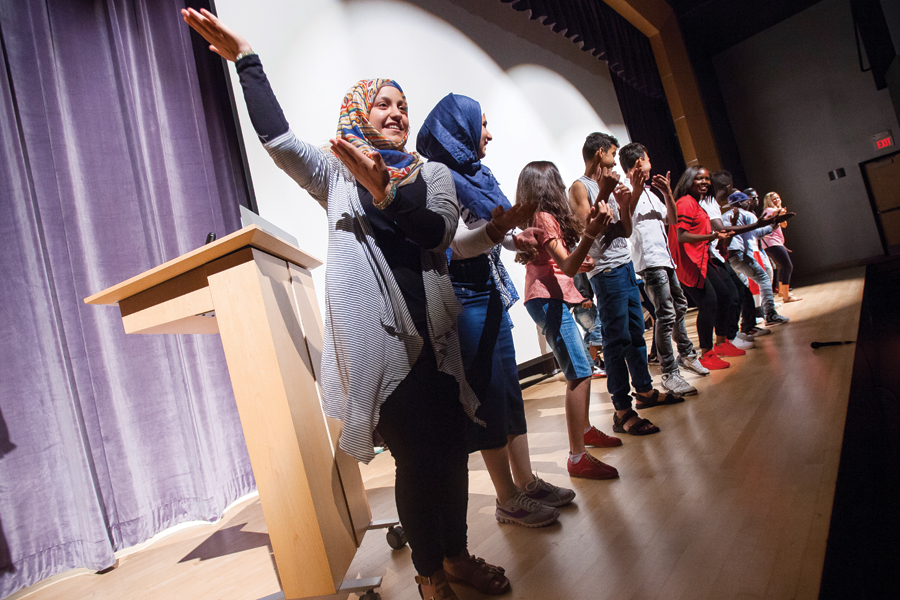 Clockwise from left: Sadia al-Hariri poses for a photo in her home in South Providence. Kefaya shares a secret with big sister, Lina. Raeda, Wafaa and Mahmoud sit together in the living room.
The al-Hariris arrived in America under the shroud of night.
They were exhausted. Most of the seven kids cried straight through the thirteen-hour flight from Egypt to New York City. They'd never been on a plane before. They didn't know anybody in the United States. And they couldn't speak English. With each passing minute, they flew miles and miles away from home.
Not that they loved the life they left in Jordan. The boys were attacked by Ammani kids who hated migrants from Syria. But at the very least, they shared a common language and culture. Their big brother Mohammad, a superhero to the littlest ones, was stuck in Jordan. Without him, it was easy to be afraid.
Their parents were scared, too. They borrowed upwards of $10,000 for airfare, and they had to start repaying the United States government after six months in the country. This marked day one. Without the language, they wondered how they would work. And they felt sick with guilt for leaving their oldest son behind. Their eldest daughter, who was married and pregnant, was also staying in Jordan.
Shortly after 8 p.m., their plane landed in New York City and a driver loaded the family of nine into a passenger van. For four hours, they slept. And when they woke up, they were in Providence.
On this unusually warm night in late February, their South Side street was quiet. The driver pointed out a red and yellow three-decker apartment. That was home. The al-Hariris bounded the cement stoop and opened the entryway door. For the first time, their brains registered the solitary smell of mothballs.
But as they crossed the threshold of their first floor apartment, they experienced a familiar feast of the senses. Kebab, green salad, cold yogurt with cucumbers and mint over rice, chocolates: The place smelled of Syria.
Two strangers, one fair-skinned in a headscarf and the other with dark features, fixed them plates. Those women, Cheryl Al-Sasah and Sterk Zaza, knew the al-Hariris were coming. In the days before, they cleaned the apartment, assembled furniture and clothing donations and laid prayer rugs in the direction of Mecca.
The al-Hariris didn't say much. Cheryl and Sterk wondered about the horrors they saw in Jordan and Syria. And the al-Hariris wondered who these two Americans were, offering them plates of food and saying ahlan wa sahlan — "welcome."
At first, they assumed they lived in the upstairs apartment. But when Cheryl and Sterk said they lived in different towns, Mahmoud, sixteen, the youngest boy, asked why they were there. Over the course of three years, he was pushed out of his home in Syria by men with guns, then beaten in the streets of Amman by schoolchildren with fists. He didn't understand why anyone would help them.
"Because we love you, and because we care about you," Cheryl said in "baby Arabic," her term for an intermediate grasp on the language. Then, they ate.
Pomegranate, watermelon, grape, olive: Whatever seeds flourished in the foothills of the Golan Heights, the al-Hariri family sowed. Their town in southern Syria, Buser al-Harir, sits in the heart of the country's fruit basket — green, rolling lands nourished by volcanic soil and rainwater from the Golan's catchment.
By day, the al-Hariri children attended a nearby school while the men, masons by trade, crafted elaborate stone homes and arcades across town. The al-Hariri patriarch, Fayez, who is deaf, learned American Sign Language as a child, and many members of their community could communicate with him. When faraway friends visited, their neighbors would gather for a mansaf, a feast of a whole lamb stuffed with rice, followed by fruits from the al-Hariri farm.
But this tradition of peace, community and salt-of-the-earth work in Buser al-Harir would not last. In March of 2011 in the city of Dara'a, about twenty miles from the al-Hariri homestead, a band of high schoolers dipped their toes in teenaged rebellion. By all accounts, the words they scrawled in red paint on a school wall — "It's your turn, doctor" — sparked the uprising that led to the Syrian Civil War. The conflict has claimed 470,000 lives and displaced more than eleven million people in five years.
The "doctor" was Syria's authoritarian president, Bashar al-Assad, an ophthalmologist whose family has held power since 1971. In the weeks before, leaders in Egypt and Tunisia were ousted by massive Arab Spring demonstrations. Residents of Dara'a, and other south Syrian cities, wanted al-Assad out, too.
In response to the graffiti, the government arrested and tortured fifteen schoolboys, and residents took to the streets in protest. Over eleven days in late April and May, the Syrian government besieged Dara'a. Water and power lines were cut. The area became fertile ground for bands of rebels fighting to liberate the south from al-Assad's regime. Today, southern rebels must wage two wars: One against the Syrian Army, and another against encroaching jihadists of the Islamic State (ISIS).
As tanks, helicopters and troops patrolled Dara'a, the al-Hariris learned to live without. The eldest son, Mohammad, was sent to live with relatives in Lebanon to avoid Syria's mandatory conscription. The remaining members of the family drank well water and chopped trees to keep warm by their wood-burning stove. As supplies dwindled, they learned to grow, harvest and grind wheat for bread.
But the al-Hariris knew they couldn't hold out for long. They had a target on their back; their town — and their surname — was firmly planted in rebel territory.
One evening in January of 2013, strange men with guns showed up at their door. Without gathering their papers or clothing or putting on shoes, the al-Hariris fled on foot for the Jordanian border. The two adults and eight children, ranging from age three to nineteen, walked thirty miles away from the rapidly escalating war. Mohammad headed from Lebanon to the border, too. By dawn, the family was reunited. They had glass buried in the skin of their feet, but they were safe. The scars of that night are still visible today.
The al-Hariris registered with the United Nations refugee agency (UNHCR) in a camp on the Syrian/Jordanian border. Over the course of that first night, Jordan was blanketed with snow and whipped by high winds. The family was given a tent to sleep in, but gusts knocked it down and it blew away. Fayez tears up when he remembers how helpless he felt that night, unable to provide basic necessities like shelter and warmth for his children and wife.
They lasted one night in the camp. The family fled to Jordan's capital of Amman, where the men could make a living as masons with fake identifications. In an urban desert so different from their home, the al-Hariris waited.
It's not unusual for people seeking refugee status to wait several years for resettlement in an overseas country, according to the United States Refugee Resettlement Program, which has welcomed 784,000 refugees since September 11, 2001. But due to an expedited resettlement program established in the spring in Amman, the United States exceeded its goal of resettling 10,000 Syrian refugees here by the fall. The UNHCR resettlement procedure in Amman, where the al-Hariris were processed, includes in-depth refugee interviews, reference checks and biological checks including iris scans.
After scraping by in Jordan for two years, the al-Hariris were informed that they were being considered for resettlement in the United States. The news was bittersweet: America, to them, represented safety, freedom and opportunity — especially for the children; only one attended school in Jordan. But the eldest son, Mohammad, wasn't yet approved for resettlement. At age twenty-two, he filed for refugee status separately and, as a single Syrian man, his application was not yet approved.
If the family passed on the opportunity, they might not get another one. The mother, Sadia, took cultural orientation classes and the family was vetted by various government agencies — including the State Department, the FBI's Terrorist Screening Center, the Department of Defense and the Department of Homeland Security — before they were cleared for resettlement. They'll never forget their travel date: February 25. They consider it a second shot at life.
But before they could begin anew, they mourned the Syria that once was, a place they would never see again.
One evening in late spring, the music of dusk reverberates through the streets in South Providence. An ancient, low-riding Honda belches smoke, Latin music blares from a Jeep and an ice cream truck lingers outside of a red and yellow tenement house, aware that a family of nine sits inside.
"Me scream, you scream…." Lina, fifteen, who has the best grasp of English, sings. Her brother, Mahmoud, who is sixteen, quickly chimes in.
"I scream, you scream," he says, relishing the chance to correct his younger sister. Mahmoud, who did not attend school for three years in Jordan, often uses a translation app on a donated smartphone to communicate in English. They finish the refrain together.
Seven-year-old Kefaya flashes a coy, toothless grin and runs to the window, her nine-year-old sister, Wafaa, joining her. Their mom, Sadia, motions for them to move back. The al-Hariris were advised by community members to stay away from the windows and keep the doors locked.
Their neighborhood is rife with police activity. A few weeks later, one block away, a Johnston man would be shot dead in an attempted home invasion. The nearby apartment of the Ghazalas — the first Syrian refugee family to resettle here — was robbed within a week of their arrival. With three small children and a baby on the way, the Ghazalas decided to move to the Federal Hill area. They welcomed baby Ahmed, a United States citizen, in May.
Fayez and Raeda serve a fruit spread worthy of Buser al-Harir.
On this night in the al-Hariri apartment, there would be no ice cream. Instead, they lay out a fruit spread worthy of Buser al-Harir. On a coffee table in the living room, Lina and Raeda, seventeen, pile grapes, oranges, apples and bananas into small plastic baskets for Cheryl and Bilal Al-Sasah, their guests for the night.
Fayez does most of the shopping. Early on, he struggled with the bus system, one time writing "911" on his hand and showing it to the bus driver — a trick he learned from the Al-Sasahs — to get off the wrong bus. He buys most of his groceries at PriceRite, and purchases halal foods from the Jerusalem Meat Market off Pontiac Avenue in Cranston.
Despite their limited budget, the family's hospitality knows no bounds. When Bilal stops eating midway through his basket of fruit, Lina commands: "Eat the grapes." Kefaya, who is learning English quickly through her elementary school's English as a Second Language program, mimics her big sister. "Eat the grapes," she teases. And so he does.
Bilal, an engineer, was born in Syria, and Cheryl is a native Rhode Islander who, while raising the couple's five children and homeschooling her youngest son, graduated from the Community College of Rhode Island this spring. The couple spends a lot of time with the al-Hariris, as well as other Syrian refugees who arrived in a flood this year. As of late summer, the state resettled ninety-five Syrian refugees, all of whom have been on the receiving end of the Al-Sasahs' generosity.
Cheryl is a volunteer mentor with Dorcas International Institute of Rhode Island, which resettles a majority of Rhode Island's refugees. The agency secures apartments and provides caseworkers for newcomers, and offers hundreds of free English classes per week.
Along with her friend, Sterk Zaza, Cheryl helped organize the highly publicized airport greeting for the Ghazalas. Since then, the women and their acquaintances have welcomed Syrian refugees, as well as all refugee families resettling in the state, by cleaning their apartments and gathering household donations from their connections in the community. And refugees they've previously welcomed, including the al-Hariris, also help clean the apartments of new arrivals. Cheryl was motivated to furnish the refugees' apartments when she heard how quickly their one-time resettlement money — $925 per person, funded by the federal government and administered by Dorcas — dwindled after three months' rent at market rate, plus utilities, bed frames, mattresses, living room furniture and kitchen items were covered.
"They're in debt before they step foot on American soil," Cheryl says. "We like to eliminate their debt as much as possible. And Dorcas has been nothing but accommodating. They give me a list so I'm able to contact the refugees' caseworkers. They'll give me the keys to the apartment so we can go in and clean, get everything set up for them."
Since February, Cheryl's collective has grown from five friends — who stored bureaus, couches and tables in their garages — to more than 300 people of all backgrounds and faiths, including leaders in the Muslim, Christian and Jewish communities. The group filed the paperwork to become a nonprofit in June and works under the name, Americans Helping Others Prosper (AHOPe).
Cheryl, who serves as the group's president, says she requests donations through the communication app, Whatsapp. Requests are filled twenty-four hours a day. As one member put it, the "ring" of a filled request — even at 3 a.m. — conjures a line from the 1940s Frank Capra movie, It's a Wonderful Life: "Every time a bell rings, an angel gets his wings."
"I'll put out a request for a bike or a box of pull-ups in larger sizes, because some of the older kids have nightmares and wet the bed," Cheryl says. "Within ten minutes, I'll have a case."
The al-Hariris recently received a second-hand bike through Cheryl's group. Raed, who is nineteen, uses it to commute to his job as a cook in a pizza restaurant on Federal Hill. His twenty-one-year-old brother, Raad, also works in pizza. Their Muslim faith prohibits them from handling pork, but the brothers found a work-around: They double their plastic gloves for pepperoni, ham and bacon orders.
"There is a lot of work," Raed says, with Bilal translating from Arabic to English. "Anybody could find a job here."
He says he'd like to work in masonry, his family trade, but that requires a better grasp of English and the family needs money now. So he makes pizza in the afternoons and evenings, and he attends English classes at Dorcas in the mornings with his mom, who is there nearly every day of the week.
Once Raed can speak English, he'll get a job in his trade — and so can his dad, Fayez. If Raed can translate from English to sign language, they both can work here.
For the younger children, school is their job. Lina, the fifteen-year-old, walks forty-five minutes through South Providence to middle school every day. The family was told the school bus was at capacity. It's a long walk, but it's worth it, Lina says. She wants to do things differently in America: Go to school, find a job, then start a family.
Despite the obstacles they've met as new arrivals, Lina says in English, "I love Americans. Americans help people. America has good people."
Fayez signs: "I have family now. I live here, and I want to die here." He stands, walks over to Bilal and embraces him.
The family is grateful to have found a community here in Rhode Island, which boasts more Syrian immigrants per capita than any other state in the country. And Fayez and Sadia repeatedly say how "blessed" they are to have escaped Syria without losing any family.
Another refugee family, the al-Namesses, who arrived in Rhode Island shortly before the al-Hariris, were not so fortunate. Their first-born son, who was conscripted by the Syrian army for two terms, was shot by a sniper. He was paralyzed for several days before succumbing to his wounds. At the time, the family lived as migrants in Egypt.
Mohammad, the al-Namess patriarch, doesn't like to talk about his son's death, or the airstrikes that flattened their suburban neighborhood outside of Damascus. But he says he misses the sense of community there, where his siblings and friends all lived on the same block. Now, he says, one relative remains in the neighborhood to take care of eighteen children, whose parents died in the crossfire or were imprisoned by the Syrian Army.
During the holy month of Ramadan in Syria, Mohammad says he'd pass the long days of fasting by visiting everyone on his street, leaving each house with a dish from an auntie. When he returned home, it was time to break fast and his arms were full of food for his family.
Ramadan in Rhode Island was small in scale but still celebratory. The al-Namesses and the al-Hariris, who have children about the same age, live within fifteen minutes' walking distance. They broke fast often.
And on Eid al-Fitr, a major Muslim holiday that marks the end of Ramadan, the religious rules — including "show happiness," "give as much charity as is possible," and "no fasting" — were firmly followed. On that sweltering 94-degree Wednesday in July, in a yellow school bus rented by Dorcas, dozens of Syrian refugees traveled to the Masjid Al Islam mosque in Smithfield, where they could pray and feast and laugh, together.
On any given day, you'll hear more than fifty languages ring through the hallways at Dorcas International Institute of Rhode Island.
According to Baha Sadr, director of refugee resettlement at Dorcas, his agency resettles about 80 percent of all refugees referred to Rhode Island from the federal government, which peaks at 300 per year. The Roman Catholic Diocese of Providence resettles the remaining 20 percent, but their caseworkers refer refugees to Dorcas for adult education. Other organizations, including the Refugee Dream Center and the Genesis Center in Providence, serve refugees, as well.
Dorcas is housed in two buildings on Elmwood Avenue in South Providence. In addition to refugees, the agency offers services to recent immigrants, unaccompanied youth and others seeking English classes, GED classes or job training.
"Providence has the potential to engage everyone in the community to truly be a multicultural environment," says Sadr. "That's the spirit of being in America and learning from each other, how to live with each other and how not to be afraid of each other."
Sadr, who was born in Iran, says the refugees from Syria are uniquely positioned to integrate into the fabric of Rhode Island, thanks to the large Syrian community here.
"They're also highly skilled, they're educated, they know what they can do to have a good life," he says. "But they come here and it takes them a few months before they can start taking steps on their own. After that period, they can start thinking about how to position themselves so they can thrive."
Since the first family arrived in early February, Syrians have dominated the refugee rolls of 2016. But in previous years, Rhode Island resettled more people fleeing conflicts in Colombia, Burma, Somalia, Burundi and the Democratic Republic of Congo. Last year, the majority of new arrivals were Congolese.
Sarah Antaya, the refugee resettlement program manager at Dorcas, meets refugee families and single travelers on their second day in the United States and gently leads them through their financials. For families, Antaya says, Dorcas administers $925 per person in one-time resettlement money, which covers rent, utilities and household goods, when volunteer groups like AHOPe don't provide them. If any cash remains at the end of three months, Dorcas cuts them a check.
From left: Cheryl Al-Sasah co-founded the nonprofit, Americans Helping Others Prosper (AHOPe). Baha Sadr serves as director of refugee resettlement at Dorcas International Institute of Rhode Island. His colleague, Sarah Antaya, is Dorcas's refugee resettlement program manager.
Families with minor children, including the al-Hariris, qualify for the state's cash assistance program, Rhode Island Works, as well as food stamps. Their eligibility is re-evaluated when family members find employment. Single travelers, on the other hand, qualify for a refugee cash assistance program, which is limited to eight months.
"We try to stress it from the beginning," says Antaya. "There's no safety net. There is not another form of cash assistance after that eight months. I feel like the thing that does it is to say: The next thing we would have to do is refer you to a homeless shelter."
Antaya says that usually doesn't happen. Dorcas provides job training and career development services, and many refugees find work through community connections. Refugees have made it this far; they are resourceful, she says, and they know how to survive.
"This is not some light choice that they make like, 'Let's give it a shot in the U.S.A.,' " Antaya says. "This is forced upon them and everything has fallen apart around them and therefore all that they've been working towards — a really simple life of raising their family and keeping everyone safe — has been smashed."
She recalls one recent intake, a family from Syria. She asked the father what he did for work. He explained he was an engineer for twenty-five years, and he was about to retire. His wife began to cry.
"I looked at him and thought of my father, who had been a milkman for forty years. There was something about his face that reminded me of my father," she says. "He had worked his whole life and provided for his family and had this professional pride. Now it's all gone. Granted, the important thing is they are safe. But really, they would rather be in their home country and not starting over again."
In the last year, Dorcas brought on Sagitta Woodman, a clinical social worker, to help adult refugees negotiate their new lives in America. Their children receive heath care at Hasbro Children's Hospital's refugee clinic, a patient-centered medical home where mental health is evaluated alongside developmental screenings, vaccinations and dental exams. But before Woodman, the adults sorted out their trauma on their own. She performs two evaluations — one when they first arrive, and a second after three months — and provides psychiatric referrals for those who need more help.
Woodman estimates that up to 30 percent of all refugees suffer from anxiety, depression or post-traumatic stress disorder. For the Syrian population, she guesses that statistic is much higher.
"But the Syrian community in Rhode Island is amazing and so willing to put on many different hats to give them a warm welcome," she says. "It's something that many [refugee] populations don't have."
Fred Sneesby works to welcome refugees on the state level. As Rhode Island's refugee coordinator, he administers federal grants and marshals public and private resources that might help refugees resettle.

Above, Raeda uses adaptive technology to learn English. Below, Mahmoud jokes with a classmate, a recent refugee from the Democratic Republic of Congo.
"Really it's a federal process, and the states have an ancillary role," Sneesby says.
For example, the government provides social services and targeted assistance grants, which support job readiness and education programs. A school improvement grant, which Rhode Island won two years ago, helps fund the Refugee Summer Learning Program administered by the Swearer Center for Public Service at Brown University, Dorcas and the Providence Public School District. Five al-Hariri children, and 120 other refugee students from the Democratic Republic of Congo, Colombia, Syria and other countries, enrolled in the camp, which ran for five weeks in mid-summer. With the aid of adaptive technology, students participated in English classes led by Providence teachers, as well as activities in the arts, music and science.
"But one of the biggest challenges is housing — housing that is affordable, safe and healthy," Sneesby says. "It's a constant challenge, especially when refugees are coming in waves, like now. It really strains the housing capacity in the city."
Dorcas caseworkers are responsible for finding apartments for new refugees, sometimes two weeks before their arrival. They often choose buildings within walking distance to Dorcas in South Providence. Then, they narrow down the pool by affordability and apartment size, as many refugee families are large. The remaining apartments are often older and in tougher neighborhoods. Some have rodent problems. The al-Hariris, for instance, have mice. The girls name them all Jerry, after the mouse in the animated series "Tom and Jerry," which is popular in Syria.
A year ago, Sneesby convened a group of stakeholders to brainstorm around the issue. The Rhode Island Foundation stepped up with a voucher program to supplement refugees' rents during their first few months in the state. The program provides assurance for potential landlords as well as financial assistance for cash-strapped new families.
"Sometimes it's just a matter of people putting their heads together and problem-solving," he says. "There's not a lot of funding available. Those federal grants are pretty much it. It's not as if we have these pots of money lying around."
In spite of the tight funding, Sneesby says the United States settles the largest number of refugees as a host country.
"But it's still a drop in the bucket in terms of people who have been displaced all over the world or are living in refugee camps," he says. "People confuse refugees with the hundreds of thousands of people who are streaming into Europe. They're not refugees. They're asylum seekers or migrants. 'Refugee' is a very particular status the state department gives to a person or family. It means they've had to flee their country and that they've gone through a whole series of screenings before they arrive in the United States."
Sneesby says concerns about refugees resettling here from the Middle East cannot be dismissed, especially in light of ISIS-inspired attacks in Paris, San Bernadino, Brussels, Orlando and Nice. Last December, Republican presidential candidate Donald Trump flamed the anti-refugee rhetoric by calling for a ban on all Muslims entering the United States. But according to Sneesby, much of the political posturing is due to a misunderstanding of the refugee vetting process.
"In Rhode Island, the governor [Gina Raimondo] made it very clear that she welcomes all refugees to the state of Rhode Island, but there were several other states around the country where governors were saying they were going to stop refugees," he says. "It really is, as I've said, a federal process."
Last November, Rhode Island state senator Elaine Morgan, a Republican from Hopkinton, emailed her colleagues, "If we need to take these people in we should set up [a] refugee camp to keep them segregated from our [populace]."
Morgan's sentiments were picked up by local news organizations and national outlets including Politico, the Atlantic and the Huffington Post. She did not respond to requests for further comment.
At a rally at the State House in February, which was captured on video by Steve Ahlquist of RI Future, protesters had a different message: "Say it loud, say it clear, refugees are welcome here."
The chant drowned out a speech by Charles Jacobs, president of the Boston-based Americans for Peace and Tolerance, who read from a slip of paper, "Syrian refugees may pose a significant danger to Rhode Islanders…most especially Jews."
But Rabbi Sarah Mack of Temple Beth-El in Providence says the Syrian refugee crisis is a cause that's close to her heart. Mack and members of her synagogue have donated several carloads of household goods to AHOPe and help clean apartments before new refugees arrive in Rhode Island.
"It mentions many times in the Torah that we were strangers in the land of Egypt, so be welcoming to strangers," Mack says. "So many in the congregation realize that this was their grandparents or great-grandparents who came to America with nothing and relied on the kindness of people who were already established. That is part of our faith."
Echoing Sneesby, Mack says we're living in a fearful time, and it's important to recognize the anxieties of others.
"But I feel like my mandate as a Jew and a rabbi is to help people meet face to face and to know the refugees we are welcoming who are grateful for the help we're giving," she says. "They have small children. They've suffered incredibly, and this is something we need to do."

Lina and Raeda al-Hariri joke with Cheryl Al-Sasah, who serves as their volunteer mentor through Dorcas.
Three, two, one: Action!"
On a stage at Providence Career and Technical Academy, just a few blocks from their apartment, Lina, Wafaa and Kefaya al-Hariri and their classmates sing: "I see trees of green, red roses too. I see them bloom for me and you. And I think to myself, what a wonderful world."
They've been practicing the Louis Armstrong tune for weeks in their music and acting class at the Refugee Summer Learning Program, and now's their chance to perform in front of a crowd of new friends and family. A camp counselor plays a ukulele as they sing and dance to their own choreography — think: arms rounded overhead for "skies of blue."
Their older siblings, Raeda and Mahmoud, get some time on the stage, too. They perform in a collective of older students, dancing to Zambian hip-hop artist Robert Banda's "Amarulah." Raeda is on beat and graceful, though slightly uncomfortable in the spotlight. What Mahmoud lacks in moves, he compensates with enthusiasm.
The Refugee Summer Learning Program ended in early August, and the family is preparing for the start of school. Lina will join Raeda and Mahmoud at Central High School, a fifteen-minute walk from their apartment. The younger girls will return to their elementary school from the spring.
Their aspirations for the year are clear: to become proficient in English and get up to grade level. Both Raeda and Mahmoud dream of careers in the medical profession. Raeda wants to be a psychologist; Mahmoud, a dentist, because, he says in near-perfect English, "You make people smile and that is magic."
Thanks to the Summer Learning Program, the al-Hariri kids gained English language skills over the course of the break. Their older brother, Raed, did, too. After months of working late nights in a pizza kitchen and waking up early for English class at Dorcas, Raed was proficient enough to earn provisional spots on a construction crew, both for himself and his father. By late summer, they were training in American customary units and carpentry policies and procedures. By early next year, they can apply for green cards. Four years from then, citizenship.
The pressure to succeed in America is strong, but the al-Hariris still manage to make time for each other. One evening in late summer, over potent, earthy Arabic coffee, the family picks on Lina about her cooking skills. A few weeks back, she boiled two-dozen frozen shrimp, shells still on, for more than an hour. They never turned pink, like the picture on the package. In secret, Lina added peppery spices so the seafood changed color. She wouldn't eat a single shrimp, and neither would her dad. But everybody else did, and they all had stomachaches.
Not long after, the Al-Sasahs took the al-Hariris to their first Chinese buffet. They thought the pan-Asian shrimp tasted about the same as Lina's.
They saw the ocean for the first time in Point Judith, and marveled at the docked fishing boats and the white swells in the distance. Sadia posed for a picture by the shore to send to her older children in Jordan. Mid-photo, a wave crashed on the back of her legs. "Cold," she says in English, with a shudder and a grin.
They pitched tents at a girl scouts camp for a weekend of swimming, badminton and halal marshmallows. Here, they learned the difference between the American camp experience and the refugee one.
And they rode their first carousel. One afternoon, Cheryl Al-Sasah took the girls to the Carousel Village at Roger Williams Park. Raeda and Lina stood back; the ride was probably just for their little sisters. But when Cheryl said she was going on, they jumped at the chance, too. Thrilled, they chose their painted horses and rode like the wind.
As Cheryl explained it, the park was named after a man who fled persecution. He founded Providence — which means "hand of God" — and, in turn, the state of Rhode Island, where people of all faiths could live without fear.
The al-Hariris knew the story well but, for a few minutes, they didn't have to think about persecution or Buser al-Harir or the Syrian Civil War — or school or bills or the many incarnations of Jerry the mouse.
They were just girls, going for a ride on a carousel.