These Scary Snowman Videos Will Make Your Day
Prankster Jay Karl put on a Scary Snowman costume, and then this happened.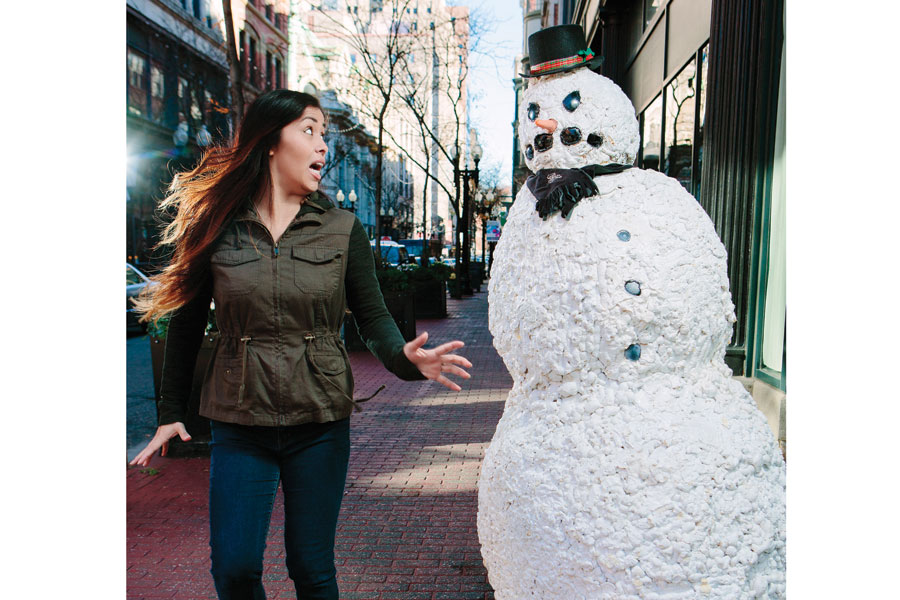 From a distance, it looks like a plastic snowman statue with a bizarre frown. But when a person or group approaches, the figure springs to life, startling anyone in its path. Reactions include screaming, swearing and jumping like a gazelle – and then, maybe a selfie, too. The Scary Snowman comedy act was created in 2011 by prankster Jay Karl of East Providence, who has been producing fake ghost videos since 2007. Live pranks are recorded by video, edited to include the funniest content, then posted to YouTube. His YouTube channels, Jay Karl's Pranks and the Scary Snowman have more than 260 million total views and his work has appeared on MSNBC, MTV's "Ridiculousness" and Jay Leno. He emerges only a few times a season, usually in Newport and Cambridge, Massachusetts. "When it's in demand, people appreciate it more," says Karl. He's considerate of those he attempts to fright. Children are greeted by silly sounds rather than movement, and those of a certain age might not be surprised at all. "We are very careful and stay away from elderly people," says Karl. "We try not to risk anyone getting hurt or having a heart attack." This winter, when the snow just won't quit, look for the Scary Snowman to lighten things up.
Newport:
Watch more Scary Snowman videos!