There's Something About Mary
Fighting for desperate people in harrowing circumstances takes steeliness and idealism. Mary McElroy, the new state public defender, has both.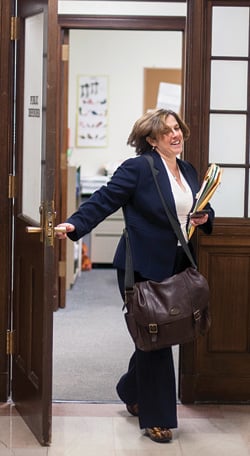 For all their individual personalities and styles, lawyers tend to look and sound the same. They dress well for court, and carry an air of confidence and power, some a downright swagger, letting the world know they are in the room, speaking boldly, the squeaky wheels seeking judicial grease.
Not so Mary S. McElroy. In July of last year, she became the state's chief public defender, the first woman to get the job since it was created in 1941. She is short, well dressed, and speaks with quiet confidence, her demeanor far more approachable than threatening. Her wide-open friendly face, framed by dark hair, would be lost in the back of the courtroom if she weren't so recognizable in Rhode Island legal circles, and so well-respected.
Her department gives free defense to those who can't afford it, handling thousands of cases a year, mostly by the fifty or so full-time lawyers in its employ. McElroy, because she's in charge of running the whole shebang, has but three going on now, wishing time would allow for more. On this day, she is in courtroom nine of Magistrate John F. McBurney III as part of a murder case.
The second she walks in, she is recognized by prosecutors from the state's Attorney General's office who break into smiles and shoot her "what are you doing here?" looks. But no smile is broader than McBurney's, who lords over a seemingly chaotic place of noise, sloppily dressed defendants and giant stacks of paper files, with rapid, practiced efficiency.
"Well, counselor," beams McBurney, who up 'til now hasn't cracked so much as a tiny smile for the hour-and-a-half McElroy patiently waited. "We're so very glad to have you in the courtroom today."
McElroy smiles back, shy in the recognition, and then asks for a chambers meeting later to discuss the case. McBurney readily grants it.

"I've always been impressed by her," McBurney says.
"She's an excellent choice for the job and I'm confident that the department under her will be run the way it was under prior public defenders."
That would include the very well-regarded John J. Hardiman, the man she replaced, who died from lung disease in October 2011. Governor Lincoln Chafee picked her for the job.
"The public defender's office is in very good hands," says McBurney, adding with a more typical lawyerly flair for self-assurance, "I've been a member of the bar for more than forty years, so I think I can assess talent."
To read more of this story please visit your nearest newsstand or click the link below.