There's No Place Like Nowhere
Thirty years ago this month, John Lennon left Newport on a small boat headed for Bermuda. He hoped the five-day voyage would unlock his musical writer's block. It turned out to be the ride of his life.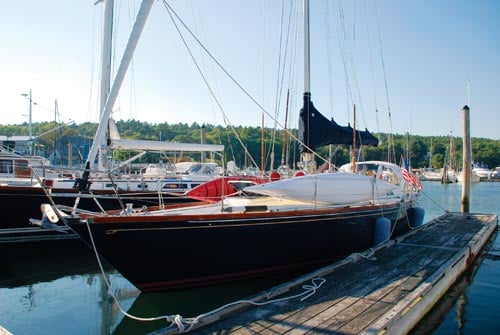 As the Megan Jaye sailed into St. George's Harbour in Hamilton, Bermuda, one of the passengers scrawled in the guest log, "Dear Megan, There's no place like nowhere." The forty-three-foot Hinckley centerboard sloop, lovingly named Megan Jaye after her owner's daughter, had safely arrived after a seven-day journey from Newport, Rhode Island, with precious cargo. The dedication continued with a fond thank you to the yacht's captain, Hank Halsted, complete with the writer's trademark caricature self-portrait and a sketch of the Megan Jaye sailing into the sunset. It was signed "love, John Lennon."
Only days before, the small vessel had been clobbered by waves driven by gale force winds, pitching it from side to side and up and down, one moment surrounded by twenty-foot seas, the next by sky. Strapped to the cockpit rails, Lennon, the novice helmsman, clung terrified to the wheel for dear life. The waves pounded over the bow of the boat and into the cockpit, knocking him to his knees and prompting him to scream back, "Take me away, God. I don't give a shit."
Despite his fame and fortune, he was facing the perils of a life and death situation, with no one to do it for him. Lennon found himself vulnerable, and solely responsible not only for his own life, but also the lives of his crewmates.
With his shoulder length hair tied back in a samurai bun, and the sea and wind thrashing his face, his courage gradually rose along with the menacing sea before him. Staying the course, he shouted back at the sea, singing old sea chanteys and sailor songs he had heard as a boy in Liverpool.
Surely, "There's no place like nowhere" was not his primary thought when the former Beatle reluctantly took the helm in the midst of the powerful mid-Atlantic storm. Nor was sailing the tension-relieving experience he remembered while learning his way around his own fourteen-foot sailboat, Isis, on Long Island Sound. Regardless of his feelings at the time, though, John Lennon arrived in Bermuda a different man from the one who left 
Murphy's Dock in Newport.
Lennon himself claimed that the experience at sea was one of the most important events of his life, a catalyst that inspired him to rise above his writer's block and compose what would become his last material. And the one-of-a-kind signed guest log, a symbolic souvenir of that experience, would find a place in rock 'n' roll history.
Nearly thirty years later, the Megan Jaye's captain, Hank Halsted, is modest about his role in rock 'n' roll history. Halsted is a principal of Northrop and Johnson's Newport office, one of the largest yacht brokerages in the world. He was the president of the Yacht Architects and Brokers Association, and founding member of the International Yacht Council. He has also authored more than a hundred articles on boat handling and seamanship and has captained or navigated in dozens of Newport-to-Bermuda races and regattas, winning several.
Back in his twenties, he ran a drug clinic in Colorado and promoted concerts for the Allman Brothers Band and Big Brother and the Holding Company; just before he turned thirty he returned to his calling, sailing the world visiting exotic places. Because of his love for sailing, he would eventually cross paths with one of rock 'n' roll's greatest legends.
While Halsted was sailing about the world, Lennon was burning out from the pressures of recording and his immigration hassles with the U.S. government. With all his troubles, the exhausted Lennon was in desperate need of a break. After the birth of his son, Sean, in late 1975, and through the spring of 1980, he did just that. For many, it seemed as if Lennon had fallen off the face of the earth. His self-imposed hiatus had cast him into a reclusive lifestyle hidden away in his Dakota apartment on Manhattan's Upper West Side, causing many Beatles fans to wonder what had happened and if they'd ever hear from him again.
He told an L.A. Times reporter, "Making music was no longer a joy. For twenty years, I had been under this pressure to produce, produce, produce. My head was cluttered. Every time I'd sit down to write, there would be a cloud between me and the source, a cloud that hadn't been there before. I was trapped and saw no way out."
Except for an occasional mention in the newspaper, there didn't appear to be much happening with Lennon. In February 1978, he purchased nearly one thousand acres of land in upstate New York, intending to raise registered Holstein dairy cows. Later, one of his Holsteins fetched a record-breaking $265,000 at the New York State Fair. And in 1979, he reportedly donated $1,000 to the New York Patrolmen's Benevolent Association to outfit policemen with bulletproof vests. Apart from that, Lennon spent the better part of five years watching TV, baking bread, reading countless books and newspapers, and writing song fragments that he was never inspired to finish. But above all, and most importantly, he spent time raising Sean while his wife, Yoko Ono, engineered all of the high-powered business and investment deals.
In the spring of 1980, after having recently acquired a waterfront home in Cold Spring Harbor on Long Island's north shore, Lennon confided to his assistant, Fred Seaman, that he wanted to fulfill a lifelong dream. "All my life I've been dreaming of having my own boat," he told Seaman. "I can't wait to learn how to sail!"
Lennon's fascination with the sea began during his childhood days in Liverpool. Roaming the docks, he wondered whether his father, a merchant seaman, was aboard one of the returning ships. Lennon confessed to Seaman that he became distraught whenever his father was absent. To ease his pain, he thought of the exotic places the ships had been, or imagined himself a stowaway to escape whatever misery he was facing at home or school. Sometimes he got an overpowering urge to sneak aboard a ship, but in the end he was always afraid of the unknown and never followed through on his impulses.
In late April 1980, Lennon dispatched Seaman to acquire "a one-sail sailboat, i.e. the 'dumbest' and simplest." On Lennon's behalf, Seaman bought a fourteen-foot, single-sail boat from Tyler Coneys of Coneys Marine, a family-owned and operated marina in Huntington, New York. Coneys spent a good part of May showing Lennon the ropes on handling his new prize.
Lennon named the sailboat Isis after the Egyptian goddess of fertility, and after his and Yoko's passion for Egyptian art. After mastering the piloting of the Isis around Long Island Sound, he was ready for a longer excursion. He quickly assigned Coneys the task of making arrangements. However, as many of the Lennons' business and personal decisions were reportedly guided by the stars and similar methods of predicting the future, they consulted their directionalist, Takashi Yoshikawa, the world's foremost authority on the Ki. The Ki, an ancient Chinese divination system, holds that life is determined by a combination of three hidden energies: earthly, heavenly and human. Yoshikawa suggested that for Lennon to escape the clouds that were casting a shadow over his life and his creativity, the only direction that he could safely sail to undergo his psychic healing was southeast. In his case, that meant Bermuda. Lennon boarded a chartered twin engine Cessna airplane with his crew and departed for Newport to meet Hank Halsted, the Megan Jaye, and his appointment with destiny.
"I had just got back from an extended trip from the Caribbean, when my charter agent, Paul McCaffrey, asked me to sail four New Yorkers to Bermuda," Halsted recalls. "The last thing I felt like doing was going right back out to sea."
Nevertheless, he agreed.
Halsted wasn't aware of his principal passenger's identity. "I went the better part of the day as I readied the Megan Jaye for departure before recognizing him. I said to McCaffrey, 'What would you say if I told you that I think I have John Lennon on my boat?' McCaffrey replied, 'You're full of shit.' "

On June 4, 1980, the Megan Jaye and its crew departed from Murphy's dock, now the site of the Newport Yachting Center on the edge of Newport harbor. "John and I hit it off immediately, striking up a great rapport," Halsted says. "Our conversations were like a ping-pong of the minds."
They talked about anything and everything, one topic fueling another. Being closer in age, Halsted says they had more in common than with the other crewmates. They'd both experimented with the same psychedelics during the sixties, and they realized they were on the same wavelength. Halsted asked Lennon about his self-imposed retirement: "You affected millions of people all over the world. How are you going to follow that up?" John replied, "I'm going to raise my son."
The voyage was to take five days and cover about 650 miles across the Atlantic Ocean, past stormy Cape Hatteras and right into the notorious Bermuda Triangle. Initially, the seas were calm, but by the third day into the voyage a powerful mid-Atlantic storm befell them. With twenty-foot waves and winds approaching sixty-five miles per hour, the small vessel took a serious pounding. As the storm continued, each of the experienced crew succumbed to seasickness, leaving only Halsted at the wheel and Lennon in the galley. Halsted remained at the helm for more than two days. "It was a serious storm, a situation where you had to know what you were doing," Halsted says.
Sailboats have a protective covering called a dodger to shield the helmsman from the elements when at sea. Typically, a dodger has stainless steel support arms and zip out windows. "During the storm the stainless steel dodger surrounding the hatch was flattened by a wave," he says. "It was the only time I had ever seen it happen."
Exhaustion finally got the better of him. With no one left to pilot the sailboat, Halsted was forced to recruit the inexperienced Lennon. Why, in so severe a storm, would he put the lives of everyone at risk by leaving the responsibility to such a novice sailor?
"I never intended for John to sail the boat alone," Halsted says. "He would only sail with one of the experienced crew beside him, never alone. His duties were in the galley, where he was responsible for preparing all of the food. He came aboard knowing he would only be learning, an observer. He never wrote anything down, just saying that he would remember the experience."
"But I had been up for nearly three days. I had a situation where I felt it was necessary that someone else take the helm. The others couldn't do it; they were too ill. The Megan Jaye didn't have an autopilot on board at that time. The captain's station and bunk below are only a few feet away. I could have been at his side in seconds had anything gone wrong. Being on the boat, you sleep lightly."
Halsted spent an hour keeping a watchful eye over his frightened protege, then went below to sleep, leaving Lennon alone at the helm.
As Lennon told Playboy a few months later: "So, I was there driving the boat for six hours, keeping it on course. I was buried under water. I was smashed in the face by waves for six solid hours. It won't go away. You can't change your mind. It's like being on stage; once you're on there's no gettin' off. A couple of the waves had me on my knees. I was just hanging on with my hands on the wheel — it's very powerful weather — and I was having the time of my life. I was screaming sea chanteys and shoutin' at the gods! I felt like the Viking, you know, Jason and the Golden Fleece. I arrived in Bermuda. Once I got there, I was so centered after the experience at sea that I was tuned in, or whatever, to the cosmos. And all these songs came! The time there was amazing. Fred [Seaman] and Sean and I were there on the beach taping songs with this big machine and 
me just playing guitar and singing. We were just in the sun and these songs were coming out."
When Halsted went back up on deck hours later he saw a changed man. "To see John so filled with life was amazing. To see him so alive and to have watched the change in him was truly a wonderful experience."
Lennon continued to accept new challenges for the remainder of the voyage. He helped Halsted repair a torn sail while the Megan Jaye coasted without sails for a day. "John was completely into this primal experience, where I had him heat a marlinspike on the stove until it was red-hot," Halsted recalls. "He would then pass it up to me, where I would burn a hole in the sail causing it to wick so that a rope could be passed through without the sail unraveling from the tension of the rope. We did this for hours and he was completely into it."
Once in Bermuda, Lennon's assistant, Seaman, immediately noticed the change in his boss. In his book, he recalls how Lennon talked enthusiastically about his sailing trip and how he had survived due to his own strength and courage. "You can't imagine what it's like when you look around and all you see is water and sky. You feel both isolated and in communication with the almighty whatever. It's an overwhelming sensation of freedom."
Stephen Fuller, the current owner of the Megan Jaye (now named Jubilee), understands what Lennon meant. "Sailing has this impact. Having sailed almost 40,000 miles on the open ocean, I can attest to the transformative effects that occur from the challenge of the sea, the weather, the darkness, the isolation, the danger. John experienced this challenge, as all sailors do, of being confronted by man's insignificance in the cosmos, a little speck on the vast open ocean, and then surviving and regaining land. It is a powerful experience, and it influenced John's creative power to write and capture these cosmic experiences in several of his last songs."
Fuller, a Beatles fan, had sailed to Bermuda a week after Lennon. He spent two weeks in Bermuda not realizing that the rock legend was on the island. Nearly twenty years later, without knowing its history, Fuller purchased the very sailboat that Lennon sailed to Bermuda. A plaque commemorating the memorable ocean passage now hangs next to the berth where Lennon slept.
In the seven weeks that he spent in Bermuda following his voyage, Lennon, filled with enthusiasm from his experience at sea, wrote nearly all of the songs that turned out to be his last. Still beaming with energy and passion, he returned to New York at the end of July. With the assistance of producer Jack Douglas (of Aerosmith and Cheap Trick fame), a band of some of the best studio musicians recorded the songs that were the result of Lennon's newly found inspiration.
The fruits of his labor, planted from seeds sown in Newport five months earlier, resulted in Lennon and Ono's final record together. Double Fantasy was his first album in five years. It's named after a freesia of the same name, a flower that Lennon had observed in his daily visits with Sean to the Botanical Gardens in Bermuda.

Double Fantasy was released on November 17, 1980, just two-and-a-half weeks before John Lennon was murdered. The album is a "heart play" between John and Yoko, a collection of songs they sing to each other, each tune responding to the one before it. It depicted their life over the previous five years, and included the hits "Starting Over," "Woman," and "Watching the Wheels."
All these years later, Halsted thinks back to that memorable trip and downplays his role in it and in music history. "My time spent with John was a very special time in my life," he says. "I was incredibly lucky to have met him and spent time with him.
"I don't think of what I did as being a part of rock 'n' roll history," he adds. "Instead, I like to think that I just helped bring creative genius back to the surface."
Double Fantasy won the 1981 album of the year at the Grammy Awards in February 1982. The remaining material from those sessions was released posthumously on the album Milk and Honey in 1984. It included "Borrowed Time," which fans say was directly inspired by Lennon's experience aboard the Megan Jaye, and his recognition that life is fragile. That voyage from Newport to Bermuda unlocked John's musical brilliance in ways that he'd never anticipated when he left Rhode Island. It also underscored another reality that John knew well; life is what happens while you're making other plans.