Theater Takeaway: Wilbury's Next to Normal
All musicals should be like this.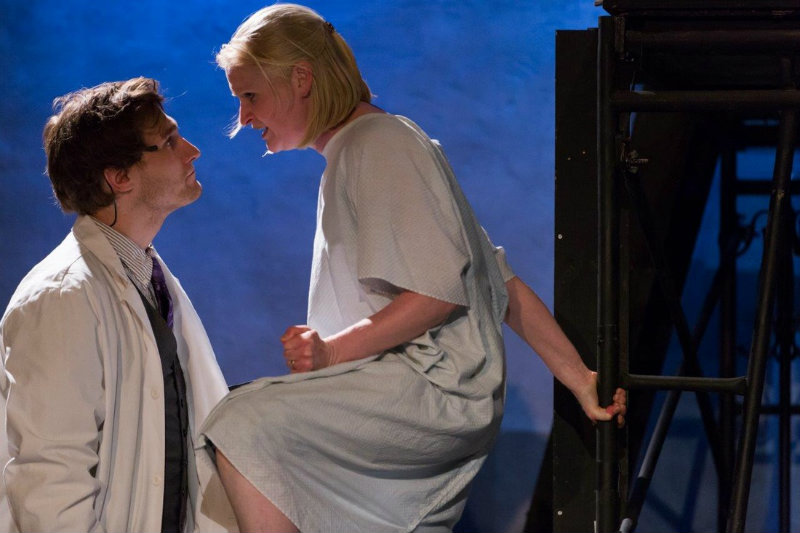 I was never a fan of musicals. They can be a gamble: Some are so syrupy, and I felt it easy to drift when spoken word turns to song. Lazy, sure, but it can be a greater payoff to zone out on whirling, intricate sets than to dissect language that's coated in vibrato. I presumed most musicals fell short of the "I'm better because I saw this" barometer.
I've never been so wrong.
The Wilbury Theatre Group's stripped-down take on the Tony and Pulitzer Prize-winning rock musical Next to Normal is, first and foremost, a genuine work of art. No whirling set, no syrupy plot line — just some on-the-nose acting by a small cast with lungs of steel.
It tells the story of a family that's rocked by mental illness, but Wilbury director Wendy Overly handles the topic with dexterity. The family isn't depicted as an oddity and, in the real world, they truly are next to normal; one in four American adults suffer from mental illness.
It's safe to say I'm better because I saw this musical, and you will be, too. Here's the takeaway:
The Mother
Man, Moira Costigan-Carraher can sing. Without exception, her vocals resound through Wilbury's acoustic-friendly theater, inducing chills.
More significantly, though, the actor has a brilliant handle on what it looks like when a mentally ill person loses her grip. Costigan-Carraher's character, Diana, has lived with bipolar disorder and visual hallucinations for sixteen years — the latter of which take the form of an actual character in the play.
A traumatic loss triggered her condition, and anyone touched by mental illness will nod along as the suburban mother tumbles into a downward slide. Costigan-Carraher portrays Diana's unraveling with authenticity, from her highs ("Valium is my favorite color!") to her lows: first, a suicide attempt, then shivering in her therapist's office after two memory-erasing weeks of shock treatments.
The Husband
Note that I didn't refer to him as "the father." Actor James Fernandes, an excellent singer who leads the male cast in vocals, effortlessly captures the role Dan, the stoic, supportive husband. Dan puts his wife first, a position that's implied in the song, "I Am the One," a duet with Diana's visual hallucination.
The real bad guy in the play is mental illness, but Dan teeters on the antagonist's edge when he tries to curate Diana's memories after shock therapy. He causes harm, despite good intentions — the way most human beings do it. Fernandes tackles this gray area with credibility and ease.
The Teenager
As if bipolar disorder wasn't enough, Next to Normal also tackles teenage drug abuse. Julia Bartoletti, who plays Dan and Diana's sixteen-year-old daughter Natalie, is a convincing case. Bartoletti has the good girl vibe and near-perfect vocals required for her character to be believeable. A determined student and talented pianist, Natalie starts popping pills after her mother's suicide attempt. It's an easy escape and an understandable one — albeit an ill fit for an ambitious teenager. She parties, but the audience never loses sight of the real Natalie.
The Impact
In addition to the show, Wilbury hosts two talkback discussions about mental illness and substance abuse, which are free and open to the public.
On May 31 at 5 p.m., Jessica Chase, who works with special needs clients at the Artists' Exchange, and Marty Cooper, community relations director at the Jewish Alliance of Rhode Island, will lead a discussion on the positive effect of the arts on people with mental illness. Actor Moira Costigan-Carraher joins them.
On June 7 at 5 p.m., the wonderful Holly Cekala, executive director of RI Cares, and psychologist Ben Johnson will discuss the glorification of adolescent substance abuse in television and film.
Wilbury Theatre Group's Next to Normal runs through June 14 at Trinity Square Theater, 393 Broad St., Providence. Tickets are $15 for students, $20 for seniors and $25 for adults. Call 401-400-7100 or visit thewilburygroup.org for more information.