Theater Takeaway: Trinity Rep's Middletown
Playwright Will Eno's metaphysical play gets the stripped-down Trinity treatment.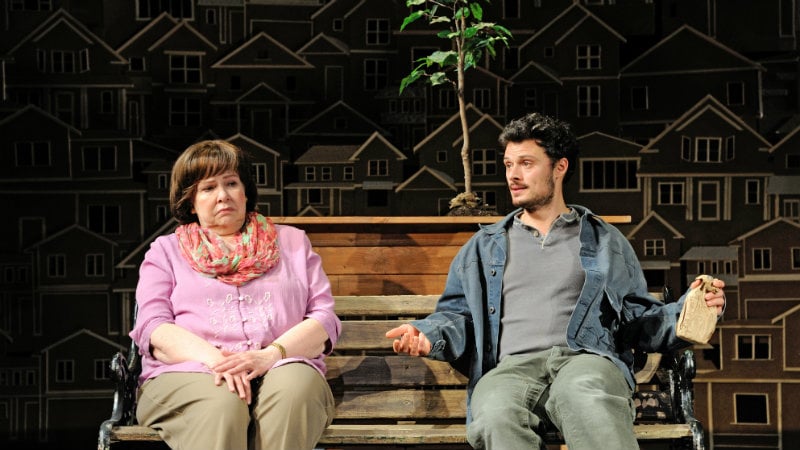 We human beings are all but ordinary. Sure, we do our jobs, we're agreeable, we move forward, in a sense, by placing one foot in front of the other every day. But beneath the surface, we harbor our own private storms.
In Trinity Repertory Company's Middletown, a story about a quiet small town in New England onstage now through February 22, the storms stir out in the open. A cop, a drunk, a housewife, a librarian: The town's residents think and feel with a sort of brutal candor that we can't allow ourselves in real life, and it's refreshing. See Middletown, and see yourself — and your community — with honesty.
Here's the takeaway:
Poetic Plebeians
It's almost like the residents of Middletown were given a hefty dose of truth serum. Boy, how I'd like to live in a place where the drunken mechanic (Lee Osorio) waxes poetic on his second-rate life; where the out-of-work handyman (Mauro Hantman) confesses that his panic attacks help keep him in shape; where the librarian (Janice Duclos) muses on death when a newcomer requests a library card ("Good for you, dear. I think a lot of people figure, 'Why bother? I'm just going to die anyway.' ") It sounds sad, but Eno's gorgeous language has a light-footedness to it, too.
The Friendship
Two new Middletown neighbors, Mary Swanson (Angela Brazil) and John Dodge (Mauro Hantman), strike up an unlikely friendship. Both of the characters ooze sincerity and in such different ways: Brazil's Mary, married and pregnant with an absent husband, is bubbly but a little unsteady; Hantman's John, perhaps the most complex character in the play, is depressed but in good spirits.
During one conversation, Mary tells John she hasn't been sleeping well, and John actually imagines her lying awake at night: crying, reading, staring out a window. It's something so simple — to give credence to what a friend confides — but so often we experience a disconnect between language and thought. It was one of the more revelatory moments of the night.
At the end of the play, Mary and John's fates align in a way that's more bitter than sweet, but nevertheless a part of life as we know it.
The Set
From a park to the library to two neighboring houses to a hospital to outer space, Trinity Rep's bare-bones Middletown set switches with ease between scenes. The simple design has an effect on the audience's engagement with the dialogue, too. In most scenes, the complex language takes center stage.
Perhaps the most visually riveting part of the night was during a scene in outer space — a local man (Justin Blanchard) made it big as an astronaut — in which twinkling stars blanket the entire theater and large glowing globes hang from poles in the aisles. But the beauty of the scene took something away from the astronaut's ramblings — on his hometown, on the meaning of life — from his seat in space. Visually, it was exquisite. Emotionally, the scene was a distraction from richer character musings.
Fred Sullivan Jr.
The Trinity Rep resident actor steals the show from start to finish. Sullivan Jr. opens the play with Eno's elegant monologue appealing to "…every last lone dying and inconsolably lonely person, fellow human beings, breathing people, breathers. Breathers, welcome." He also plays a tourist in town who's in need of "some perspective," then the doctor of every pregnant woman's dreams: truthful, funny, approachable ("Don't forget — it's so easy to forget — but everyone in the world was born. Try to name someone who wasn't. You can't…. Oh, take one of these. I get these free. Did you ever see a tinier hat?"). Sullivan Jr.'s incorrigible humor adds lightness to a play filled with big, breathy ideas, but he never steers the audience away from them — a true master of the stage.
Trinity Repertory Company's Middletown is onstage now through February 22. Tickets are $46 to $71. Call 401-351-4242 or visit trinityrep.com for more information.