Theater Takeaway: Trinity Rep's Like Sheep to Water
The play was written in the 1600s and translated from the original Spanish by Trinity Rep's artistic director.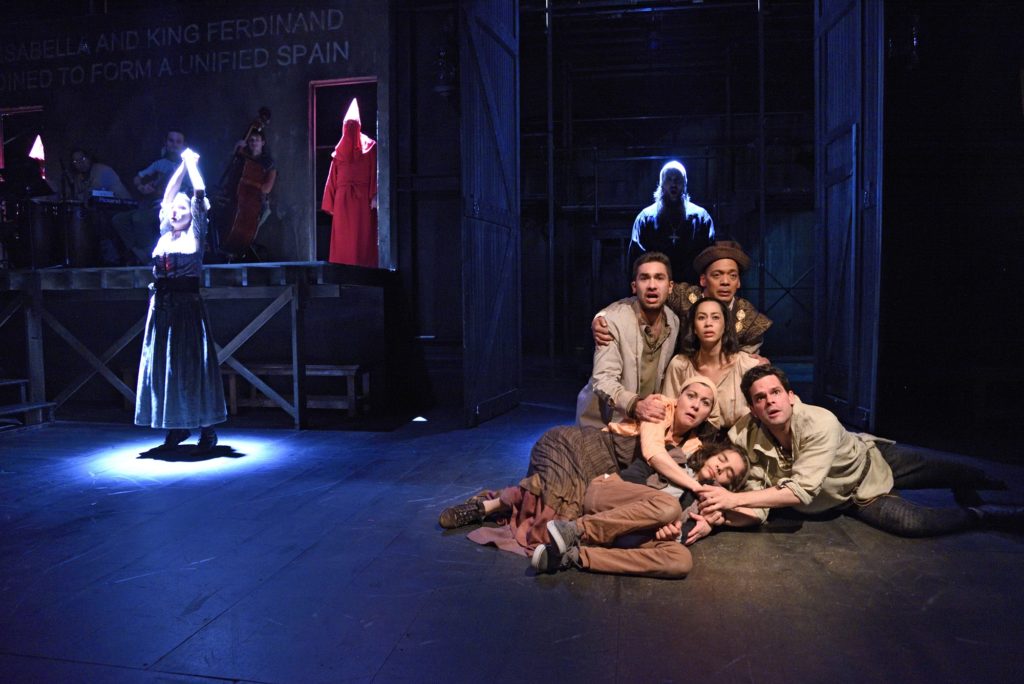 Towards the end of Monday night's performance of Like Sheep to Water, or Fuente Ovejuna, an actor's faux mustache flapped from one side of his upper lip. The audience giggled in fits throughout the very serious scene, but the young actor powered through it with the poise of a seasoned pro.
That moment captures the essence of Trinity Repertory Company's Like Sheep to Water, a play with great ambition but one that just doesn't stick.
The show — written Lope De Vega, translated by Trinity Rep's Artistic Director Curt Columbus, and directed by Mark Valdez — was penned in the early 1600s and is based on true events in Spanish history. This was shortly after Shakespeare's death, when theatergoers were hungry for tales of romance, corruption and community.
All three are prevalent in Like Sheep to Water, which follows small-town villagers who are raped, pillaged and brutalized by a war hero, Fernan Gomez. Villagers cower in his presence, but eventually they turn on him after — no surprise to this writer — the women take up arms and fight back.
Trinity Rep's Michael McGarty created a Russian nesting doll of a set, with thoughtful revelations up until the very last moments of the play. An onstage band added nice tension to scenes. And costume designer Garry Lennon mixes contemporary and centuries-old fashion to create a powerful reminder: What happened then could happen now.
Fred Sullivan Jr., in the role of Fernan Gomez, is an expert villain, borrowing physical idiosyncrasies from the modern era's biggest blowhard. (Note to playwrights: This is your man for future #45 productions. He's familiar with the source material.)
But the problem, here, is that this particular blowhard is just that. He's a celebrated military hero, and the power goes to his head. That's it. If we've learned anything from Shakespeare — or from life, as we know it — it's that even the bad guys have complicated backstories.
Like Sheep to Water is a play of foils, and it's a shame. The bones of the story have real potential to resonate, with help from committed performances by a cast of fresh and familiar faces. But no amount of strong acting can make up for a play that, while telling an alluring story, skims the surface of the human experience.
Many actors double up. The very regal, severe Rachael Warren serves as both a villager and Queen Isabella, draped in gold finery; the menacing Benjamin Grills plays a military henchman and truly frightening, cross-bearing interrogator.
Actor Joe Wilson Jr. is a convincing mayor and a coward. Angela Brazil, in a fairly small role as a villager, offers a woefully poignant performance of a desecrated woman who is ripped from her family and passed around a troop of soldiers.
And a romantic story line, featuring actors Octavia Chaves-Richmond and Orlando Hernandez as young people in love, is simple and sweet.
But when the violence climaxes towards the end of the play, it feels almost like a rash decision. I found it hard to get on-board with the uprising, despite the aforementioned physical violence and crimes against a faultless, impoverished community.
I'll take any excuse to root for the underdog but, in Like Sheep to Water, it was hard to see them as anything more than a mob — sullied, now, like the villain who terrorized them.
Trinity Repertory Company's Like Sheep to Water, or Fuente Ovenjuna, is onstage now through June 11. Tickets are $25 to $71. Call 401-351-4242 or visit trinityrep.com for more information.