Theater Takeaway: Trinity Rep's Barefoot in the Park
It's syrupy sweet, fast-paced fun.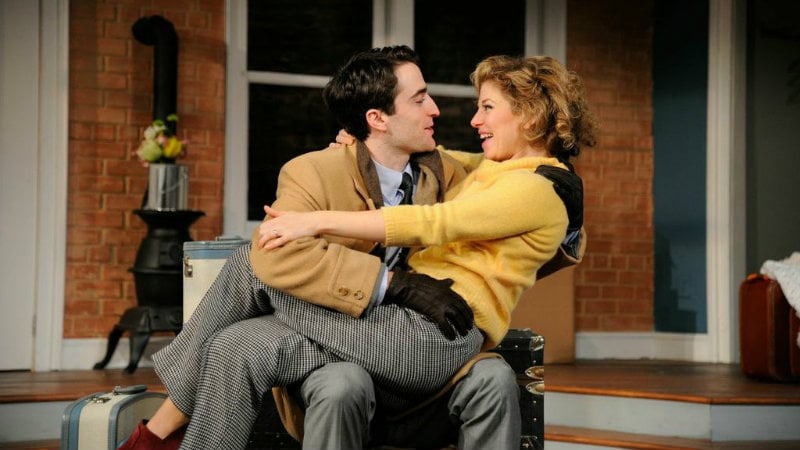 Trinity Repertory Company's production of Neil Simon's 1960s classic, Barefoot in the Park, is the most authentic night of theater you'll see all season. The show — which follows a just-married odd couple living in a cramped New York City apartment — jumps from webpage to stage, real-life lovers and beloved company members shining in roles that seem written for them. Here's the takeaway:
Engaged couples should always star in romantic comedies.
Trinity Rep's newest company members, Rebecca Gibel and Charlie Thurston, star as Corie and Paul Bratter. Corie's a little flighty, a '60s version of the manic pixie dream girl; Paul's a bit of a stuffed shirt. But their chemistry is undeniable — thanks, in part, to the real-life love between Gibel and Thurston, who are engaged to be married. Gibel explains in a Trinity Rep press release: "Paul and Corie are in many ways heightened, extreme versions of us."
But to be clear, the audience isn't seeing Gibel and Thurston onstage. The actors are convincingly Corie and Paul, even during the juicy do-or-die arguments. The great minds at Trinity Rep prepped us to fall for the fictional couple by way of a Knot wedding website, a Pinterest page of Corie's favorite things and a YouTube playlist devoted to their love story. Go ahead, poke around and play.
Phyllis Kay can do no wrong.
Ah, Phyllis Kay. The woman is versatile. One show, she's a saucy actress with a lug of a boy toy (Vanya and Sonya and Masha and Spike) and another, in Barefoot in the Park, she's a conservative mother who sleeps on a board and pops a pink pill in order to be a good sport. Kay is riotous in the role; she gasps for breath after mounting Corie and Paul's five-flight walkup, and the audience gasps along with her. Kay owned the best line of the night, in which her Mrs. Banks described an uncomfortable trip from the car to the apartment, ending with "If the hardware store downstairs was open, I was going to buy a knife and kill myself."
Stephen Berenson (also) can do no wrong.
I thought I loved Berenson most in Merchant of Venice but, no, he's just as good as Victor Velasco, a philandering bohemian who's perpetually late with the rent. The character's flamboyance is cause for laughter all on its own, and his on-the-nose 1960s wardrobe — well, brava to Trinity's costume designer Toni Spadafora. I'd wear one of his kimonos any day.
That set. Wow.
Set designer Daniel Zimmerman's use of two movable walls adds a touch of grandeur to the show. When closed, the walls create the appearance of a large brick apartment complex with window views of the living room and closet-sized bedroom inside. They're rolled back at the start of each act, a momentous reveal of the apartment's inner workings. I imagine the physical act of removing of the walls increases the level of intimacy between the audience and the cast, helping us fall in love with Corie and Paul as Neil Simon would've wanted.
The Details: Through Dec. 21. $46-$71. Trinity Rep, 201 Washington St., Providence, 401-351-4242, trinityrep.com.