Theater Takeaway: The House of Blue Leaves
Both zany and painful, Gamm's latest show offers no answers. Not a one. Sorry.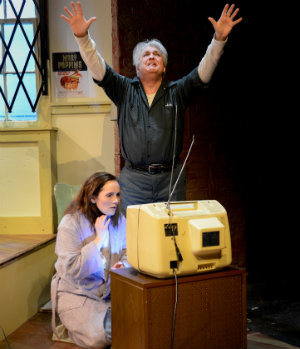 On Sunday, after a matinee show of the Gamm's The House of Blue Leaves, I exited into the daylight and felt as if I was walking on air. Not necessarily in the pleasant, carefree way. In the way where, for a moment, I couldn't guarantee that there was asphalt beneath my feet and blue sky above my head, or the other way around.
Playwright John Guare's 1966 black comedy, under the direction of local actor Fred Sullivan Jr., sent me spiraling into the uncomfortable in-between. The show follows a middle-aged zookeeper named Artie (Tom Gleadow) who dreams of becoming a Hollywood songwriter. Artie's married to a mentally ill woman unironically nicknamed Bananas (Jeanine Kane), but he engages in an open affair with the loud, bossy Bunny (Rachel Dulude), a bigger fame-monger than he and his number one cheerleader.
The illicit lovers plan to institutionalize Bananas and run off to Hollywood, where Artie's childhood friend is a successful director. But, really: Do you think we'd have a story if it all worked out, peachy keen, for Artie and Bunny?
The ending, in particular, feels like a punch to the throat (does that count as a spoiler?) but the true beauty here is in the nuances. In The House of Blue Leaves, screwball comedy occupies the same room — the same decades-old sofa — as crushing personal tragedy.
Here's the takeaway:
Artie's not half bad.
What sets Gamm's production of The House of Blue Leaves apart from the 2011 Broadway revival (starring Ben Stiller and Edie Falco) is Artie's level of talent as a singer, pianist and songwriter. In the 2011 show, Artie is terrible. His delusion, along with Bunny's, makes it clear that he'll never make it in Hollywood.
But Gamm's Tom Gleadow isn't a half-bad performer. Gleadow has an easy, booming, Broadway-style voice that I imagine could've worked in 1960s films, with a little coaching. This deviation complicates the plot and, even for those who are familiar with the story, makes you wonder if he'll hop a plane and realize his dreams — if only on the level of a minor player crooning in a smoky barroom.
Sure, Artie rips off the melody of "White Christmas" for one of his tunes, but c'mon, if Pharrell and Robin Thicke can do it to Marvin Gaye, Artie can surely do it to Bing Crosby.
In 1960s Queens, the Pope was bigger than the Beatles.
In an interesting subplot, the new Pope flies into Artie's hometown of Queens for a street parade. Bunny, played by a riotous Rachel Dulude, scores some prime space for Pope-peeping and wakes Artie at dawn to see God's right-hand man in the flesh. Ultimately, Bananas crashes their rendezvous.
What makes this plot point so intriguing is how easily Bunny — and most of Queens — is blindsided by celebrity. It also introduces Artie and Bananas's manic son, Ronnie (Marc Dante Mancini), who aims to gain some fame of his own in a truly deviant way.
Nuns offer the best comic relief.
They're loud, they prefer imported beer, they climb roofs to see their number-one favorite celeb, the Pope. Three out-of-town nuns, played by Joan Batting, Milly Massey and Julia Baroletti, provide some of the biggest belly laughs of the show. Their commotion masks the scent of impending murders, disappointment and betrayal — a welcomed bout of laughter before the heavy stuff lands.
Sometimes, the craziest person is also the sanest.
The most powerful performance of the night came courtesy of actor Jeanine Kane in the role of Bananas. While it's never elucidated in the play, it's clear Bananas suffers from schizophrenia. She barks — fittingly, as Kane's Bananas has the temperament of a meek stray dog — is debilitated by the length of her fingernails and rarely leaves the house.
In rolled stockings, mismatched shoes and a tattered robe, Kane certainly looks the part of the mad housewife. But she flawlessly depicts Bananas's lucidity in the second act — some of the most poignant moments in the show. When she discovers Artie's plan to institutionalize her, Bananas launches into a tender monologue on memory and place. If she's removed from her home, she explains thoughtfully, she'll be removed from her memories. Shock therapy, she says, is akin to a concentration camp where victims choke in the gas chambers every day but never die.
Bananas is the craziest person in the household but she's also the sanest — another example of the fine, complicated nuances in Guare's play.
Hide the playbill; We know it's a Fred Sullivan Jr. show.
It's easy to see why the Trinity Repertory Company resident actor and director was drawn to this play. It raises complicated questions about mental illness, family, celebrity and loyalty without offering any answers yet, astonishingly, it's still very funny. It's what I've come to expect from Sullivan Jr. shows: shades upon shades of gray cut by the purest form of light — much the same as real life.
John Guare's The House of Blue Leaves is onstage at the Sandra Feinstein-Gamm Theatre through April 5. Tickets are $41 on weekdays, $49 on weekends. Call 401-723-4266 or visit gammtheatre.org for ticketing information.