Theater Takeaway: The Gamm's Grizzly Mama
What's more surprising than a gun-toting liberal with a deadly vendetta? George Brant's Grizzly Mama.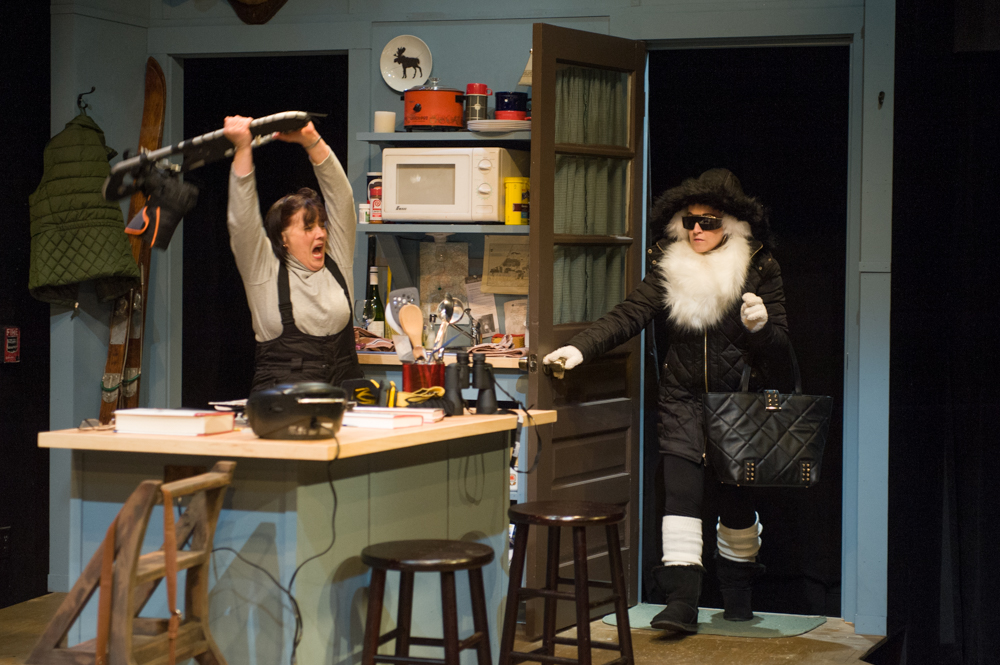 Deb, an ex-housewife, drags her teenage daughter to Alaska to assassinate a loosely veiled caricature of the former governor/VP nominee/Tina Fey impersonator, Sarah Palin. ("Any resemblance to real persons, living or dead, is purely coincidental," writes playwright George Brant. Hah.)
The murder is meant to avenge Deb's late feminist mother, an activist and writer. Deb has a big gun. No — two guns. And cyanide. And a fixed-blade hunting knife. And a crazy streak.
Daughter Hannah reluctantly helps Deb plot the murder, but she's mostly OMFG and LOL and TYSM. (Have no fear, luddites: The playbill has a texting glossary.)
George Brant's Grizzly Mama sounds funny — and, often, it is, thanks to fine direction by Rachel Walshe and crisp, thoughtful performances by Casey Seymour Kim (Deb), Amanda Ruggiero (Hannah) and Betsy Rinaldi (Laurel, the Palin-alike's daughter). The latter two, both URI grads, nailed it as teenage girls. It's easy to visualize them trotting down high school corridors in UGG boots and oversized backpacks. Rinaldi, in particular, is a master of comedic timing. Costume design from David T. Howard helped; he outfitted Rinaldi in a ridiculous white fur scarf and hat — it's Alaska; makes sense — and sunglasses fit for a grandma. Her presence was cause for laughter.
Cleveland-based playwright Brant, a graduate of the Brown/Trinity MFA program, wrote Grizzly Mama for the 2012 presidential elections, and Palin is the play's prime target. Throughout the show, it often feels as if Brant built the entire play up to take Palin down, and the physical, on-stage characters take a hit.
Is Deb a quixotic extremist, or is she deranged? She advises an in-need kid with tenderness and empathy, but she also forgets all about her hysterical daughter, who strips down to her skivvies and bolts into the Alaskan tundra in protest. An abortion sub-plot doesn't resonate and a surprise ending, though gut-wrenching and well-played, feels disjointed from the rest of the show. The varied topics the play covers — feminism, family, politics, gun violence, technology addiction, teenage sex — are either punch lines or a means to an end. I left wishing Brant had delved more into these very relevant themes, but the play certainly got me thinking about them.
The plot, though uneven, is grounded by stellar performances by three female actors, who each add depth to their roles. Their performances, combined with Michael McGarty's bare, wish-you-were-there rustic cabin stage design, make for an absorbing night of theater.
Sandra Feinstein-Gamm Theatre's Grizzly Mama is onstage now through February 7. Tickets are $41. For more information, call 401-723-4266 or visit gammtheatre.org.