Theater Takeaway: Rosencrantz and Guildenstern are Dead
The underdogs meet their fate in an engrossing night of theater.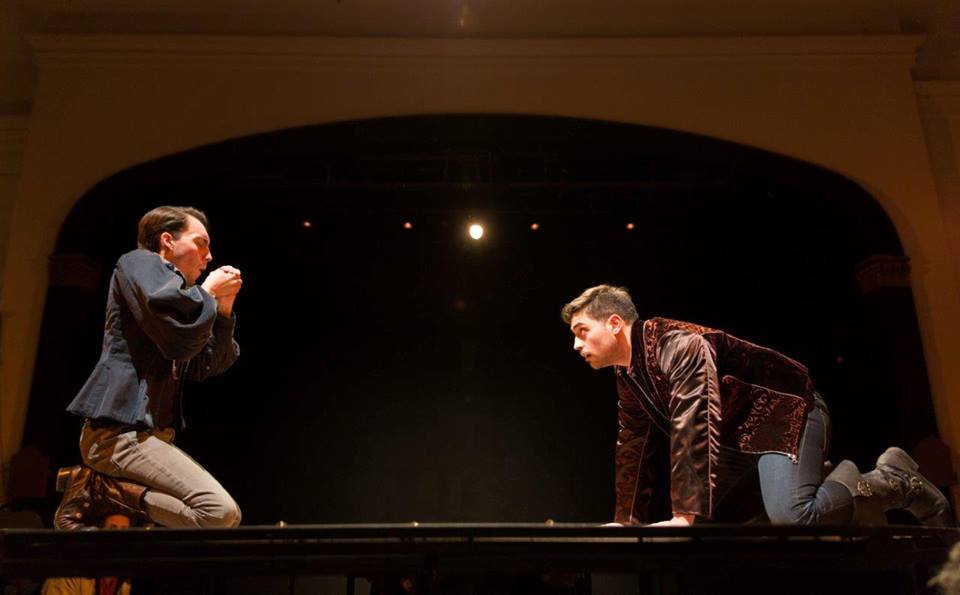 Even the little guys have stories of their own.
Tom Stoppard's fabulous play, Rosencrantz and Guildenstern are Dead, follows two minor characters from Shakespeare's Hamlet. It sounds intimidating: Stoppard and Shakespeare, two of the quickest playwrights in history, come together for three acts of theater. But, for the most part, the play – first staged in London in the '60s – is more "buddy tragicomedy" than "tragedy." It's accessible, laugh-out-loud funny and as engrossing than the sixteenth-century version. Sorry, Shakespeare loyalists: I fancy the real underdogs.
Those familiar with Hamlet already know the fates of our tragic, painfully loveable title characters. After a whole lot of waiting around the royal castle, the duo must deliver their childhood friend and forlorn prince Hamlet to England where he'll be executed. Remember: Hamlet's dad was murdered, and his usurping uncle is shacking up with his mom. That plan, as we all know, goes horribly wrong.
It's a familiar story, but Wilbury Theatre Group's journey to Rosencrantz and Guildenstern's end is nothing short of magical – due, in part, to the fact that director Josh Short orchestrated some of the best ensemble acting I've seen this season.
Here's the takeaway:
ROSENCRANTZ
He often forgets his duties, he's slow to learn a game and he's unusually lucky. Rosencrantz, perhaps the most loveable character in the play, is a little lost but has a lot of heart. Actor Joshua Andrews nails his role as Rosencrantz; his bewilderment at the world around him is believable.
GUILDENSTERN
The foil to Rosencrantz's sweet naivety, Guildenstern is obnoxious in his pursuit of knowledge, probing every facet of life with a dozen questions. When Rosencrantz wonders if toenails ever grow, Guildenstern lingers on the laws of probability. Patrick Mark Saunders acts with such commitment and intensity; he was made to play this role. It's especially evident when his character dissolves before a troupe of actors, ridiculing them for playing death without grasping the finality of it.
THE STAGING
Audience members begin the night with one vantage point, and end with another. The thirty-odd seats in the house are set on moveable platforms, wheeled close to the action at the start of the show by the ensemble – an effective ploy to increase intimacy with the two title characters – and dragged away as Rosencrantz and Guildenstern meet their fate in England. It's an interesting technique that I hope will be deployed in future productions.
THE LEAD PLAYER
The most surprising performance of the night came from David Tessier in the role of the lead player, a slightly sinister but comedic character who heads up a troupe of salacious traveling actors. In my notes, I wrote the words "scary circus ringleader" to describe Tessier's character, but his performance is beyond description. His monologue, too, on the life of a tragedian without an audience, was a truly awesome feat of acting.
THE LIVE MUSIC
If you can believe it, this sensory-packed play also featured a live band tucked in the shadows at stage right. Actor David Tessier joined the musicians on a few tunes, but singer Julia Bartoletti, who also acts in minor roles in the show, does most of the great vocal work. Her rendition of Bob Dylan's "It's All Over Now, Baby Blue," which came toward the end of the play, was a fitting addition.
Wilbury Theatre Group's Rosencrantz and Guildenstern are Dead is onstage now through February 14. Tickets are $15 for students, $20 for seniors and $25 for adults. Call 401-400-7100 or visit thewilburygroup.org for more information.