Theater Takeaway: Gamm's The Nether
In a virtual world with no consequences, The Nether masterfully blurs the line between right and wrong.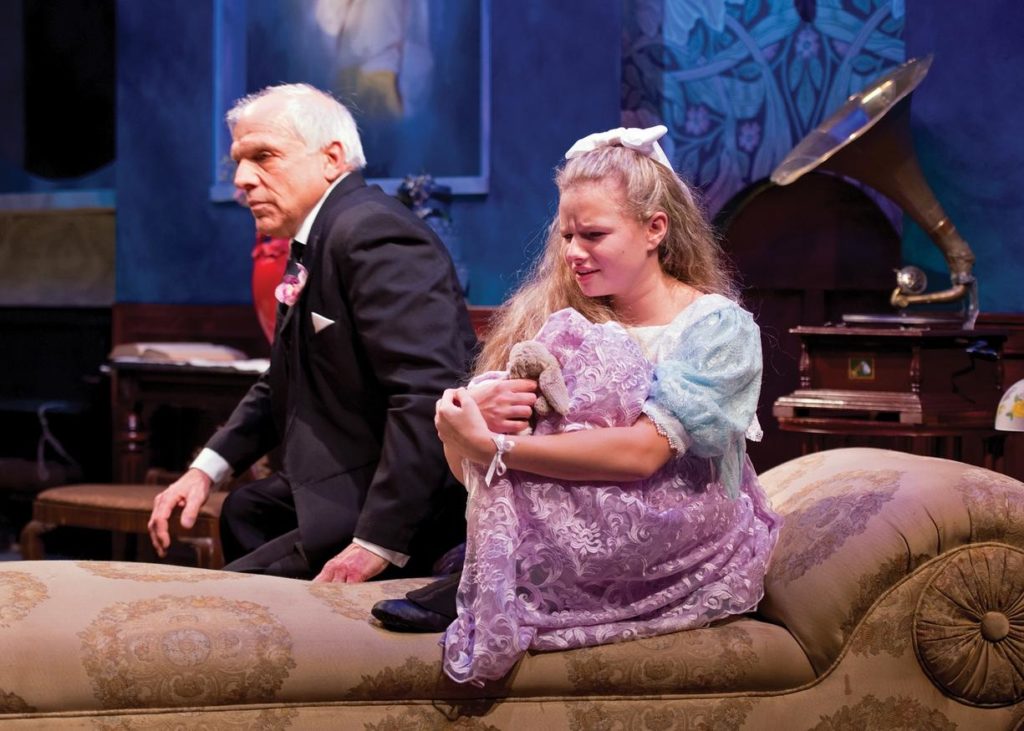 Think of the Internet — in all its light and long shadows — but on steroids. Instead of sitting in front of a device, users can log onto a full sensory experience. They can communicate with other users through avatars, they can feel the warmth of another's skin, they can smell trees that no longer grow in an ecologically depleted real world. They can hunt for large game and mate with trolls and sit in a classroom. Most of the time, they can do anything they please.
That's the idea behind The Nether, playwright Jennifer Haley's 2013 sci-fi thriller onstage now through March 26 at Pawtucket's Sandra Feinstein-Gamm Theatre.
The show, directed by the Gamm's Judith Swift, follows a detective on a mission to pin down the man behind one realm in the Nether: the Hideaway, a virtual child bordello with a lush Victorian theme. No children work in the Hideaway — real world men and women operate avatars that look like children for pay — however one's moral compass can't help but go berserk at the idea of a safe, sensory-true place for people to fulfill their pedophilic fantasies. Oh, and there's murder, too. It's encouraged.
What begins as a study in law and order morphs into something murkier. Every twist and turn navigates you further away from your own sense of right and wrong.
Here's the takeaway:
Casey Seymour Kim strikes an emotional chord.
Morris, the detective on the Hideaway case, is in unchartered territory. She's investigating a place that hasn't exactly committed any crimes on the books. Casey Seymour Kim plays the role with frenetic energy. She's smarmier, angrier, louder than she should be during her investigation. She's more invested than she should be. But a mid-play revelation puts this all into perspective. Kim's performance elevates the emotional score of the play tenfold. She's brilliant.
Richard Donelly settled right into his role as pedophile-in-chief.
Sims — known as "Papa" in the Hideaway — is unapologetic. He's tough and smart and almost convincing in his defense of the Nether's darkest corner. Sims constructed the Hideaway realm from coded scratch, and its popularity made him rich. The role — one of a man who so comfortably stands behind the Nether's safest place for pedophiles — must've been a tough one to take on. But Donelly tackles it with grace and earns his character an unexpected level of sympathy. He doesn't want to hurt children in the real world, so he created a space to practice pedophilia in the Nether.
The supporting cast deepens Sims's pro-Hideaway argument.
Doyle, played by a shrunken Jim O'Brien, is a Hideaway regular who longs to live permanently as his avatar in the Nether. (His physical body, according to the plan, would be hooked up to a life-sustaining IV and cared for in a facility for people who cross over.) Doyle serves as Morris's informant. Within the Nether, we meet Woodnut, a spy posing as a Hideaway customer played by Jamie Dufault, and Iris, a preteen Hideaway employee played by Ally Gower. Over old-fashioned games, Woodnut and Iris establish a deeper bond than is permitted at the Hideaway. The general wrongness of their relationship is undermined by the fact that both are consenting adults in the real world.
The play could've been worse.
Worse in the sense that it leaves you feeling filthy for bearing witness to such depravity. But it doesn't, and I think most viewers will appreciate that. Scenes of pedophilia and gore are blunted. I felt no need to shield my eyes. Another local outfit might've plumbed these depths, however in Gamm's hands the subject matter is covered without the trauma. To theatergoers who expel an immediate "no, God no" when they read The Nether's synopsis, trust me: The plotline appalls more than the play itself.
That's not to say the post-theater thought train is a comfortable one.
As all good science fiction should, The Nether forces you to take a long, hard look at the problems of today that could lead to the horrors of tomorrow. The most obvious connection here is to child pornography on the Internet. I Googled so you don't have to.
The modern argument is this: Is it better for those with pedophilic tendencies to watch artificially created child pornography on the Internet that does not involve real children — yes, it's a thing, very Nether-like — so they don't seek it out in real life?
The play, perhaps less painfully, also inspires deep thoughts about compulsive Internet use, the depletion of natural resources, police surveillance, education in a technology-driven world and other issues.
But you don't have to go it alone.
Every Thursday night and after Sunday matinees, the Gamm hosts talkbacks between the director, members of the cast and the audience. These conversations are free and open to the public.
Sandra Feinstein-Gamm Theatre's The Nether is onstage now through March 26. Mature audiences only. Tickets are $44 and $52. To learn more, call 401-723-4266 or visit gammtheatre.org.