Theater By Women, About Women, For Women (and Men, If They Can Handle It)
This month, OUT LOUD Theatre brings the female experience to the stage with a play by a lauded Latina writer.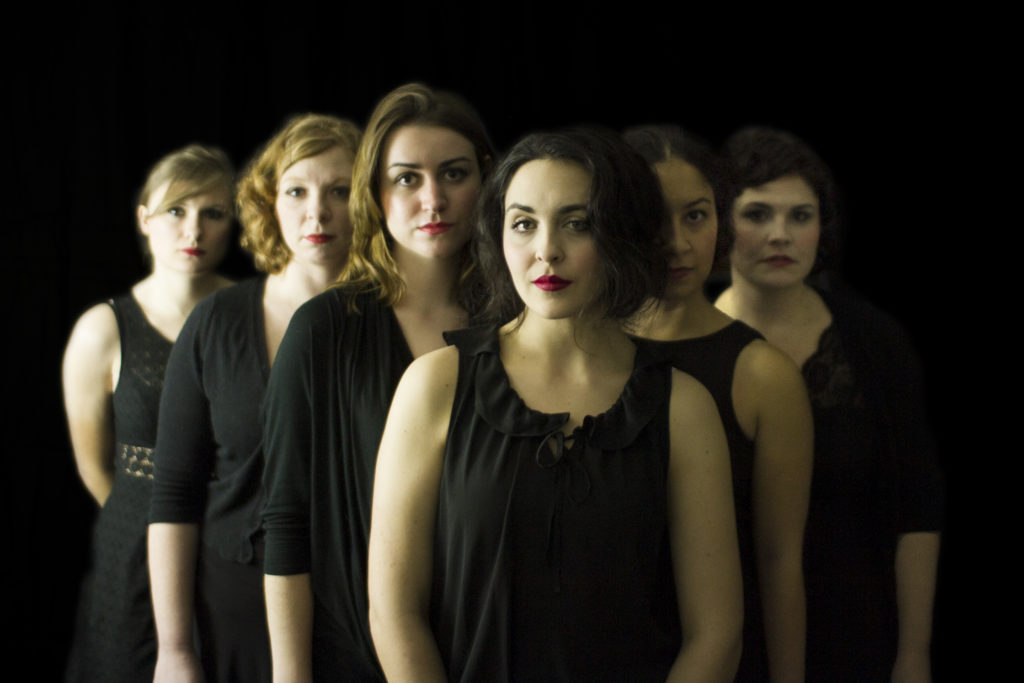 Providence's newest troupe, OUT LOUD Theatre, is staging a cerebral production about womanhood and empowerment — one that, while written four decades ago, rings truer than ever.
We caught up with artistic director Kira Hawkridge for a chat about OUT LOUD's take on Cuban-American playwright Maria Irene Fornes's Fefu and her Friends. The story, onstage February 19 to 28, follows eight society women planning a charity event and features an all-female cast and production staff.
RIM: Tell us a bit about OUT LOUD's origin story.
Kira Hawkridge: We started out in 2013. Initially, we wanted to do projects and shows and just see where it took us. Last year, we started the Tour for Social Change, which was part of This is Free Providence, funded by the Rhode Island Foundation. We took a piece about women and body image and we toured around to universities and high schools and different theaters, which was great way to find our voice. Once we did that, it set the tone for the kind of work we wanted to do.
How does Fefu and her Friends fit into your vision for OUT LOUD Theatre?
Fefu was written in 1977 and set in the '30s. There are still so many themes that come through now, even over this time gap, that are relevant for people to be thinking about and talking about. And working with a group of women all across the board — the cast, the artistic team, our costume designer, our stage manager — has been really wonderful, as well.
Despite earning an Obie, this play is still pretty obscure. How did you discover it?
Actor Alex Maynard gave me the script last year. I read it and immediately fell in love with it. I think there's a lot of possibility for conversation. We like to choose pieces that lend themselves to immersive types of storytelling. This is a piece that's about women and written by a woman, and it gave us the opportunity to bring the audience on a very unique journey; it made sense for us.
Could you explain how movement plays a role in this production?
The story takes place over the course of one day. The first half takes place in the living room, and the second moves to different spaces — the study, the kitchen, the bedroom — then returns to the living room.
The audience gets up and moves seats with each changing scene?
Yes. They'll be warned that they'll be moving throughout the show. There's a certain level of responsibility the audience will have in order to feel that energy shift into a new space. We talked about having a guide, but I want to give the audience that trust that if we move everything — the lighting, the bodies, the sound — into a new place, the audience will go.
Do you think the movement provides a sense of intimacy between the audience and the characters?
It feels a bit like you're peeking into a keyhole, like you're seeing something that you maybe shouldn't be witnessing. The collective energy (in the first scene) feels very frivolous, very light. I love those moments of them all together enjoying each other, because there's a lot of content that comes through that's very difficult to digest. We get to see that in the individual environments.
So we get to see the characters with a group of people, then with the people they trust most. Then, after learning so much about them individually, they come back together again and interact as a group.
How did your actors respond to the material?
A lot of these gals had a tough time when we first started attacking this material. Initially, we talked a lot about the ideas (Maria Irene Fornes) wove through this piece. There's this idea that women are oppressed, but they've forgotten they're oppressed, so how can you stand up to something that you don't acknowledge exists? The more we found that within our characters, the more we found it in our own lives. And I think that's a hard thing to reconcile — that there are these issues in our society, and why do we feel like we can't voice them?
What do you hope viewers will take away from the experience?
For me, I'm hoping they come away with as many questions as they have answers. The play doesn't tie itself up into a nice, neat bow. It raises a lot of questions about what it means to be empowered, what it means to stand up to oppression and, particularly for women, finding your own voice. It's been great to have a whole female team to tackle a topic like this.
Fefu and her Friends is onstage at the Mathewson Street Theater, 134 Mathewson St., fourth floor, Providence, February 19–21 and 26–28. Shows start at 7:30 p.m., and tickets are $15, $10 for students and seniors. For more information or to reserve tickets, visit outloudtheatre.org.