The Young and the Generous
Meet the new generation of philanthropists. They're young, they're wealthy, and they don't just write checks. They're ready to roll up their sleeves, but — in return — they expect tangible results.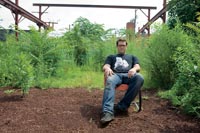 Bill Daugherty is your typical dot-com gazillionaire: He brainstormed a new online business concept with an old friend from Harvard Business School, built it into a profitable venture, and sold it off in time to become exceedingly wealthy by the age of forty. Now, he's your typical new philanthropist.
The turning point came about three years ago when his online search and media company, Interactive Search Holdings, changed hands for a reported $500 million in stock and cash. Daugherty's share of the windfall afforded him the particularly precious luxury of time, and he decided to use it for good. "I was looking around for nonprofit opportunities, and I realized I didn't want to be somebody who just attended a lot of board meetings," Daugherty says. "I'm much more of a hands-on person."
A neighbor in Barrington happened to introduce him to another hands-on innovator, Dennis Littky, co-founder and co-director of the alternative MET schools in Providence, who quickly figured out that Daugherty had something he needed — and it wasn't just money. "He'd been looking for ten years for a way to incorporate entrepreneurship into the curriculum," says Daugherty, who also boasted an affiliation with the National Foundation for Teaching Entrepreneurship. "So it was a fortuitous meeting."
The result was "Entrepreneurship 360," a class Daugherty designed to give kids a 360-degree look at a business in the early stages. In addition to lending some financial support (he won't say how much), Daugherty, now forty-three donates two full mornings a week teaching MET students how to flesh out, determine the viability of, and sell their business ideas. The class has proved to be far more than just theory. Last January, with start-up support from several local businesses, former senior Yesenia Mercado's plan to produce all-natural, passion-fruit-flavored sodas took off as Big Picture Soda. Daugherty left it up to the kids to make the venture profitable, which meant they had to get the product onto store shelves. After bringing in a pro to demonstrate the art of making a pitch, Daugherty watched, amazed, as the accounts started piling up .
Now, Big Picture's bright blue, red and orange labels appear on the shelves of more than fifty stores in Rhode Island. The fledgling company was profitable in its very first quarter, producing revenues that will flow into a college scholarship fund. Daugherty's charitable investment — of both time and money — has yielded a sustainable real-world learning laboratory, one he says is transforming self-doubters into savvy salespeople. "Every kid deserves a shot," he says. "These kids were just waiting for their shot."
This concept of philanthropy as social investment, or even seed money, underlies the giving habits of a new generation of philanthropists emerging nationally as well as here in Rhode Island. The philosophy isn't new — it dates to 1889, when steel magnate Andrew Carnegie declared it an obligation of the wealthy to invest in the betterment of their communities. Among today's fifty-and-younger set of do-gooders, however, the notion has become even more business-like in its approach, with the focus shifting further away from merely pumping money into good causes (in Carnegie's case, it was libraries) to creating ed-ucational and economic opportunities, and getting to the root of social problems.
The new philanthropists are strategic about their giving, extremely results-oriented, and unafraid to take on large-scale, even global, challenges. They want to put their own stamp on their philanthropic efforts, and in some cases even make it their life's work. This more individualistic, hands-on mindset reflects a broader shift in the public's attitude toward giving.
At the venerable Rhode Island Foundation, the state's only community foundation with more than a half-billion dollars in assets, gone are the days when most donations came in the form of bequests, the dead donors having entrusted the agency to manage their money appropriately. Today, donors want to see their philanthropy in action, as demonstrated by the soaring popularity of the community foundation's donor-advised funds, which give donors a say in how their endowment dollars are distributed. Over the past two years, about half of all donations to the foundation were dedicated to donor-advised funds, compared with only 25 percent five years ago.
Up-and-coming donors in their twenties and thirties often don't even think of philanthropy in monetary terms. Rather, they see it as a place "where they can exercise their public service or political ambitions," says Ari Matusiak, the Foundation's former vice president for strategy and community impact, who is himself just thirty. "They think of expressing their commitment through work and volunteerism."
This is not to say that the old-style philanthropist is obsolete — there just seem to be fewer of them. The state is still heavily reliant upon company CEOs, like Nortek's Richard Bready, and old-money heirs, like Malcolm and Liz Chace, who repeatedly take leadership roles in supporting arts, health, social service and environmental organizations. Yet the stalwart local companies and families of wealth that were once reliable breeding grounds for this benefactor style of philanthropy are largely gone. Fewer people of newer wealth have close ties locally, and thus, fewer are stepping up to become the new stewards to Rhode Island.
The shifting corporate landscape in particular has heightened competition among the roughly 1,500 nonprofit charitable organizations actively engaged in fundraising in the state. While the state's nonprofit sector swelled about 70 percent between 1990 and 2000, they are chasing fewer and fewer corporate dollars, traditionally a primary source of support. "We're not attracting many new corporate entities here in New England, and there's been a lot of consolidation," notes Anthony Maione, president and chief executive of the United Way of Rhode Island.
The drop-off in the number of corporations rooted in Rhode Island, a more transient population whose loyalties may very likely lie in Seattle or Liberia, declining support from the federal government, and an increased concentration of wealth among a privileged few, have, together, made the fundraising climate much more challenging — and put added pressure on the major donors who remain. Shawn Buckless, the owner of Lincoln-based Fund Consultants, sees it in the capital campaigns his firm manages for nonprofit organizations. The old "80/20 rule," which dictates that 80 percent of the money raised will come from 20 percent of donors with deep pockets, no longer applies. Now, Buckless says, it's a "90/10" paradigm and, if the current trends continue, the breakdown could soon read 95/5.
The state's largest fundraising organizations have responded to the shifting terrain by practicing a more proactive "new" philanthropy themselves. The ninety-one-year-old Rhode Island Foundation, which has traditionally doled out grants to community organizations in a low-key, dignified fashion, burst onto the political scene three years ago when they teamed with the United Way of Rhode Island and Rhode Island Housing to boost support for a major affordable housing initiative (Housing Works RI). The effort invited grassroots participation, sending volunteers out into communities and putting them at polling places on Election Day, while also employing a sophisticated media and lobbying campaign. Ultimately, the groups' pooled investment leveraged a $50 million outcome, the amount approved by voters in last fall's affordable housing bond referendum.
That campaign "changed philanthropy in Rhode Island permanently," says Ronald Gallo, the foundation's president and CEO. Both the Foundation and the United Way are becoming more strategic about where they direct their funds — essentially looking for how best to leverage their dollars, and to address problems at their roots — and encouraging greater collaboration (rather than competition and duplication) among smaller nonprofits.
This is the way entrepreneurs think, and it's the way nonprofits will have to think if they are to survive in an age that increasingly equates financial donations with venture capital. "It's not just about writing a check anymore, and that's a very healthy trend," says Daugherty.
Lorne Adrain, Chuck Holland
SOCIAL VENTURE PARTNERS OF RHODE ISLAND
Howie Sneider didn't join the staff of The Steel Yard because he wanted to hone his business skills. "I just want to make stuff," says Sneider, a Rhode Island School of Design graduate who specializes in sculpture and metalworking. As Public Projects and Urban Furniture coordinator, however, Sneider finds himself running what has become a micro-manufacturing arm of this nonprofit school for the industrial arts.
Orders stream in for all kinds of functional (and nonfunctional) metal art, like the funky garbage cans along Wickenden Street, and the bicycles spinning atop metal poles on the bike path in Olneyville. This year, his department is projected to do about $150,000 in sales, money that will be reinvested in The Steel Yard's studio facilities and youth programming.
Since the nonprofit opened four years ago in the old Providence Steel and Iron Co. plant, this side business has mushroomed on its own. Eager to maintain that momentum, but unsure how best to build the business, the organization this year turned to a group of business-savvy philanthropists, Social Venture Partners of Rhode Island (www.svpri.org). The executives and entrepreneurs who are members of SVPRI invest both time and money ($2,500 a year each) in helping nonprofits establish income-producing social enterprises. In The Steel Yard's case, they're advising Sneider and his colleagues on how to write a formal business plan that will shape the manufacturing operation's future. "They're successful from a demand perspective," says Lorne Adrain, a Providence-based life insurance and estate planning specialist who co-founded SVPRI in 2002. "We're trying to help them flesh out, how do we meet this demand? Should we limit our product line? Should we subcontract with other pockets of artists?"
SVPRI's style of "giving" allows Adrain, fifty-three, and the other partners to connect with their causes and, more importantly from their perspective, to stick with them, providing guidance and tracking progress for several years. Based on the first SVP organization started in Seattle about ten years ago, it's an approach that appeals to younger entrepreneurial types who "are less trusting that good will be done, and more interested in looking under the covers to see what is going on in an organization we support," says Chuck Holland, who recently replaced Adrain as SVPRI's chairman.
Holland began checking out causes about six years ago when, after his second or third computer start-up, he found he'd lost interest in the high-tech rat race. "I wanted more value out of what I did. If I did another start-up, it would be to have more money, and that's it," says Holland. Having made his technology fortune relatively early in life, Holland, now fifty-six, decided to redirect his entrepreneurial energy toward nonprofits. He was a founding partner and executive director of a SVP chapter in Boston before moving to Warwick fulltime two years ago.
SVPRI doesn't award grants, but instead loans money as "business capital" through their Social Enterprise Fund, established with an initial $50,000 challenge grant from another partner, David Mixer, a venture capitalist. The fund now totals more than $125,000. The first nonprofit to benefit was Amos House, the soup kitchen and social service agency in Providence, which used $30,000 in no-interest loans to ex-pand a food service business that generates income and jobs for clients (see "At Your Service," page 91). The business has recently branched out from supplying lunches to charter schools to catering private events.
SVPRI solicits proposals from nonprofits once a year — the more promising the project, the more likely it is to catch someone's interest. "To date, it's sort of worked as an opportunistic funnel," Adrain says. "At the top are the nonprofits we're talking to from all over the state. Then, at the bottom of the funnel, one of the partners has to raise his hand and say, 'I'll own this.
I'll make this happen.' "
Christopher Hamblett
The Foundation For West Africa
Since Christopher "Topher" Hamblett first spent time in Sierra Leone as a Peace Corps worker digging wells and pit latrines in the mid-'80s, the distance between the coastal West African country and this side of the Atlantic has shortened considerably. Sure, the flying time is the same (about twelve hours), but now, when Hamblett is here, he can easily chat with his friends there via the Internet. More to the point, because of that computer connection, when he's
puttering around his home in affluent Barrington, Hamblett is never really that far from the poverty, disease and suffering that have plagued Sierra Leone and its neighbor, Liberia, since a decade-long civil war.
Hamblett witnessed the devastation firsthand when he returned to the country in 2002, after the war ended. That trip inspired him to exploit the technological link from home to raise funds for a region still reeling from a brutal war that enlisted child soldiers, inflicted horrible atrocities and displaced roughly one-third of Sierra Leone's population.
This year, The Foundation for West Africa (www.tfwa.org), the organization he founded in 2005, will invest some $200,000 to help heal ravaged communities. "Today, it's much more possible to do work on behalf of a faraway place," says Hamblett, forty-six. "You can actually connect donors and the recipients directly, like through digital photos. Fifteen, twenty years ago, this wouldn't have been doable."
West Africa is Hamblett's second "cause" — for sixteen years, he advocated on behalf of Save the Bay, most visibly in front of State House lawmakers. The return trip to Sierra Leone rekindled an old passion, however, and Hamblett felt compelled to change course. The son of former Providence Journal publisher, the late Stephen Hamblett, Topher was financially able to support himself while he built a base for the foundation through his extensive network. Hamblett also worked his connections for in-kind donations, and scored a logo design, computer system setup and accounting services. By the end of this year, he may have raised enough money to actually pay himself a modest salary.
In the meantime, his foundation has been trying to help stabilize the region by opening up the channels of communication. Hamblett works with Search for Common Ground, an international nonprofit focused on conflict resolution, to help fund the construction of radio stations, a crucial resource in isolated areas where people are cut off from news and have no way to work out the many lasting resentments from the war. "These stations provide accurate, meaningful information that allows people to make decisions about their lives, and that addresses issues of reconciliation," Hamblett says.
As it happens, Hamblett's foundation has a natural base of support among the estimated 15,000 Liberians who live in Rhode Island. While they too struggle with factionalism, many have accepted Hamblett's foundation as a politically neutral vehicle for aiding in the rebuilding of their country.
Hamblett recently accepted a $500 contribution from a New England chapter of the National Association of Grand Cape Mountainians in support of a start-up radio station in the Liberian town of Sinje. Money is also starting to trickle in from West Africans living elsewhere in the U.S. "We're filling a niche right now," Hamblett says. "A modest amount of money can go a long way if put in the right hands. It's our job to identify those individuals and groups that can really do good work."
Clayton Rockefeller
Monohasset Mill Project and The Steel Yard
Clayton Rockefeller grew up feeling the considerable weight of his ancestors' philanthropic legacy. His great, great grandfather, John D. Sr., founder of the nineteenth-century industrial powerhouse Standard Oil, created the massive wealth that established the globally minded Rockefeller Foundation. His grandfather, David, helped establish the Rockefeller Brothers Fund (another grant-making organization) and has served as chairman of the
Museum of Modern Art, Rockefeller University, and the Americas Society.
"I was fairly intimidated by my family's track re-cord," Clay Rockefeller says. By the time he left Portland, Maine, to study at Brown University, "I was constantly feeling like I needed to be doing something, but I was thinking in terms of these unrealistic levels given my age and experience, and it almost locked me up, incapacitated me."
It was the unimaginable horror of the World Trade Center attacks that shook him out of his paralysis. In Brooklyn visiting his girlfriend that day, Rockefeller heard the first tower fall, then witnessed the crumbling of the second. "It sounds so cliched, but it brought me down to reality," he explains, "to who I am, what I can do, what's within my reach, as opposed to beating myself up for not doing more."
Now twenty-nine, Rockefeller has since carved out a distinct philanthropic niche in the long-neglected industrial area just west of downtown Providence. As a sculptor plugged into the city's burgeoning artistic community, Rockefeller has helped save not one, but two rundown mill properties from potential fates as generic luxury condos or factory outlet stores. Located side by side along the Woonasquatucket River, Monohasset Mill and the Providence Steel and Iron Co. are once again pulsing with productive energy, and, together, form a complementary creative hub that nurtures both established and would-be artists.
Monohasset, a for-profit operation launched in 2001 by Rockefeller and three fellow artists, provides thirty-nine live/ work housing units marketed specifically to artists, including ten subsidized units for lower-income buyers. (To date, all have been sold to working artists, including Rockefeller.)
Next door, the sprawling Steel Yard has been resurrected as a nonprofit industrial arts workshop, where a new generation of practitioners can learn the fading crafts of welding, bronze-casting and blacksmithing. The Steel Yard also rents its extensive metalworking facilities to artists, leases space to small arts-related businesses, and generates self-sustaining revenue through a manufacturing operation that churns out made-to-order functional art (see Social Venture Partners, page 78).
In order to get this amorphous operation up and running, in 2002, Rockefeller and a friend, Nick Bauta, formed a for-profit commercial real estate partnership that purchased the property and carries the debt load, thereby allowing the nonprofit entity "to grow up and build its own soul."
While the Rockefeller name helped open doors and access to financing, the artists behind these projects were also aided by rising concern that the development boom spreading out of the city's downtown would strip away what was left of the area's rich industrial heritage. "The main spark for me was this belief that we can do better than just these very formulaic approaches to development," Rockefeller says. At the same time, they are cleaning up a badly contaminated brownfield site, thanks to a $400,000 grant from the Environmental Protection Agency.
These days, Rockefeller isn't beating himself up for doing too little; rather, he's trying to figure out how to do a little less. Having recently joined the board of Rockefeller Philanthropy Advisors, a New York City-based nonprofit that provides research and counsel on charitable giving, Rockefeller says he has every in-tention of continuing to work on projects with a positive community impact — only at a slower pace. "I need to maintain personal sustainability as well," he says. "I think there is something to be said for getting into a routine so you know when to stop."
Angus Davis
Best For Kids
Angus Davis seems an unlikely candidate for education reform advocate. A privileged kid from Bristol who frequently got into mischief at the private schools he attended, Davis blew off college completely after graduating and headed for California to work for Netscape. Three years later, in 1999, he and a partner formed their own company, Tellme Networks Inc., which assembled a massive database of voice-recognition data, enabling them to offer mobile phone users the option of searching for a pizza restaurant or baseball score simply by speaking into their phone. The technology eventually drew the attention of Microsoft, which this year acquired the privately held Tellme for a reported $800 million.
Not bad for a twenty-nine-year-old guy whose formal education ended at grade twelve.
Yet, like Microsoft founder Bill Gates (himself a Harvard dropout), Davis is using his windfall to attack the problem of failing public schools. He is so worked up about Rhode Island's public schools, in particular, that he's ready to take on any and all obstacles to reform: tough-talking union heads, weak-kneed legislators, timid business people. His own private K-12 education was "absolutely first-rate," he says, but, after visiting classrooms and reviewing test data, he's convinced that many kids in Rhode Island, especially those in urban areas, are stuck in schools stymied by "brain-dead, asinine" policies. "The problem we have in Rhode Island isn't that kids aren't getting into Harvard," says Davis, who, though still affiliated with Silicon Valley-based Tellme, maintains a residence in Providence. "The problem we have in Rhode Island is that the majority of eighth-graders in Providence, as well as in some other urban areas, can't read at grade level."
Davis blames the public schools for the relative absence of economic opportunities in Rhode Island compared to California — companies tend to be more attracted to areas with high-quality school systems.
His model for reform is the Paul Cuffee School, a K-8 public charter school in Providence that outperforms the district on reading, math and writing. As enamored as he is with the school's culture of high expectations, Davis is equally enraged that students can't get in (because demand is so great, this year just 8 percent were accepted through a lottery system). Now, he has started his own nonprofit, Best for Kids, to organize parents who are unhappy with their children's schools, and use that base to push for rapid reforms.
"The public education system is absolutely screwing low-income kids of color," Davis says. "It's a social injustice, a civil rights apartheid, and people are kind of sitting idly by." If those sound like fighting words, that's because they're meant to be. Davis isn't out to make friends. He wants to remove the moratorium on new public charter schools, create streamlined avenues for skilled individuals to segue into the teaching field, and eliminate "arcane" union rules like the one that allows senior teachers to bump others out of their jobs, no questions asked. Business people and lawmakers may be "chicken" on these issues, for fear of the wrath of unions and special-interest groups, "but I'll tell you one group of people that is not chicken and that's parents," Davis says.
Best For Kids is scheduled to launch this fall, after Davis finishes putting together a board of directors and hires an energetic executive director "ready to jump into a hot fight."
In the meantime, he's venting his frustrations about everything from state math standards to the school funding formula on his personal blog, Passing Notes (www. blog.bestforkids.org)