"The X Factor" Live Audience Experience
What it was like to be a part of last night's live taping of "The X Factor" at the Dunkin' Donuts Center.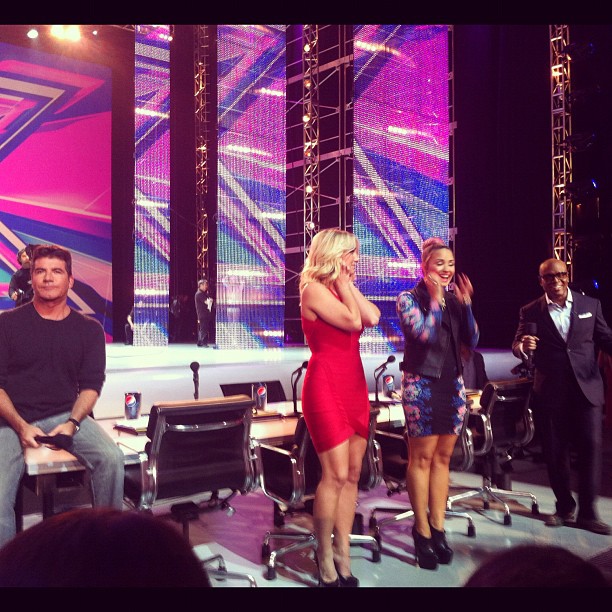 Yesterday Britney Spears, Simon Cowell, Demi Lovato and L.A. Reid brought Hollywood to Providence. "The X Factor" reality television talent show is in town, and there are still some free tickets floating around (or, add your name to the wait list) to sit in the live studio audience today at 1 p.m., tonight at 5:45 p.m. or Friday at 1 p.m. and 5:45 p.m.. I had the chance to be a part of last night's taping at the Dunkin' Donuts Center, and here's what my experience was like.
My printout ticket said to arrive by 5:45 p.m. and to wear bright clothing, like nightclub attire. I drove there straight from work, and thinking there would be too much traffic, I parked at the mall and walked over. It turns out there's plenty of parking for $10 right in the parking garage next to the Dunk, which I had assumed would be more expensive and full. Hundreds of people were already waiting in line by the time we found our place, so it's important to know that the earlier you get there, the better seats you'll get. The tickets are first-come, first-serve.
We waited in line for more than an hour while they let people inside the facility to find their seats. While we were waiting, crew members were looking for women wearing bright colors to walk in front of the building while they taped the atmosphere. My husband and I casually walked back and forth in front of the cameras four times, so maybe there's a one percent chance we'll be on the show!
Finally, we scored our seats, which were way up at the top of the Dunk, but we could still see the acts well enough. When the celebrity judges entered the building, the screams shook the building. It was so loud, Britney blocked her ears with her hands. "We are in the smallest state, but I am confident it will have the biggest talent," says L.A. Reid. They were ready to begin the auditions.
The first person up was a young lady named Pastel. She had the look of a pop star with long blonde hair, and a fun style. She wore a cute outfit paired with mint pastel booties, and she had a ton of stage presence and enthusiasm. She sang "Starships" by Nicki Minaj, and at the end of the song, Simon told her she did everything right until she started to sing. While the auditions continued, a camera swept across the audience catching the most enthusiastic responses and dancing in the audience. The more animated you are, the better chance you'll have of getting on camera.
Next up was a young preppy rapper, who rapped his own unique lyrics. The audience had a hard time getting into his original song, so Simon demanded he sing something else a cappella. His singing was more like reading a poem, off-key. Finally, he admitted, "I don't sing." "So then just say that, 'I don't sing,' " says Simon. "But you commanded him to," says Demi. Although he did not get through to the next round last night, the judges liked his style enough that they asked him to come back to audition again today.
Other acts included a young lady who interns at a recording studio in Brooklyn, who had an amazing voice that didn't need any enhancement or background music. She sang a terrific a cappella version of "Bridge Over Troubled Water." She was one of the only acts to get four yeses from the judges.
One of my favorite acts of the evening included a Little John lookalike and his brother, who performed an original rap that got the audience out of their seats. The duo jumped of the stage, approached the judges' table and ran around the floor. It's was intense, but these two had the star power and the look to make it to the next round.
As for the duds, a young lady spoke in French, forgot to wear pants, and mimed while she sang an awful version of Katy Perry's "Extraterrestrial." A guy from Connecticut who works at a doughnut shop—who calls himself Killa-Vanilla–came on the stage speaking "hiphop-ebonics." He performed a rap in his own dialect that did not go over well. "What can I do to improve?" he says. "Go back to the doughnut shop," says L.A.
Another act involved three beefcake young guys–named Matt, Mike and Matt–from an a cappela group. Their group name is Level Three, but they suggested they should instead be called Mmm. They had a decent audition, but the judges could see they had a lot more potential, so they asked them to come back today and audition again.
Another guy came out singing "Boyfriend," by Justin Bieber, which automatically got the crowd of teenie-boppers going. He was quite good, but didn't have enough star power to make it through. As he walked off stage, he took a fistful of dollars and attempted to "make it rain," but the money just floated down by his feet like a bunch of leaves. Simon got out of his chair picked up a dollar and attempted to give it back to him. Not the effect he was going for.
It was a fun night sitting in the studio audience to see how the show is filmed. The judges banter isn't scripted, and they offer honest constructive criticism that will help the young people improve. I can also see that Simon and Demi are going to butt heads throughout the season, as she seems to be his new target, replacing Paula. Hopefully we will see some of these acts on the edited episodes that will begin airing on Fox on September 12.
Here's a video capturing the live audience's reaction to the judges.