The Ups and Downs of Mayor Jorge Elorza
Inside the Providence mayor's first year.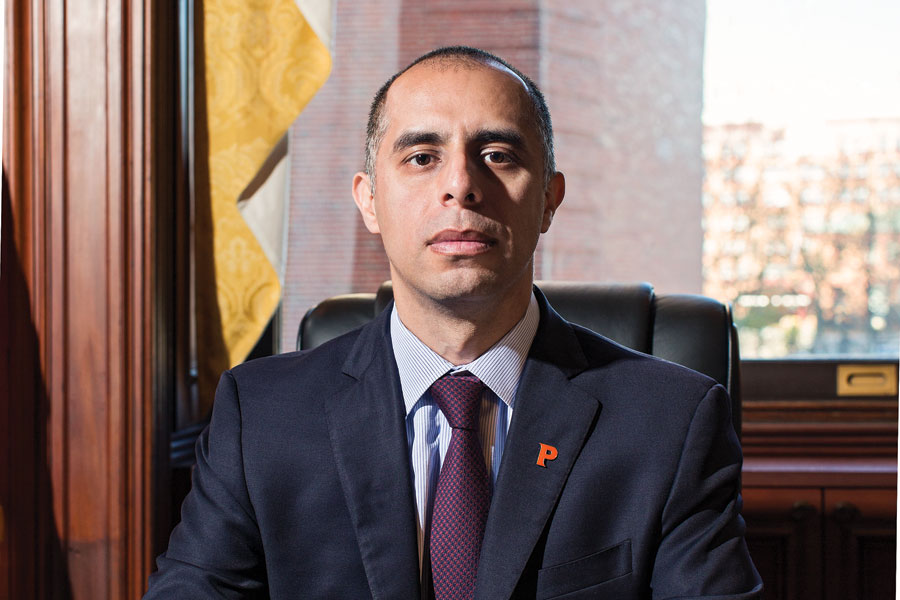 Was the 2014 Providence mayor's race a hallucination? It often felt that way. From the moment Buddy Cianci announced his candidacy on June 25 — live on-air during his News Talk WPRO 630 radio show, as the minutes ticked down to the paperwork-filing deadline — Providence seemed to descend into a fever dream. National news outlets, including Esquire, the New Yorker, the Los Angeles Times, NBC, PBS and CBS, rushed to file stories about the twice-convicted, marinara-peddling ex-mayor who was running for a shot at redemption. Business Insider proclaimed, " 'Poster Boy Of US Political Scandals' Announces Comeback Bid" — a headline topped only by one from the Economist that read, "Freshening New England's Armpit: The Ex-Mayor Who Inspired Gangster Musical Returns." The former mayor jumped into a crowded field, which included City Council president Michael Solomon, influential East Siders Brett Smiley and Lorne Adrain, and a little-known, thirty-seven-year old former housing court judge named Jorge Elorza.
But it was Cianci whom the Providence Journal singled out for a four-month barrage of negative editorials and the Boston Globe added two of its own, along the way. In October, three former U.S. Attorneys, including U.S. Senator Sheldon Whitehouse, held a press conference in Providence urging voters not to vote for Cianci. "You don't get five years in prison for a technical violation," said former Governor Lincoln Almond. None of this, however, dissuaded three of the city's largest public-employee unions, including the police officers and teachers, from endorsing Cianci. At one point, the Providence Police Department even confirmed that two off-duty officers collected mail ballots for Cianci at a homeless shelter a few blocks from the station. In September, a poll showed the seventy-three-year-old Cianci leading the race by six percentage points.
The weirdness only intensified as Election Day approached. A local rapper released a song called "Buddy Cianci." A Cianci opponent was arrested for allegedly assaulting a Cianci supporter. The lone, low-polling Republican candidate in the race, Dr. Dan Harrop, announced that he would be voting for Elorza (who had become the Democratic candidate after Adrain and Smiley dropped out, and Solomon lost the primary by five percentage points).
On October 27, even President Barack Obama weighed in, issuing a statement proclaiming that Elorza "will bring honest leadership to Providence and fight to grow the local economy, improve public safety, expand affordable education, and create a transparent and friendly government and business climate to spur innovation and entrepreneurship."
Elorza's election night victory was perhaps the most improbable event of all. Sure, on paper, a bilingual, Harvard-educated, accountant-turned-law professor-turned-housing court judge seemed like a perfect fit for City Hall.
But Elorza had never run for public office; his campaign budget hovered at around half of Cianci's; he had faced embarrassing revelations earlier on the campaign trail (about a teenage arrest for shoplifting, and then an apparently plagiarized letter to campaign supporters explaining the arrest); and he only appeared in TV ads during the last weeks of the campaign. But the numbers were undeniable: Elorza received 19,925 votes (52 percent) to Cianci's 17,211 (45). A rookie had handed the "Prince of Providence" the first electoral defeat since his unsuccessful run for governor in 1980.
The symbolism was potent. Cianci had run what the Associated Press called a "nostalgia campaign," and nostalgia had lost. And when Elorza stepped to the lectern on January 5 to deliver his inaugural address, he chose newness as his theme. "We have to build the New Providence, along with a new economy, a new identity, and a new purpose," he said. "I stand before you with great optimism that by coming together and capitalizing on the many wonderful opportunities that our city offers, we will build this New Providence."
He would refer to "New Providence" seven more times during the speech, even if at one point he admitted, "We live in a city that is 140 years older than the United States."
So, what is the "New Providence"?
Well, it starts every morning with a bike ride.
Elorza lives in a two-story Victorian house in Silver Lake, a blue-collar neighborhood on the city's west side bordering Cranston and Johnston. And, most days, he rides his mountain bike two and a half miles through town to City Hall.
The bicycle has become one of the symbols of the Elorza administration. It's green for a mayor who has announced that the city will divest from the "fifteen most egregious carbon polluting coal companies." It's active and accessible for a mayor who invites residents to jog with him every Sunday morning at Roger Williams Park. And it's youthful, for a mayor who, at a City Hall open house for his "Millennial Task Force," spoke of making Providence "the most millennial-friendly city in the entire country."
On a warm morning in late July, I got permission to tag along in my car during the mayor's ride. I arrived early and waited outside next to the black, security-detail SUV that would also trail him. (The vehicle — license plate: "1" — has had a bike rack installed since inauguration.) The mayor emerged from the house around 8 a.m. wearing a white T-shirt, cargo shorts and sneakers. He carried a suit on a clothes hanger, which he handed to the driver of the SUV. After that, we were off.
Elorza — who says he's biked regularly through the city "for a good fifteen years" — is the kind of speedy, nimble biker who reminds you just how inefficient city driving can be. As I lurched through the starts and stops of Olneyville traffic, he zoomed past me toward downtown. It was only when he took a detour into the Armory District to pick up two fellow-biking staff members that I was able to catch up.
"I love starting the day like this. It actually just gets the juices flowing," he said, as we paused for a moment outside his deputy chief of staff's house. Then we were rolling again, skirting Classical and Central High Schools, across Interstate 95, past Trinity Repertory Company and Lupo's, to the city's hulking, gray, stone 137-year-old headquarters.
As I followed the mayor into City Hall, I saw marks of the "New Providence" almost immediately. On our right, on the first floor, the former Office for Neighborhood Services has been spiffed-up with a new coat of paint and a new name: the "Mayor's Center for City Services." Elorza says his administration inherited 3,000 unresolved complaints, for things like potholes and downed trees, which have since been resolved. "Now we have a system where every single complaint gets logged and…closed out," he told reporters at the Center's ribbon-cutting.
A few yards down the hall is a newly installed City Hall welcome desk, where a smiling city employee stands during business hours to field questions or direct visitors to their destination.
Walk up the marble stairs to the second floor and you'll see other changes, like a door with a name-plaque marked "CHIEF INNOVATION OFFICER" — a position Elorza created to "find areas for efficiency in city government and improve the delivery of services throughout Providence," according to a January 2015 press release. When I sat down with Providence's first-ever CIO — a bright, chipper Brown University graduate named Nicole Pollock, who previously worked at the state Department of Environmental Management — she told me, "My whole role is to work with people in figuring out change, how to make things better." Her team is working, for example, on credit card-payment integration at a number of city offices, including the Board of Licenses, which previously accepted only cash or check.
Indeed, Elorza — the professor, the judge — has cast himself more as a private sector-style leader who wants to make the city run more like a software start-up than a 379-year-old bureaucracy. He frequently touts how employees have received customer-service training from the Lincoln-based Amica Insurance. He's evangelical about Asana, the newly adopted digital operating system that allows staffers to fluidly communicate, assign tasks and share documents. In August, the city announced that it had made its $66.9 million annual pension fund payments earlier than it had in nearly a decade — saving more than a million dollars in late fees, compared to 2014.
"Look at the last four years," Elorza told me, as he sat at his desk, underneath a framed photo of him with President Obama. As soon as Angel Taveras took office, he had to grapple for two years with a $110 million deficit he famously dubbed a "Category Five Fiscal Hurricane," Elorza explained. And after dealing with that emergency, Taveras soon embarked on a gubernatorial run. His predecessor David Cicilline was also running for higher office — the U.S. House of Representatives seat that he now holds — during the waning months of his term. "So the focus on management, innovation, process improvement — that hasn't been here in the city for a while," Elorza says.
But it isn't just process improvements. Perhaps the most tangible sign of a "New Providence" came on a sunny Saturday afternoon in June: the first Providence International Arts Festival. Ten months earlier, Elorza had released a campaign policy statement proposing a "large-scale showcase for our arts and culture" that "will be Providence's cultural calling card in the way that South By Southwest was Austin's." And when the big day arrived, the walls of downtown buildings were splashed with enormous unicorn stickers, psychedelic murals and larger-than-life photos of Providence residents. Parking lots had transformed into skateboarding parks, and the empty facade of a former bank on Weybosset Street became the backdrop for a rock and hip-hop concert called "The One Providence Experience." Two stages were installed on either side of Kennedy Plaza; one featured big-band jazz; the other, Native American drumming and spoken-word poetry, among other performances.
Everywhere you turned, it seemed, there was a burrito to taste, or a poem to hear, or a dance routine to watch, or a new person to meet among thousands of attendees. Even the empty "Superman" building — a glaring symbol of the city's economic malaise — was affixed with long metal strings and turned into an enormous instrument called an "earth harp." "I've been to a lot of festivals in RI, but today's Providence International Arts Festival was the best yet," tweeted Providence Journal political columnist Ed Fitzpatrick, who is hardly a spokesman for Elorza, or any other politician.
The event was a triumph. And at one point Elorza appeared onstage in front of City Hall carrying a tambourine, wearing a "MAYOR" sash over his shoulder, and smiling giddily. After being introduced by his director of art, culture and tourism as "the man who's made all this happen," he stepped to the microphone, and said, "I'm telling you, there is something special here in Providence. And all we're doing is harnessing it, packaging it together and showing it to the rest of the world."
"And, remember," he added, "We're just getting started."
Part of the allure of the Cianci-versus-Elorza race was watching a through-and-through politician square off against an outsider and political neophyte. But once Elorza won, a new kind of drama emerged: would this guy be able to survive the pressure cooker of City Hall?
In short: it hasn't all been tambourines and unicorns. At times, it's felt like we're watching Elorza in the middle of an on-the-job "City Politics 101" class.
Elorza took the reins during a winter that broke records for both snowfall and cold temperatures. The conditions — chest-high snowdrifts, ever-narrowing streets, gaping potholes — were enough to intimidate even the most seasoned politician. But the Elorza administration seemed particularly unprepared to meet the city's dire street-clearing and pothole-patching needs. As street conditions worsened, Elorza's lofty inauguration-speech declaration, "I want potholes to be filled even before they are reported" started to sound more and more like a bad joke. (It didn't help matters when Smiley — whom Elorza appointed the city's COO — suggested during an interview with NBC 10 that city residents could "hang out with friends in the suburbs" during snow-related parking bans.)
And it wasn't just city streets that proved tricky to navigate. When the mayor and his team first unveiled their Fiscal 2016 budget, for example, they highlighted the fact that there were no new tax increases, just as Elorza had promised during the campaign. It was a significant achievement, no doubt. But the Providence Student Union — an alliance of city students who fight to improve school conditions and curricula — noticed that something else was missing: funds to purchase bus passes for students who live more than two miles from school.
This wasn't just a pie-in-the-sky perk; it was something Elorza had promised. "With a total city budget of $662 million, we must make it a priority to find the $1.35 million to fund passes for the 2,100 students who live between two and three miles from school," read one of his campaign policy statements. And so on May 26, sixty students swarmed into City Hall, walking laps around the second floor, chanting "Keep your promise!" The protest was covered by most local news outlets, and the funds were ultimately added to the budget.
A few months later, Elorza took a trip to Guatemala to explore economic development and partnership opportunities — an extension of his ambitious campaign rhetoric about doubling exports from the Port of Providence within five years. During the visit, he was photographed visiting with the country's president, Otto Perez Molina, who, less than three weeks later, resigned and was promptly jailed for what a front-page New York Times story described as questions about "his role in a multimillion-dollar customs fraud case." (A 2013 Times op-ed from Guatemala expert Victoria Sanford read, "There is serious evidence that…Molina, who took office in January 2012, may have been involved in the same mass killings for which [his predecessor] has now been convicted.")
Had anyone in City Hall Googled the guy before Elorza hopped on a plane to schmooze with him? It didn't seem like it. And when the mayor returned to Rhode Island, he found himself straying far from the trip's intended narrative in interviews such as when he called the meeting "very small" and argued that, at the time of his trip, the charges against Molina were only allegations. "Now that he is behind bars I hope he faces justice," Elorza told WPRO.
Were these events the inevitable stumbles of a freshman politician? Or indications of bigger flaws? It depends on your point of view — and your political leanings.
Perhaps the most revealing test of Elorza's governing capabilities is his fierce — and still unresolved — clash with Providence firefighters. The conflict stems from one of the most glaring handicaps of Elorza's "New Providence": the fact that, among other financial challenges, the city faces pension-fund and retiree-health-benefit payment shortfalls of more than two billion dollars, combined. (That's billions, with a "b.") WPRI business and politics reporter Ted Nesi calls the city "close to insolvent" and points out, "Almost one-third of Providence's budget is already spent before Elorza makes any decisions, due to the cost of pensions, health care and debt payments. There's not much room to maneuver."
But maneuver he must. And Elorza addressed the city's finances head-on in May after receiving a report from a city-hired firm that found that Providence could face a structural deficit of as much as $19 million by Fiscal Year 2020-'21. In response, Elorza announced that, among other things, his administration would be rearranging the firefighters from four platoons to three — a shift that would bring firefighters' base-pay schedules from an average of forty-two hours to fifty-six, to whittle down overtime pay, which costs the city an average of $9 million annually, according to Elorza. The mayor argued that a recent Rhode Island Supreme Court decision pertaining to a firefighters dispute in North Kingstown upheld the city's legal right to make such a unilateral change. For his part, longtime firefighters union president Paul Doughty complained Elorza hadn't notified him of the change until the night before the mayor held a press conference to announce it.
The move had echoes of the pension-reform campaign that Gina Raimondo undertook while General Treasurer in 2011, which announced her to the state — and, indeed, the country — as a numbers-minded Democratic willing to address entrenched problems, no matter who stands in the way. And, in Elorza's case, it was met with a declaration of political war. The firefighters filed a lawsuit. Via social media, they released campaign attack-ad style videos decrying the changes. And in one interview, union president Doughty said the changes meant Providence was abandoning its obligations in Raimondo's pension agreement, and that vacating the pension deal would send the city "past the brink of bankruptcy."
And it wasn't just firefighters raising questions. Former Republican gubernatorial candidate Ken Block, an outspoken advocate for streamlining fire costs, praised Elorza's motives, but said the "execution… leaves a lot to be desired." (Block was one of many who expressed concern over the safety of the new schedule, which WPRI's Dan McGowan described in one article as "so rare that neither the city nor the union can name a single fire department in the country that operates under a similar model.") A few weeks later, the Rhode Island Progressive Democrats (which endorsed Elorza during the campaign) called the plan "terrible public policy" and stated, "By attempting to pass this unilateral change without bargaining first, Elorza is explicitly violating a campaign promise."
During an interview in his office in August, Elorza underscored the necessity of the changes and his confidence the city would prevail in the legal battle. "This is a structural fix. This is five to seven million dollars every single year, going forward," he said. He also vowed that the political fight wouldn't become a distraction to him or his administration. "They can be as nasty as they want and you can't get dragged down," he said. "I never, ever allow myself to make a decision out of anger. Because it just clouds your thinking."
A month later, on a steamy early September afternoon, more than 250 firefighters, supporters and their family members filed into City Hall to assemble outside the City Council chamber, when the issue was being discussed in an executive session. Some firefighters wore "ASK ME HOW MY 56-HOUR WEEK IS GOING!" T-shirts while young kids held signs like, "My father has no time for me anymore." Two protestors carried a banner reading, "Welcome to PROVIDENCE Where the mayor turns his back on the FIREFIGHTERS."
At one point, Doughty addressed the crowd in a speech punctuated by cheers and applause. "The mayor has no idea who he's dealing with," he shouted. "If he treats us unfairly, we will not yield, we will not bend, and we will not concede."
"We come tonight, peacefully, to raise our grievances just so that the second floor, where the mayor resides, knows we're here," he said. "Perhaps you can give us a 'Hello, Jorge.' "
"Hello, Jorge!" the crowd shouted.
Two days later a Superior Court judge sent the dispute to grievance arbitration. As of press time, it was scheduled to be heard mid December.
It is far too early to talk about Jorge Elorza's legacy. He's occupied the mayor's office barely a year. But it's not too early to talk about the possibilities for his legacy. Or, to put that another way: to talk about what the next four, or eight, years could hold for Rhode Island's capital.
Today's Providence is a city that changes dramatically depending on your perspective. According to a June 2015 GQ article, the city has enough funky bars, restaurants, hotels, coffee shops and museums to be called "America's Coolest City." This is the same city, though, that, according to a 2014 Providence Journal report, has a lower median income than Mississippi — the poorest state in the U.S.
For a moment, it looked like Elorza's tenure could bring the beginnings of two enormous brick-and-mortar projects: a streetcar line connecting downtown with the hospitals campus in South Providence, and a AAA baseball stadium for the Pawtucket Red Sox, on the former I-195 land. But, since then, the stadium project has sputtered and streetcar plans have cooled considerably. Which doesn't mean that there aren't opportunities to change the face of the city. The vacant "Superman" building and the forty acres of former I-195 land are conspicuous examples. Then in October, Elorza unveiled an ambitious, multi-tiered initiative called "Every Home" to address each of the hundreds of abandoned and blighted houses in the city.
But what about the crumbling and underperforming schools? And the black-hole pension fund? The glaringly non-diverse police force? And the potholes?
If you were to envision someone capable of fixing it all, he might look a lot like Jorge Elorza: a young, smart, multi-talented and energetic guy with a life story to melt even the most hardened hearts. ("Four decades after my family arrived in this country in 1975 with little more than the shirts on their backs, we stand proudly as a family on the steps of City Hall as an example of what dedication, sacrifice, humility and industry can help us achieve," he said at his inauguration.)
So, can he do it?
It's possible. Ask folks around town and you'll hear them talk about more than just his brains and backstory. Council President Luis Aponte, who says he meets with the mayor "at least once a week," points to the ease and confidence with which Elorza navigates the city's diverse neighborhoods. "Folks look to leadership to understand what people are going through, what the climate is and to have thoughtful responses," he says. "And I'm often impressed that no matter where we are, he seems to do well. He's equally comfortable on Blackstone Boulevard as he is on Broad Street."
Kobi Dennis, a community organizer who works mainly in low-income neighborhoods on the west and south sides, raves about the patience, curiosity and concern Elorza has shown. This is not a guy who's glancing at his watch during meetings, Dennis says; he's someone who grabs a notebook and takes notes. And he will come back for a second, and third — and tenth — meeting.
"In my forty-three years of life, he's been the best listener of someone in his position that I've ever met," Dennis says. He points to the mayor's revival of the long-dormant summer "Midnight Basketball" league, which offered a place for at-risk young men to convene, in a safe, friendly environment, where — aside from the basketball — they can also register to vote, or learn about the next police academy. "We don't come from the best schools or the best neighborhoods, but we still want to be part of the city, part of what's going on, part of the talk," Dennis says. "And I think with the Midnight League, we became part of that."
Brown University political science professor Wendy Schiller says that Elorza has been overshadowed in 2015 by a dynamic new governor, in Raimondo, and a powerful house speaker, in Nicholas Mattiello. But the mayor made an impression on her when she attended a memorial service at the Olney Street Baptist Church following the mass shooting in a Charleston, South Carolina, church, in June.
Elorza wasn't on the program, and he spoke without notes. But Schiller says he was comforting, thoughtful and he struck just the right tones of condolence and support, while tying his remarks to larger issues of economic inequality and tolerance, in Providence.
"It was masterful," she says. "I literally thought to myself, 'Where has this guy been?' He was good on the campaign and good in debates. But this was a glimpse of real leadership."
"I think Jorge Elorza is capable of really profound leadership and taking Providence to the next level," she says. "Just by watching him in action there, I thought he really showed you a side of him that we just don't see enough in public."
We're all watching, Mayor Elorza.