The Tyranny of Low Expectations
How far has Rhode Island come since the sweatshop scandals of 2013?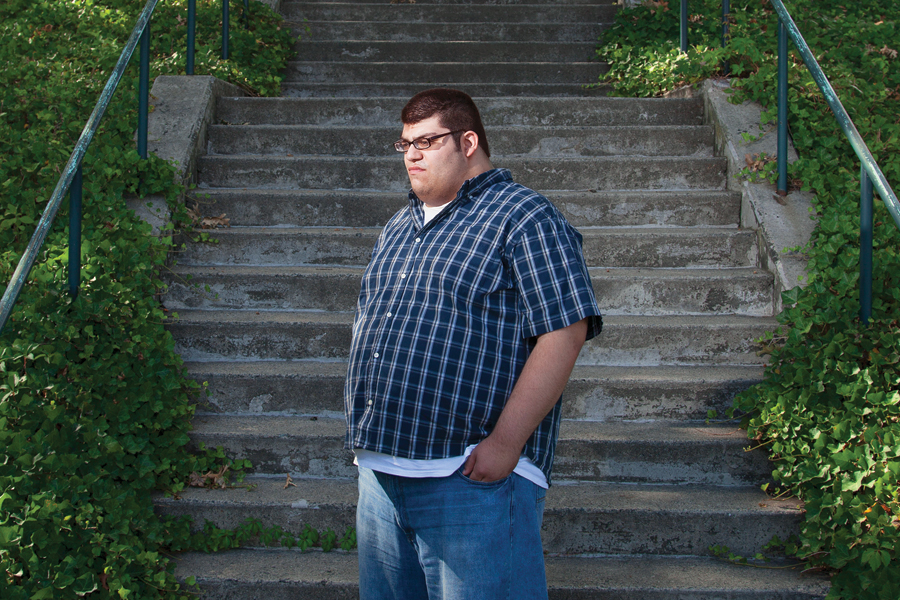 Nicolis Garcia makes PowerPoint presentations for fun. He spends his spare time on his iMac, a gateway to information, friends, comfort and freedom. When a technical issue plagues one of his devices, he heads to YouTube to troubleshoot and fix it himself — long before his parents could be puzzled by the problem in the first place.
Online, Nick's developmental disability, which manifests in a speech impediment and intellectual delays, rarely comes into play. Like many of his millennial peers, the nineteen-year-old thrives in his digital world, developing the skills and patience of the twenty-first century learner — with a little extra time to school fellow WWE diehards in the Xbox wrestling ring.
But for years, his technical education was a solo pursuit. At school, the brawny, web-savvy Nick spent much of his day hunched over a table, piecing together bits of jewelry for odd allowances.
Nick hated the bench work at the Harold V. Birch Vocational School in Providence, located in the dim, isolated basement wing of Mount Pleasant High School; it hurt his fingers and made him restless. He should've been honing skills of a higher caliber, ones that prepared him for work that suited his interests in technology and graphic design — not a far reach for a vocational school.
But there was little or no expectation that Nick, or his peers with developmental disabilities, would find real work in the community. The students at Birch were only prepared for employment in sheltered workshops, where they'd perform assembly line work for subminimum wage in a segregated setting.
Nick never complained. Nobody did. Not his friends, not their parents, not the teachers, not even the Providence Public School Department, which was aware of Birch's contracts with private businesses for jewelry assembly in sheltered workshops. This practice still reigns as the prevocational activity of choice for a spectrum of Americans with disabilities, including those with cerebral palsy, Down syndrome, autism and, like Nick, less conspicuous developmental delays.
But the public eye glared down on Birch when Training Thru Placement (TTP), a North Providence nonprofit that ran one of the largest adult sheltered workshops in Rhode Island, was investigated for fraudulent labor practices. A pipeline for cheap labor seemed to shuttle students from the school to the agency upon graduation, and the federal government took notice. In early 2013, the Department of Justice launched civil rights investigations at TTP and Birch. Then came the news stories, firings, permanently smutted reputations and a statewide consent decree — one where Rhode Island didn't have to admit guilt but avoided federal litigation.
According to the DOJ probe, Birch and TTP were just two of many Rhode Island organizations that segregated people with developmental disabilities and kept them from seeking jobs in the community. The problem was systemic, a result, said U.S. Civil Rights Division attorney Eve Hill in a 2014 speech, of a "tyranny of low — or no — expectations."
In April of 2014, Rhode Island reached a landmark agreement with the Department of Justice, the first of its kind in the history of the United States. Under penalty of law, the state has ten years to make revolutionary changes in the lives of thousands of Rhode Islanders with developmental disabilities, from students to near-retirees who spent decades in sheltered workshops, never knowing what they could achieve on the outside.
And the rest of the country is watching.
Nick's mom, Zulma Garcia, knew little about Birch's sheltered workshop practices. A small, fierce woman, Garcia says her son, who enrolled at Birch in the fall of 2010, was happy and the school felt safe to her. "He was progressing," she says. "I wasn't really sure what was going on in terms of the sheltered workshops. I'd drop him off, I'd speak to the teachers but I didn't see anything like, this isn't okay."
But a few things were off. Birch didn't have a set curriculum for its students, and Nick was never assigned homework. Instead, he would come home with small checks of about $8 apiece. "He was helping with the garden and he did recycling [at school]. I didn't realize it was for jewelry work," she says. "He never spelled it out."
In April of 2013, Nick offered something more: Birch's beloved principal of two decades, Larry Roberti, was in trouble. "The kids knew something was up," Garcia says. "I called the school department, but nobody would give me any information."
Garcia and a coalition of more than thirty parents, teachers and politicians — including then-Providence City Council President Michael Solomon and State Representative John Lombardi — stormed an April 22 school committee meeting to defend Roberti. What the parents didn't know was Providence's superintendent of schools, Susan Lusi, shut down Birch's sheltered workshops ten days before — a consequence of the hush-hush federal investigation into the school's workshop practices. Roberti reportedly said he would "go over her head" to reopen the workshops.
Thanks to the outpouring of support at that April meeting, Roberti's job was saved — but not for long. A month and a half later, news broke and Birch parents were dealt a blow: The Department of Justice had been investigating Birch since January of 2013 and the school's practices violated the Americans with Disabilities Act, a twenty-five-year-old civil rights law that prohibits discrimination based on disability.
Birch students were segregated from the mainstream high school population and their vocational training was limited to bench work. Local media outlets deemed Birch a sweatshop. Roberti retired — at the age of sixty-two with a $76,000 a year pension — and Birch families were left in his dust. Roberti did not respond to repeated requests for comment.
For years, many districts in Rhode Island have helped students with disabilities face the "through the looking glass" moment between school and the adult world. One program, hosted by Lincoln High School, has operated for nearly two decades. The district also provides transportation to and from local internships and job trials.
"I didn't realize that in other schools, kids were transitioned into working," Garcia says. "I was following the course of the school without questioning it."
Then-education commissioner Deborah Gist told WPRI 12 television reporters the Birch program was an "anomaly." But that anomaly was largely ignored. The Rhode Island Department of Education visited the school in 2007 and 2012 and only noted the lack of integration between Mount Pleasant and Birch students. A 2011 audit by the Council of the Great City Schools cited the sheltered workshop as a concern, but another report condemning the city's English language learning program overshadowed the issues at Birch.
Two years and an explosive federal investigation later, the Providence Public School Department addressed the problems at Birch, and it paid the price: The DOJ ordered Providence to pay more than $250,000 in back wages to sixty students. Nick was one of them.
"I was so angry," Garcia says. "I felt like the school department left the parents hanging. It was a hard decision to keep him here. But Nicolis has all of his friends here. How could I have him start over?"
Instead of changing schools, Garcia worked to change the school. She connected with Providence's new special education director, Lisa Vargas-Sinapi, who was hired in the midst of the Department of Justice investigation. A second administrator, Nancy Stevenin, was also hired to help with the school's transition but, once again, Birch came under fire when news broke that Stevenin's bachelor's degree was acquired from an unaccredited university. To drive the point home, an NBC 10 television reporter purchased a doctorate degree from the diploma mill for $600 by phone. Stevenin subsequently resigned.
Despite the dark cloud that hung over Birch, the administrators still had work to do — all of which was mandated by the Department of Justice. Vargas-Sinapi invited Garcia and another parent to join a redesign committee for the school, which was rebranded as Birch Academy. "In the summer of 2013, we looked at four areas that needed to change, and quickly," Vargas-Sinapi says. "We looked at transition programming and services, curriculum, parent and family collaboration and integration."
The Garcias worried about how Nick would fare in the hallways, dodging backpacks and bullies to get to classes on the second and third floors. So one day before the school year began, Garcia went to Mount Pleasant with Nick, found his teacher and practiced his path to class.
Nick and art teacher Mary McMurtery discuss a project.
In addition to hallway integration, Birch and Mount Pleasant began offering integrated after-school activities and inclusive gym and art classes. Mary McMurtery, who has worked as Birch's art teacher for twelve years, says her students love learning alongside their non-disabled peers.
"The Mount Pleasant students, though — some are initially weirded out about it; they think it's going to be this intense special education art class," she says. "They only have their preconceived notions about what it would be like, but when they come in, they realize it's just kids being kids and everyone has something to bring to the table."
Although McMurtery says every class, like every student, is different, she isn't afraid to admit that for abstract art assignments, her Birch students "blow the Mount Pleasant kids out of the water. Every time."
Birch's violations dominated the headlines, but the Department of Justice was initially interested in Training Thru Placement (TTP), a nonprofit agency that provided day program services to adults with disabilities in North Providence.
Birch and TTP had a lot in common. Both organizations operated large-scale sheltered workshops and paid random pittances — ranging from cents to $2 per hour — without calculating rates of compen- sation that make subminimum wage legal under the Fair Labor Standards Act.
They also operated under questionable leadership; Birch had Larry Roberti, and TTP was led by father-son duo John Capobianco Jr. and Sr., who lost their jobs during the DOJ investigation and were subsequently charged by North Providence police with conspiracy and embezzlement. Various news outlets reported that the pair recycled more than $2,000 worth of copper wire — a contracted deal between TTP and Cox Communications — and kept the cash. The charges were eventually dismissed in court.
Unlike Birch, however, TTP's practices were not unusual. Like several other agencies in Rhode Island with sheltered workshops, TTP never connected its clients with employment in the community. Many worked in sheltered workshops for decades, despite wanting to try other jobs.
Rhode Island's Department of Behavioral Healthcare, Developmental Disabilities and Hospitals has since hired Boston-based agency, FedCap Rehabilitation Services, to manage the day-to-day operations at TTP and help its clients find jobs outside of the sheltered workshop. TTP's workers were also promised more than $300,000 in back wages, however the funds have not yet been distributed due to Medicaid's strict caps on income and savings. Those who still want to do bench work — a small but steadfast facet of the population — are paid minimum wage. TTP has been rebranded as Community Work Services.
Sue Babin of the Developmental Disabilities Council, a federally funded advocacy group, says this momentum for change is similar to the de-institutionalization movement that, by the 1990s, shifted hundreds of Rhode Islanders with disabilities out of the Ladd Center in Exeter — best known for disturbing health violations at its dental clinic — and into group homes. Sheltered work was once considered a progressive alternative to institutions like the Ladd.
The practice is still common; an estimated 450,000 Americans with developmental disabilities spend their days in sheltered workshops and other segregated programs. But advocates are making noise about the benefits of hiring people with disabilities — October is National Disability Employment Awareness Month — and the Department of Justice is cracking down on bad actors. A year before the probe in Rhode Island, the DOJ joined a class-action lawsuit against the state of Oregon for its sheltered workshop practices. At first, Oregon failed to negotiate a deal with federal officials. But in September of this year, the state reached an agreement similar to Rhode Island's, narrowly avoiding trial.
"We are under the microscope," Babin says. "All across the country, it's been a tradition of folks with disabilities performing work at less than the minimum wage and segregating them in workshops. Maybe we don't need sheltered workshops at all. Maybe people need to just be out in the community like everyone else."
That's what Steven Porcelli, a gregarious fifty-two-year-old and a sharp dresser, has been thinking for decades. Steven, who was born with a learning disability, worked in sheltered workshops at TTP for thirty years.
"I didn't think I'd be there so long, but I did what I had to do and made a lot of friends," he says.
Not long after he graduated high school, Steven began work at TTP for Pandora's Products, a culinary program that followed the sheltered workshop model. He stuffed cherry peppers, grated cheese and packed jars, and he enjoyed it. But shortly thereafter, Steven was assigned to more traditional sheltered workshop labor.
He describes this part of his life in decades rather than moments, months or years. "In the late '80s, we did jewelry," he says. "Then in the '90s we packaged stuff, put stuff in boxes. We were in little rooms, about eight of us with a supervisor."
Steven asked about other job opportunities, either in an office or as a stock boy, but his requests went unfulfilled. In 2013, when FedCap took over daily operations at TTP, Steven finally got the chance. He landed a job at Automated Business Solutions, an office supply company in Warwick where he does shredding, filing, scanning and computer work. His desk, in a bright, open room alongside the workspaces of several other staffers, is decorated with Red Sox memorabilia and an impressive rubber band ball.
"The money's better," Steven says with a laugh. He is paid minimum wage. "It's important to like what you're doing, and I always wanted to do something other than piecework. If you're disabled, you're often not given the chance to prove yourself. We should have the chance. Even if we can't do it right away, we'll pick it up."
Three days a week, Steven arrives at the office by taxi or RIde bus, always on time and with a story to tell. And after two years, he still likes the work at Automated Business Solutions — "The best place for your office needs," he says.
Today, the systemic cracks that trapped Steven for three decades are on the mend. In accordance with the consent decree, the state has established a sheltered workshop conversion institute as well as an $800,000 trust fund to help nine local agencies with workshops shift away from the practice. The institute is administered by the Paul V. Sherlock Center on Disabilities at Rhode Island College, an organization that also produces an annual employment and day services survey.
Although a survey was not conducted in 2014 — due, in part, to the shakeups from the DOJ investigation — 2015's results are promising: In the last twelve months, 208 people have landed new jobs in integrated settings, a jump up from sixty-five in 2013. The number of minimum wage earners with developmental disabilities has nearly doubled since 2013, however the number of people earning more than minimum wage has decreased by about 10 percent. Most Rhode Islanders with developmental disabilities work as janitors, stock clerks, store baggers, refuse collectors and food prep workers.
The number of people working in sheltered workshops has decreased by about 25 percent in the last two years, indicating a gradual move away from the practice. But that wasn't always the goal. Back in 2013, when the news first broke about investigations at Birch and TTP, then-director of Rhode Island's Department of Behavioral Healthcare, Developmental Disabilities and Hospitals (BHDDH), Craig Stenning, said he would close all sheltered workshops in three years' time.
Not everyone was pleased with Stenning's declaration, especially middle-aged and elderly people with developmental disabilities and their caregivers. Tim, a man in his forties whose name had been changed at the request of his family, is one of them.
One morning at the Fogarty Center in Johnston, a shoebox-shaped space permeated by the scent of cleaning products, Tim shows off a wall decorated with various sheltered workshop projects: snap clap lanyards, boxes for a local jewelry company, pipefittings, small plastic cases for White House Christmas ornaments.
The Fogarty Center's vocational coordinator, Kiernan O'Donnell, says the agency has reduced about 75 percent of its bench work over the last year in favor of integrated employment and activities in the community. However some people, like Tim, prefer to stay in the workshops.
Decades ago, Tim tried out a job at a local restaurant. It didn't go well. "I got stomachaches. I got sick because I got nervous," Tim, who has a severe speech impediment, says about the job, where he washed dishes and cleaned up around the bar. His case manager says he was mistreated by fellow employees and customers.
Tim's mother, who relies on government aid, also discourages her son from pursuing employment opportunities. If Tim earns too much, it would reduce the family's monthly benefits. The sheltered workshop, where Tim works up to three days per week, is not a perfect solution, either: Tim worries about working too fast at the bench, since his pay is based on output. To avoid changes in his supplemental security income (SSI) payments, Tim's case manager closely monitors his earnings.
David Reiss, executive director of the Fogarty Center, says he supports the push for employment for younger people. "I'm not so keen on it for the older population because those folks, because of their disabilities, they don't have the capacity to learn that nor do they want to," he says. "…They know there is a certain cutoff level where if you make too much money the government starts taking $1 away for every $2 you make. That's been a drawback, particularly for families."
Benefits planners are available to explain the impact a job might have on a family's SSI check, which is paid by the federal government with contributions from the state. But people with disabilities often earn more when they work in the community. One man, who was recently hired for a $9 per hour, fifteen hours per week position, will bring in about $500 more per month with his new job, even with cuts to his SSI check.
Other families fear their loved ones can't work in an integrated setting because of severe disabilities or mobility issues. Advocates counter that, with the proper supports, anyone can work. However families no longer have to worry about an end-all shutdown of the state's sheltered workshops.
In January, Governor Gina Raimondo ousted BHDDH director Craig Stenning. In one of the first appointments of her governorship, Raimondo tapped Maria Montanaro, former CEO of Magellan Behavioral Care of Iowa, for the job. Under Montanaro's leadership, BHDDH has renounced the three-year timeline to close all sheltered workshops.
"The one thing I like in Rhode Island is that people are coming at this with great intention," Montanaro, who served as CEO of Thundermist Health Care before moving to Iowa, says.
But in her time at BHDDH, Montanaro says she has not found the department to be particularly people-centric. Services cost a lot, she says, and accountability has to be better.
"The strategy is, how do we ensure that each person we serve — and we're not there yet — is receiving just the right services to fulfill their person-centered goals of living the most independent life they can?" Montanaro says. "We need to do more."
Although the state isn't rushing to shutter all sheltered workshops, Rhode Island has closed the front door. Individuals who are entering the developmental disabilities system — including twenty-one-year-olds aging out of the school system — no longer have access to sheltered work as a service provision, says Andrew McQuaide, the state's consent decree coordinator.
McQuaide is charged with providing the federal government with reports on Rhode Island's progress as designated by strict parameters in the consent decree, a legally binding document that's enforceable by law. According to the agreement, Rhode Island must place at least 2,000 people with intellectual or developmental disabilities — 700 who are currently in sheltered workshops, plus at least 950 people in facility-based day programs and at least 300 students leaving high school — in jobs within the next ten years. Additionally, the state must provide transition services for 1,250 youth ages fourteen to twenty-one.
In August, government-appointed court monitor Charles Moseley released Rhode Island's first progress report. According to Moseley, "…the state has made significant progress in meeting the many performance benchmarks identified by the consent decree." The areas that require improvement are primarily bureaucratic: more funding for benefits planning for the youth exit population, greater quality improvement efforts at state agencies and improved data collection — the last of which requires urgent action, Moseley writes.
Some caregivers and advocates worry about one-size-fits-all mandates, but McQuaide says there's room for flexibility. "Just like in our broader community, there are people who choose not to work," he says. "What's important is that we are making sure that when someone says they don't want a job, they're making an informed choice."
Come rain, snow or blistering sunshine, Jeffrey Pete makes it into work. Monday through Friday, dressed in back-of-the-house black, Jeff walks from his family's home on the South Side of Providence, across the highway overpass and down the service road to his job at the Capital Grille.
Employee Jeffrey Pete and Chris Phillips, general manager of the Capital Grille.
Last fall and with the aid of a career coach, Jeff landed an interview with the Capital Grille's general manager, Chris Phillips. "If you would've seen Jeff's eyes during the interview — he was terrified," Phillips says. "But how can you not fall in love with this kid? He's the sweetest in the world."
Jeff, who wears his hair in short braids and has tattoos of family members' names on his arms, is shy. One-word answers and closed-mouth chuckles are about all he can muster. But he's also an incredibly hard worker, a proud father to his three-year-old girl, Zoey, and an asset to the fine dining restaurant, says Phillips.
"At first, I didn't think I had anything available in that scope for him," Phillips says. "But then I started thinking about it, and there are a lot of jobs around my restaurant that don't get done because there's no set person to do them."
After the interview, Jeff was hired. He received his black Capital Grille polo T-shirt and started working two hours per day, Monday through Friday, at $10 per hour. He'd help the bartender load up the mats and get ice, and he'd put away food and liquor deliveries with the restaurant receiver.
"All his normal tasks he used to get done in two hours, he gets done now in forty-five minutes. So we doubled his hours and gave him a raise," Phillips says.
Jeff's growth didn't end there. In August, when the Capital Grille moved to a new location in Providence's GTECH building, Jeff was promoted to a full-time receivership position.
Bartender Aaron Britto calls Jeff "the best thing that happened to my Friday morning. He's here before I am, filling up my ice, and when I get in he helps me set everything up," Britto says.
"It's a long fifteen hours if I start my day without him."
Jeff's prior work experience wasn't as positive. Before the Capital Grille, he held another service industry position in Providence. "I liked it in the beginning but they cut my hours down," he explains.
But he kept searching for the right position and eventually landed at the Capital Grille. Last Christmas, after Jeff had worked for about three months at the restaurant, the staff chipped in to buy a sleigh-full of gifts for his daughter, Zoey.
When asked about his relationship with his current coworkers, Jeff used one word to describe it: "Respect."
And although the Capital Grille could apply for up to $6,000 in annual tax credits, which encourage Rhode Island businesses to hire people with disabilities, Phillips says the restaurant never filed the paperwork. "We don't look at Jeff like he has a handicap. He gets the work done, and well."
Awed by Jeff's success, Phillips penned an email to area Capital Grille general managers. "Three other Capital Grilles in this region have now done the same thing we've done, in Pittsburgh, Indianapolis, Boston," Phillips says, turning to his employee. "So, it all started with you, Jeff."
Jeff hides a smile behind a cupped hand, but his huge brown eyes give him away: He wells up for a second, then casts his face down and asks if he can return to work in the kitchen. Phillips laughs and nods, and Jeff hustles back to help the sous chef stack fresh-cut produce in plastic boxes.
On the other side of the city, Nicolis Garcia flops into a chair in a conference room at Mount Pleasant High School. The space used to be Nick's art classroom, back when Birch was the sole occupant of the school's basement wing.
"Everything's changed. It's good," he says about the transformed Birch Academy. "It's better than the early years. It's helpful for people like me to have job experiences."
Back in spring, Nick spent a few hours on Tuesdays and Thursdays in internships at a nearby Chili's restaurant, a stable and a T-shirt design company. "I've learned how to make some dinner or breakfast for my own family," he says. Nick also liked working with horses at the stable, adding, "Animals are like family to me."
His employment training leapt forward in September. Nick was one of eight accepted into Project SEARCH, a transition program for students with developmental disabilities that's hosted by the Miriam Hospital in Providence. The national program, which launched in 1996 in Cincinnati, features an onsite classroom where students spend an hour each day learning team building, interview and money management skills. From there, and with the help of mentors, the students rotate among several different positions in the hospital.
Project SEARCH piloted in Providence last year, and two of the eight participating students were hired by the hospital. The others graduated with a career portfolio featuring letters of recommendation, a resume and awards earned throughout the year. Rhode Island's Office of Rehabilitative Services took over from there.
Since then, the Cranston School Department launched a Project SEARCH of its own and the Pawtucket School Department has plans for one for the 2015/2016 school year.
"Project SEARCH is great, the jobs skills are great. But I still think Nicolis wants some form of post-secondary education," Nick's mom, Zulma Garcia, says. "He often says, '[older brother] Zachary is going to college, dad went to college, you went to college, why can't I go to college?' I, as his parent, am going to find that for him."
Nicolis's dream, he says, is to attend the Rhode Island School of Design — much like Allyson Dupont, a twenty-six-year-old RISD alumna with spinal muscular atrophy who owns her own graphic design business. It wasn't an easy road; Allyson had to fight for everything, from her state-issued laptop to a grant that helped build an accessible design studio in her parents' garage.
But Allyson graduated at the top of her high school class in Cranston in 2005, diploma in hand. Nick, like so many other students in Rhode Island with developmental disabilities, will not graduate with a diploma due to district-specific requirements. And they're getting tougher: The state's newest standardized test, the Partnership for Assessment of Readiness for College and Careers (PARCC) test, could become a graduation requirement for the high school class of 2017 — this year's juniors.
"We all know that people who don't graduate with a high school diploma don't have good-paying jobs," Garcia says. "The expectation is they have independence. They're expected to sustain themselves. How?"
For now, Nick will continue to participate in internships and work trials, learning skills to help him land a job when he turns twenty-one. And Garcia says she's noticed a marked difference in her son over the last two years. "You can see him getting stronger," she says. "He's more comfortable doing things on his own."
Despite the earth-shattering shakeups of the past and the uncertainty of the future, one thing is true: Nick, his Birch peers and many more Rhode Islanders with disabilities have the opportunity to work in jobs they actually like, no assembly required.