The Traditional
Newport, navy blue blazers and pearls acted as our muse for this party. The result? Caviar, beef tenderloin and lobster. And, of course, Champagne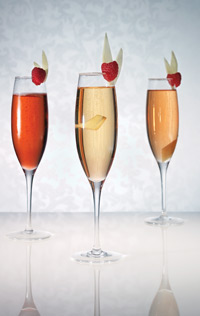 Newport, navy blue blazers and pearls acted as our muse for this party. The result? Caviar, beef tenderloin and lobster. And, of course, Champagne (top-shelf, no less). The inspiration may be timeless, but the spread is anything but dated—note the beef is Kobe, and the classic cucumber sandwich is elevated a notch by adding mango. Even the bubbly is dressed up, thanks to a healthy dose of pomegranate juice.
Champagne Temple
1 orange, cut into small wedges sugar
4 to 5 ounces Champagne (Bollinger or Veuve Clicquot Yellow Label)
1 tablespoon pomegranate juice
fresh ginger, sliced thin to garnish
raspberries to garnish
Rub the rim of the Champagne flute with orange wedge to moisten. Gently dip the lip into a shallow bowl of sugar to coat. Fill the glass nearly full with Champagne. Add pomegranate juice (more or less depending on desired taste and color). Drop one piece of ginger into the glass. Garnish with ginger slices and whole raspberries.
Lobster Salad Tartlettes
Makes 12 pieces
3/4 pound lobster meat, cooked
1 tablespoon celery, diced finely
1/2 teaspoon tarragon, chopped
1/4 teaspoon dill, chopped
2 1/2 tablespoons creme fraiche
5 tablespoons mayonnaise
small splash lemon juice
salt and white pepper to taste
12 savory pie shells

Squeeze liquid from the lobster meat and chop into large chunks. Place in mixing bowl. Add remaining ingredients (except tart shells) into a bowl and combine fully. Salt and pepper to taste. Fill each tart shell evenly with lobster, and garnish each with flash-fried dill.
Cheddar Cheese Puffs
Makes 12 to 24 pieces
2 cups sharp aged cheddar (Cabot), shredded fine
1 cup all-purpose flour
1/2 cup unsalted butter, softened
1/4 cup whole milk
1 teaspoon herbs, chopped fine (basil, chives, tarragon, sage, etc.)
1 tablespoon imported Dijon mustard
ancho chile powder, to garnish (optional)
In a bowl, combine all ingredients and mix well. Roll into evenly shaped balls, to desired size. Place at least one inch apart on an ungreased sheet pan. Bake at 400˚ for 12 to 15 minutes or until lightly browned. Serve warm, sprinkled with chile powder.
Cucumber and Mango Tea Sandwiches
Makes 12 pieces
1 mango, peeled and flesh removed
4 ounces cream cheese, room temperature
1/2 teaspoon harisa (or other hot chile paste)
salt, pepper, lemon juice to taste
3 thin slices whole grain or rye bread
1 seedless cucumber, sliced into thin rounds
organic sea salt (Maldon's) to garnish
micro cumin* to garnish
Finely chop the mango flesh and mix with cream cheese and harisa. Season as needed with salt, pepper and lemon juice.
Cut crust off bread slices and cut either small squares or rounds the same size as the cucumber slices. Lightly toast in 350˚ oven until crispy, but not dry.
Spread mango-chile mixture evenly on each toast, about a 1/4 inch thick. Top each with cucumber slice, a couple flakes of sea salt and micro cumin.
Kobe Beef Crostini
Makes 12 pieces
1 pound American Wagyu sirloin*, completely trimmed
gourmet peppercorn blend (pink, white, black, green), to taste
12 sourdough baguette slices, cut thin on the bias
1/4 cup sour cream
1 tablespoon fresh horseradish, grated
1 lemon, zested
salt, pepper, lemon juice, to taste
organic sea salt (Maldon's) to garnish
cold-pressed Picholine olive oil to garnish
Heat a skillet to very hot. Season beef with fresh-ground mixed peppercorns and sea salt. With a little oil, sear to a dark brown on all sides. Let rest and cool completely.
Lightly toast baguette slices in 350˚ oven until very crispy and dry.
In a bowl, mix together the sour cream, horseradish and lemon zest, and season with salt, pepper and lemon juice. (Add more horseradish if additional heat is desired.)
When ready to serve, thinly slice the beef and place a slice on each baguette toast. Drizzle with olive oil and garnish each with a couple flakes of sea salt.
Shrimp Cocktail

Makes 12 pieces
12 large, wild-caught Mexican white shrimp, peeled and deveined
12 thin wooden skewers (optional for presentation)
2 quarts cool water
1/2 tablespoon crushed red pepper flakes
1/2 tablespoon whole black peppercorns
1 tablespoon Old Bay seasoning
1/4 bunch fresh parsley
1 bay leaf
2 tablespoons lemon juice
Run one skewer from just underneath the tail through length of the shrimp. Place shrimp in a pot with the water and remaining poaching seasonings. Place on stove, bring to a simmer and cook until shrimp are done, about 15 minutes. Drain and chill shrimp in ice bath to stop cooking.
Cocktail Sauce
1/2 cup chili sauce
1 cup ketchup
2 tablespoons prepared horseradish
1 tablespoon lemon juice
1 tablespoon white vinegar
salt, black pepper to taste
lemon rind to garnish
Combine all ingredients in a bowl, mix well and season as desired.
To serve, remove skewers from shrimp. Fill a shot glass a quarter full with cocktail sauce. Place shrimp in glass, tail up and garnish with lemon rind.

Blini and Caviar
Makes 12 pieces
1/4 cup warm water
1 1/4 teaspoons active dry yeast
1 1/2 tablespoons sugar
1/2 cup all-purpose flour, sifted
1/2 cup buckwheat flour, sifted
1/4 teaspoon salt
1 cup whole milk, warmed
1/4 cup unsalted butter, melted and cooled
2 large eggs, lightly beaten
2 ounces sustainable American Sturgeon caviar*
1/4 cup creme fraiche, whipped
chives to garnish
Stir together warm water, yeast and sugar in a bowl and let stand until foamy, about 5 minutes.
Add all-purpose flour, buckwheat flour, and salt, then stir in milk, 3 tablespoons butter and eggs. Cover bowl with plastic wrap and set in a roasting pan filled with 1 inch of warm water. Let rise in a warm place until dough is increased in volume, has bubbles breaking the surface, and is stringy when scooped, 1 1/2 to 2 hours. Stir batter.
Heat a 12-inch nonstick skillet over moderately high heat until hot and brush with some of remaining melted butter (if butter browns immediately, lower heat). Working in batches of 4, spoon 1 tablespoon batter into skillet for each blini, then cook, turning each pancake once, until golden on both sides, about 2 minutes.
Garnish individually with whipped creme fraiche, caviar and chives.