The Sweetest Indulgence
It's not every day someone indulges your sweet tooth for (nearly) nothing.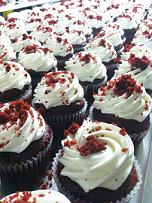 Although I love the idea of sweet treats, I tend to avoid places like Sweet Indulgence, located at 905 Warwick Ave. Just the thought of a six-pack of gourmet cupcakes frightens both me and my waistline.
But last week, I learned via Facebook that the Warwick Avenue sweet spot was offering a free half-dozen of cupcakes every Saturday in October to customers who brought in a copy of Rhode Island Monthly, no catch involved. Their delicate rose frosted cupcake appears in this month's "Sweet!" issue (on newsstands now), and owners Kerri and Joe Fusco are celebrating the nod.
To play by the rules, I ran over to Eastside Marketplace and paid (yes paid, orange sticker and all) for a copy of the magazine to cash in on the cupcake deal. The cupcakes at Sweet Indulgence are $2.50 a pop, so the exchange easily worked in my favor. It was my big brother's birthday on Sunday, and I wanted to surprise him with a special treat that strayed from the expected — but much-loved — Funfetti cake with vanilla frosting.
Pulling into the front lot, I spotted two adults and a small child, all toting their own personal pink boxes with Rhode Island Monthly magazines resting on top. I walked in, expecting to hear the counter staff cursing the loss of eighteen perfect confections to one tiny family. But staff member Cheryl (better known as "Mom" to Kerri Cupcake) said with a grin, "You've got it!" as soon as she spotted the magazine under my arm. She seemed more excited to tend to my cupcake desires than I was to actually try one (and I was pretty excited).
My nose almost pressed up against their cupcake display case, I got a bit of stage fright. Coffee toffee, red velvet, Boston cream, death by chocolate, the list goes on. How was I going to choose just six?
I needed a break, and so I meandered around the warm and sunny shop and checked out the goods. Instantly I was reminded of the penny candy days of my childhood: swirling pops, candied apples, tiny chocolate morsels and gummies of all shapes and sizes. Although the shop is small, I felt like a seven-year-old again, gazing up at the endless sweets, longing to try everything in sight. And there's ice cream. My sweet tooth was officially tickled.
But back to the cupcakes. I eventually narrowed it down to mint chocolate chip for me, red velvet for a well-behaved four-year-old, peanut butter cup for my man, birthday cake for my brother, and cookies and cream and another red velvet for mom and dad. Whew. Cheryl waved me off, with a smile as bright as the perfect pink box I left with.
I don't know about you, but I rarely score treats like this. The cupcake crew likely spent hours baking, frosting and decorating their little masterpieces on Saturday morning, knowing they probably wouldn't see much hard cash in return. If their ploy was to get customers in the door and hope some might return, it certainly worked with me. I'm already dreaming up events that might warrant a cupcake tower.
Sweet Indulgence, 905 Warwick Ave., Warwick, 228-7719, mysweetindulgence.com. Open Tues.­–Sat., 11 a.m–7 p.m.