The Story Behind Lincoln's Hearthside House
The historic Great Road property proves it: The lottery curse is real.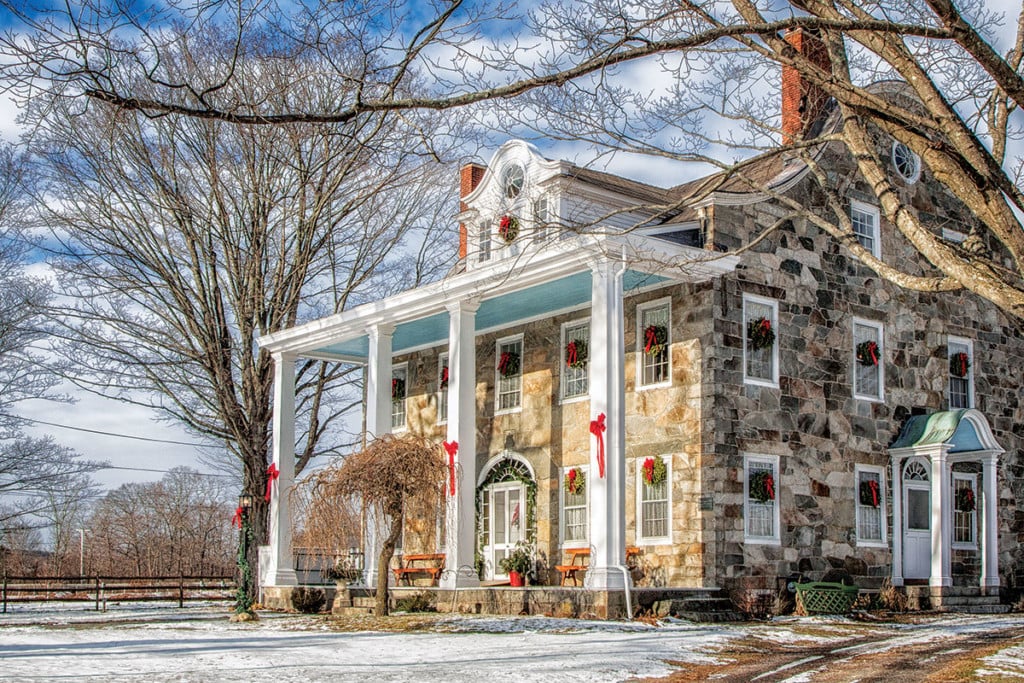 Where to eat
Trattoria Romana
Arrive with an empty belly and be prepared to experience an authentic Italian meal. Be transported to little Italy with beautiful decor and painted murals. Begin your meal with pasta e fagioli, a classic Italian soup made with cannellini beans and pasta. Stay for one of several pasta dishes (our favorite is the rigatoni alla zingara; homemade pasta sauteed with sweet Italian sausage, fresh mushrooms and black olives in a San Marzano tomato sauce with a touch of cream and Romano cheese) or a chicken, meat or fish dish. 3 Wake Robin Rd., Lincoln, 333-6700, trattoriaromana.com.
Wicked Good Bar and Grill
The name speaks for itself: Located in the Twin River Casino, this casual restaurant offers wicked good food and drinks. Begin your meal with a bowl of freshly popped popcorn and choose from a menu stocked with pub food including nachos, chicken wings, club sandwiches, burgers and much more. Plus, choose from a selection of more than sixty-five brews from around the world. 100 Twin River Rd., Lincoln, 475-8600, twinriver.com.
Hartley's Pork Pies
If you like meat pies, you've come to the right place. The menu includes pies with a variety of fillings including chicken, pork (duh), beef and salmon. Crisp, flaky crust and a steaming-hot savory filling: What more could you ask for? 871 Smithfield Ave., Lincoln, 726-1295.
A Short Drive Away
Blackie's Bull Dog Tavern
From paleo options and juicy burgers to freshly grilled pizzas, cheesesteaks and a variety of tacos (just to name a few), expect twists on some of your favorite comfort foods. Join Blackie's for brunch too, and munch on breakfast bites including chicken and biscuits, banana cinnamon paleo pancakes, a steak and egg hoagie and more. It's a five-napkin kind of joint. 181 George Washington Hwy., Smithfield, 231-4777, blackiesbulldogtavern.com.
GottaQ BBQ
Named by MSN as one of the top fifty barbecue joints in the country, GottaQ cooks up authentic wood smoked pork, tri-tip and beef brisket, baby back ribs and pulled chicken. Don't skimp on the sides like mac and cheese, barbecue pit beans, brisket chili and more. This is classic barbecue done right, but you're just going to have to taste it to believe it. 2000 Mendon Rd., Cumberland, 475-1296, gottaq.com.
Where to Explore
R1 Indoor Karting
One of the newest additions to Lincoln's recreational offerings, R1 Indoor Karting lets customers zoom around a kart track at blistering speeds. Equipped with the latest in go-kart technology, the electric vehicles have the power of a racecar without the fumes. Its asphalt track is specifically designed for karting, meaning you'll have a fast experience all around. Grab a bite at the onsite Fuel Restaurant and Sports Bar. 100 Higginson Ave., Lincoln, 721-5554, r1indoorkarting.com.
A Short Drive Away
Slater Mill Museum
Slater Mill has been dubbed the birthplace of the American Industrial Revolution and it's right in our backyard. Experience how early skilled workers lived, see the 16,000-pound water wheel and explore the 1758 Sylvanus Brown House. Looking for more fun things to do? Stroll through the museum, take part in one of the mill's skills classes or watch a presentation. 67 Roosevelt Ave., Pawtucket, 725-8638, slatermill.org.
BreakTime Bowl and Bar
Originally built to prevent workers from unionizing in the 1920s, this bowling alley has been revitalized to become a popular hangout spot in the Hope Artiste Village. Grab your friends and enjoy some good pub grub and drinks for a night full of fun. 999 Main St., Pawtucket, 427-7006, breaktimebowlandbar.com.
Where to shop
Donna Dressler Jewelry, Gifts and More
Find a stylish array of hostess gifts as well as ideas for new babies, birthdays and maybe even something special for yourself. With selections from popular brands including Vera Bradley, Charlie Paige, Stonewall Kitchen and Yankee Candle, this is a one-stop shop for all your holiday gift-giving needs. Or if you're looking for something a little more personalized, Donna creates gift baskets just the way you want them. 1528 Old Louisquisset Pike, Lincoln, 722-8022, donnadressler.com.
Ryco's Trimming Co.
If you're crafty and love textiles, Ryco's is the place for you. Equipped with every fabric, thread and sewing tool imaginable, the shop has the right supplies for beginners and experts alike. Take some classes on sewing, quilting or design. Whatever your project, whether it be a quilt or a teddy bear, you'll find resources and inspiration at Ryco's. 25 Carrington St., Lincoln, 725-1779, rycotrim.com.
A Short Drive Away
Giraffes and Robots
This small shop, born out of a desire to provide a cure to the daily news cycle, can add a pop of color to your life. From cartoony dinosaurs holding doughnuts to depictions of classic Rhodyisms like coffee milk and the Big Blue Bug, Giraffes and Robots uses its pop art style to provide decor that can brighten up any room. Hope Artiste Village, 1005 Main St. studio 2219, Pawtucket, 347-762-6871, giraffesandrobots.com.
Frog and Toad
Gift shops can seem pretty humdrum when stocked with the same generic knick-knacks and bric-a-brac. Not so with Frog and Toad. The store is filled with a quirky assortment of art, apparel and jewelry. 795 Hope St., Providence, 831-3434, frogandtoadstore.com.