The Story Behind Lincoln's Hearthside House
The historic Great Road property proves it: The lottery curse is real.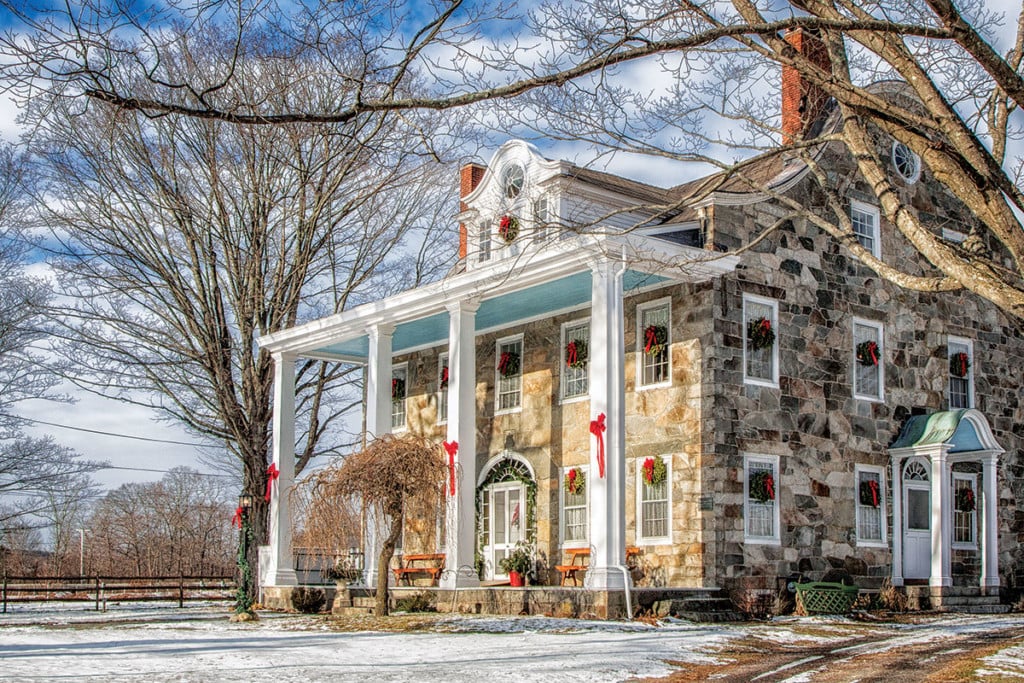 If the walls could talk.
If this stone mansion, with a striking cut-stone façade bedecked with large glass-paned windows and a stately front portico could spill its secrets, what would they be? Its history is yearning to be told through the eleven families and their personal belongings who have called this place home.
What was once known as the Stephen Smith Mansion is now coined the Hearthside House Museum. Kathy Hartley, president and founder of the nonprofit volunteer-based organization Friends of Hearthside, oversees the home as if it were her own. After watching the house sit vacant for many years after being purchased by the town of Lincoln, Hartley knew she had to step in and bring Hearthside back to life.
But how did it get there in the first place? According to Hartley, Stephen Hopkins Smith, a Quaker who lived in a modest house across the street from Chase Farm — the land on which Hearthside sits — reportedly won $40,000 in a lottery (the equivalent of almost $800,000 today). He used his winnings to build an immaculate mansion in 1810 to win the love of his heart's desire — a supposed socialite from the East Side of Providence — in hopes that she would move with him to this grand home in the country. Smith's hopes were dashed when she took one look at it and rejected his offer. At the time, to live seven miles from the city was quite the trek, and the mystery woman who stole Smith's heart didn't want to live in the wilderness. So, Stephen Hopkins Smith never lived in the home, but offered it to his brother and family who resided there for fifteen years or so.
"Although Ripley's Believe it or Not cites Hearthside as the 'heartbreak house,' we refer to it as the 'house that love built,' " says Hartley. "Every family that lived here, even up until the last residents, the Mowbray family, who moved out in 1997, loved this home."
Some of the families who lived in the mansion were farmers and stayed for two or three years. That was, until Simon Eddy Thornton came along.
"Simon moved into the home around 1870, lived here for quite a few years and died right here in this bedroom," says Hartley on our tour. "I had received an embalming kit as a donated item and decided to do some research on which members of the families would have been living in Hearthside when embalming first began."
With a little bit of help from Bellow's Funeral Parlor in Lincoln, the oldest in New England, Hartley discovered through an undertaker's journal dating back to 1873 that Thornton was embalmed on that very table she had received. As it turns out, Hearthside stole Thornton's heart, too.
But it wasn't just Simon Thornton who was connected to the heart of Hearthside. Around the turn of the century, the Talbot family, wealthy sea merchants and the most notable family to live in the home, took residency. Silas Talbot was one of the first commanders on the USS Constitution and William Talbot was owner of the Tockwotton Company, manufacturer of buttons, in Providence. William's son Arnold was disinterested in being a part of the family business and decided to purchase 200-year-old looms from all over Rhode Island. He took these looms and moved into the Stephen Hopkins Smith Home around 1904. With the large, wooden structures in tow, the Talbots' story at the mansion began.
Hand-weaving from eight looms started in the attic, and quickly, the family began selling their products all over the country. From coverlets to rugs to household textiles, the Talbot family became well-known for the high quality and vibrant colors of their work and were featured in many magazines. For quite some time after the Talbots left Hearthside, however, the attic sat vacant. That is, until a few years ago.
"We recently had all of the looms donated back to us at Hearthside," says Hartley. "That they are so transformative to the house and what happened here, and to have those items back where they started and where so much history was made, is remarkable."
Alongside the looms, hundreds of other items have been left behind by the families or have been donated to Hearthside from extended family members for its centuries-old museum collection.
"Each piece here has a story to tell. This isn't a static museum; we constantly have new pieces coming into Hearthside," she says. "Each room in the house represents a different era of time in which each of the families lived here. There are mannequins in several rooms with garb from varying time periods, intricate baby bassinets and young children's clothing and toys, fine china, paintings and so much more."
Throughout the years, many people from around Rhode Island who are not connected to the house have also donated their personal items and have brought their families to the museum to see them on full display. These family ties, both new and old, play a significant role at Hearthside House Museum, especially during the holidays. Guests can see the house decked out in yuletide finery for an old-fashioned Christmas celebration. Each room in the house is anchored with a tree, some with presents and vintage toys scattered around, others strung with 1950s and '60s bubble lights and tinsel.
It is no surprise that after all these years, Hearthside House is a place for families to gather, even during the cold winter months. It could be a child on Santa's lap, recording a holiday remembrance in a memory book or listening to the sounds of live harpists, pianists and more. Or, it could be seeing Hearthside in all its holiday glory with wreaths in every window and hues of red and gold incorporated into every room.
"Hearthside truly resonates with people, especially during Christmastime. Visitors can picture themselves living here and celebrating the holidays in our cozy confined space," says Hartley. "But no matter the time of year, our goal is that you always learn something new when you come to Hearthside. The house wants its history told and that's what we're doing."
Visit Hearthside House Museum for tours of an old-fashioned Christmas on December 2, 8 and 9 or after the holidays for guided Home for the Holidays tours on December 28 and 30. Plus, visit the Hannaway Blacksmith Shop, Moffitt Mill, the one-room schoolhouse and visitor center at Chase Farm for a full experience of the new heritage campus.