The Story Behind Bristol's Linden Place
Despite its stately façade, Linden Place was once home to betrayal and scandal.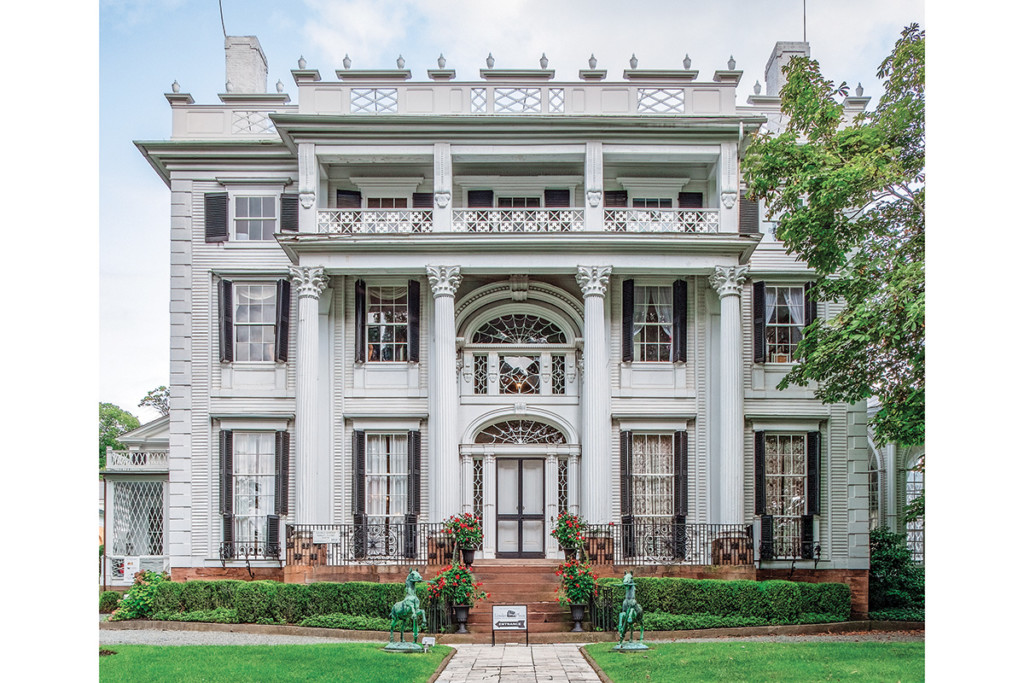 Where to eat
Beehive Cafe
Located in the heart of Bristol, Beehive Cafe is a bustling space overlooking Independence Park and Bristol Harbor. The small, two-story restaurant with cozy seating serves breakfast bites from a seasonally changing and locally sourced menu, daily until 3:30 p.m. Try the bacon and brown sugar pancakes with butter and pure maple syrup or opt for a heartier lunch option such as a butternut squash sandwich or grilled cheese. Beehive recently added a dinner menu that features platters and salads, sandwiches, entrees and more, Thurs.–Sat. from 5–9 p.m. 10 Franklin St., Bristol, 396-9994, thebeehivecafe.com.
Bristol Oyster Bar
No surprise, given the name, you will find tasty briny bivalves from Rhode Island oyster farms here. Slurp back local seafood from the raw bar or munch on dishes including the smoked fish plate or the grilled salmon and lobster. If oysters are your go-to, participate in buck-a-shuck from noon–2 p.m. or 4–6 p.m. daily. Landlubbers can choose from a selection of dishes sans seafood including the Cajun pork belly confit, buttermilk fried chicken, a variety of salads and more. Plus, sip on a signature cocktail, beer or wine. 448 Hope St., Bristol, 396-5820, bristoloysterbar.com.
A Short Drive Away
Graziano's 501 Cafe
This quaint seaside shanty serves comfort foods for any hour of the day including delicious breakfast bites, classic lunch favorites like burgers, chowder, deluxe sandwiches and more, and both Italian and Portuguese specialties, too. Grab a table and enjoy comfortable seating inside, while kicking back and sipping on mimosas and bloody Marys alongside a delicious brunch. 501 Park Ave., Portsmouth, 683-0750, grazianos501.com.
Where to shop
Kate and Company
This small, quaint boutique on lower Hope Street carries an array of home decor, jewelry, clothing for adults and children and bath and body products. Kate and Company's location, right next to Angelina's coffee shop, means you can shop until you drop then grab a coffee or tea for an extra energy boost. 301 Hope St., Bristol, 253-3117, kate-and-company.com.
Therapy Boutique
Pick up a new piece to accessorize your wardrobe, including trendy clothing, brand spanking new shoes, lots of statement jewelry and more. Plus, find something new for your home. There's nothing like a good dose of retail therapy. 18 State St., Bristol, 254-9333, therapyboutiques.com.
A Short Drive Away
Luca Boutique
Designer clothing and toys for little ones might seem unattainable unless you shop here. The children's couture consignment shop offers gently used luxe labels such as Lilly Pulitzer, Burberry, Baby Lulu and more, and sells them for a fraction of the original cost. Check out the Luca First Look Facebook page to stake your claim on items before they make it to the racks. 193 Water St., Warren, 289-2251, luca-ri.com.
Where to explore
Mount Hope Farm
This beautiful bayside farm is a historic site that is especially popular in the summer and autumn months. Guests can take a peaceful stroll along wooded walking trails that lead to picturesque views of Narragansett Bay and Mount Hope Bridge. Plus, pick up fresh fruits and veggies, herbs, meat, eggs, seafood, pastries, household products and more at the weekly farmers market. 250 Metacom Ave., Bristol, 254-1745, mounthopefarm.org.
East Bay Bike Path
Experience fall along the bike path with your significant other or go for a bike ride with your family. If you get hungry, stop at one of the many restaurants near the bike path, including spots like Thames Waterside Bar and Grille and DeWolf Tavern or catch a seat at Quito's Restaurant before it closes for the season in November. dot.ri.gov.
Bristol Art Museum
This museum is home to artwork in all media including sculptures, paintings and drawings. See the "It's Only a Game" exhibition or participate in an artist workshop or art class reading group. 10 Wardwell St., Bristol, 253-4400, bristolartmuseum.org.