The Story Behind Bristol's Linden Place
Despite its stately façade, Linden Place was once home to betrayal and scandal.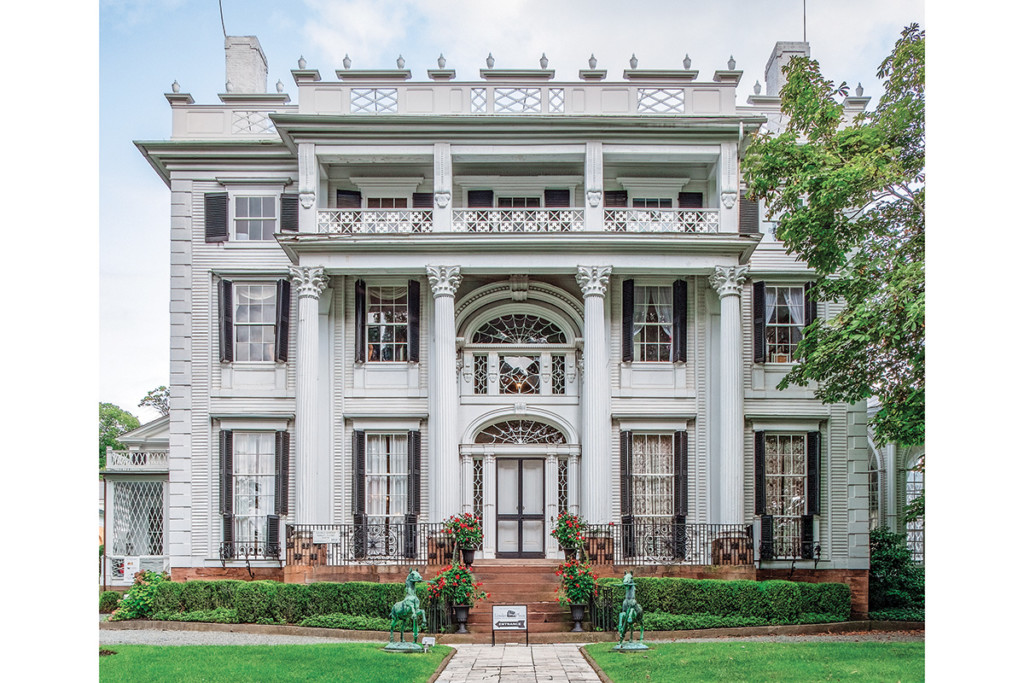 Even in the middle of a dark December night, George DeWolf's home radiated luxury. It was 1825, and few homes in Bristol could come close to matching this magisterial abode, designed by Russell Warren, architect of the Providence Arcade and the Athenaenum. Corinthian columns, wide airy windows, a towering front door: It looked as if it had been plucked from a southern plantation. This was no accident.
George had harbored something of a romance for the South, perhaps to justify his personal fortune built on the slave trade.
In the unsteady light, George's family bustled in preparation for their departure. Passing through the cavernous entrance hall, George probably reminisced about all the dignitaries and businessmen he had welcomed through his imposing front door — he had even entertained President James Monroe. Perhaps he remembered acquaintances of lesser status whom he accepted through his side doors. And then, of course, there was the back door, reserved for servants, workers and members of the common milieu. And tonight, it was through this back door that George and his family were leaving. In a carriage packed with a few possessions, they escaped into the chilly darkness.
Dawn broke on Bristol, a prosperous seaport, and the townspeople realized something was amiss. The bank, one of George DeWolf's many stakes in the town, was closed. They went to his home looking for answers only to find nobody home. One of George's remaining servants let the word out: The DeWolfs had fled.
"The DeWolfs' departure sent the town into a mini depression that it didn't really recover from until the launch of the Industrial Revolution," says Susan Battle, executive director of the Linden Place Museum in Bristol, the former home of George DeWolf. "The DeWolfs can be faulted for really affecting the economy."
Once one of the richest men in Bristol, George DeWolf had been struck by three financial calamities at once: He had made risky investments in Britain that fell through, he lost two ships at sea and a sugarcane crop he owned in Cuba failed. In a quick flurry of misfortune, he was reduced to bankruptcy.
George and his family fled to his plantation in Cuba, where they'd be beyond reach of his creditors. The town he'd left behind was not so lucky. Wages, loans, invoices: Debts across the town had been left unpaid. With the possibility of legitimate payment out of the question, the townspeople sought compensation where they could.
"They actually broke down the front door, came in the house, and they looted it — they took everything. They say they even peeled silk wallpaper off the walls," says Battle. "But there was a customs officer who took note of every single thing that was taken and by whom. You can't really call it looting, because it was organized."
The home passed through several family members' hands before being bought by William Henry DeWolf in 1835. He began to buy back everything that had been carted off. Because of his efforts, the house still contains much of the original furnishings and ornaments.
After William Henry died in 1853, the home slowly fell into disrepair as his wife, Sarah, struggled to make ends meet. She rented out rooms to a handful of boarders, including a freed black barber who rented the glass-paned conservatory for his business. Eventually, the home was bought by Edward Colt, nephew to the famous gun manufacturer.
"Nobody in town really wanted this behemoth that was probably pretty dilapidated. But no one could figure out why this Edward Colt would want this house. And come to find out, he bought the house on behalf of his mother, Theodora, who was none other than George DeWolf's daughter. She was born in this house and was taken from it in 1825 when they fled to Cuba."
After leaving her home at age five and growing up in Cuba, Theodora had returned to the States and met and married Christopher Colt. Her husband died young, leaving her a wealthy widow. She convinced her son to buy her old house. But despite her dramatic return, the townspeople didn't welcome her with open arms.
"The town of Bristol wanted nothing to do with her. They were still really mad," says Battle. "She would send invitations to people to come and visit her with little response. It took a really long time to work herself back into society."
Theodora took steps to distance the home and her family from the DeWolf name. She planted rows of linden trees in the front yard. No longer the DeWolf House, the home took the name it has today: Linden Place.
Over time, Theodora and her family received a lukewarm reception from Bristolian society. Her son, Edward, became a local philanthropist, opening land and buildings to the public, most notably Colt State Park.
"I think he was always trying to make up for what had happened in his family years before," says Battle.
After Theodora died in 1901, the house passed down through the family and became one of many summer homes. It was infrequently used, so the family left it unmodernized, which is why it still has its original architectural details and elements. A dizzying mohagany spiral staircase, historic furniture, original family portraits: It still looks like a lived-in nineteenth century home.
As the years passed and the home was used less, the family decided to sell.
"When the last owner of Linden Place put the house up for sale, it could have very easily become condos. There were developers waiting to pounce. I mean, it's prime real estate in downtown Bristol," says Battle.
A condominium developer planned to rip out the gorgeous four-story spiral staircase and turn each floor into a unit. The people of Bristol had enough. The home their ancestors ransacked became the house they would rescue.
"They got together, and it was a real grassroots organization to save it. They started raising money, awareness. They got a lot of support through local and state government. It was Rhode Island voters who decided to save it. It was a bond issue."
Today, on busy Hope Street, the house is the Linden Place Museum. At the center of a web of history, it's also a center for the community, hosting events, tours of all sorts, concerts and weddings.
"It's an amazing place; it's amazing architecture. And it's got a great story to tell and we find events like that bring in new audiences," says Battle. "Linden Place is a real tangible connection to Rhode Island's past."