The Silly Season
Sunbathers red as beets, manic lawn waterers, and all those drivers determined to park in tiny downtown Providence.... Why summer is no day at the beach.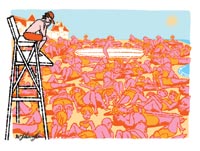 Summer, as everyone knows, is Rhode Island's shining moment. Each year, the state attracts 16 million visitors. They don't all come in July. But it feels as if they do. Then, there's us. We gas up the Jet Ski, load the cooler and kids into the Explorer, and head out on the highway. Life's a beach, right? With the legislature in recess, and deprived of opportunity to complain about the government, Reporter turns to the dark side of summer. There were many contenders for our list of seasonal ills, but we've managed to distill them into what we like to call the Seven Deadly Sins of Summer in Rhode Island.
1. Lyme Time Quick—what were you doing on June 7? Were you considering the disease-causing potential of the Ixodes scapularis, otherwise known as a deer tick? Thomas Mather, director of the University of Rhode Island's Center for Vector-Borne Disease, thinks you should have been. Rhode Island holds the nation's only Tick Control Awareness Day and—according to the United States Centers for Disease Control—the honor of being a top ten state for Lyme disease infection. Hard numbers are elusive, but annually, the state logs about 1,000 new cases, says John Fulton of the state health department. Ixodes scapularis has an enthusiastic enemy in Mather. He is determined to arm the state with pointy tweezers (for proper tick removal), to clear leaf litter (ticks' winter home), and to generally put every man, woman and child on an orange-level alert for eight-legged troublemakers. (Hope you caught his documentary, Hidden in the Leaves.) "I just want to make a difference," he says modestly. One idea: Get the state to offer a tick-themed scratch ticket to raise money for Lyme disease education and prevention. Any resemblance between the blood sucker and the lottery should be ignored.
2. Stupid Human Tricks—Marine Division One of the most popular broadcasts on New Shoreham is a long-running soap opera of human derangement. Channel 12 is the marine radio frequency landlubbers monitor for its comic potential. The state has about 44,000 registered boats and to hear the local harbor-masters tell it, only about forty-four are owned by competent boaters. Tangled anchors. Kids without life jackets. Speeders. The chart-impaired. Scraped docks. You'll never hear Block Island Harbormaster Chris Willi say he's heard it all because "every year, I see something in boating I have never seen before." There was the guy who bumped his buddy's boat trying to pull up alongside and sent him flying through a glass window, and the dad who tried to discourage a lobsterman from fishing too close to his swimming kids by shooting flares at him. "When I say, 'Go to the east,' and they ask me: 'What direction is that?' I get worried," Willi says. Newport Harbormaster Tim Mills is fond of the husband and wife teams. Captain at the wheel and first mate ascurryin': "The guy is standing there screaming and the poor lady is try-ing to pull up a stuck anchor—by hand. Why doesn't he just teach her how to steer the boat?"
3. Good Help Is Hard to Find For every visitor charmed by the water glinting off Dutch Island or our easy access to lobster risotto, there's a chambermaid, a waiter, a lifeguard—yes, an army of workers who make a Rhode Island summer look effortless. Each year, from a January low, the state's tourist and hospitality industry adds 10,000 seasonal jobs for a total of 67,000 workers. And, says Dale Venturini, president of the Rhode Island Hospitality & Tourism Association, "We are one of few industries that have some growth. How do we keep up? It's very, very challenging." This summer was a three-Advil headache. Washington's immigration impasse has stemmed the usual flow of foreign workers on temporary visas into Rhode Island. "We've had twenty Filipinos for eight years on H2B visas," says Steven Filippi, owner of Ballard's on Block Island. "This year they couldn't because of the cap. We were stuck; that's our core team." And the pool of college students looking for summer work has shrunk. "Nowadays, they are jumping into their careers earlier. No one wants to work for the summer because they are busy doing internships."
4. Traffic Stop From Memorial to Labor Day, the quickest way from point A to point B lengthens considerably. The state does not count cars on Saturday mornings in August, but the Rhode Island Turnpike and Bridge Authority tallies its customers everyday. Last August, more than one million vehicles crossed the Newport Bridge. Police adjust their enforcement accordingly. "The speeds go down in the summer during beach travel times because of the volume of traffic," says state police Major Steven O'Donnell. "But the breakdown lane and aggressive driving violations increase." In Providence, the traffic details have their hands full managing an influx of 20,000 WaterFire goers among the Providence Place mall shoppers, hotel guests, assorted diners and club-hoppers in a small downtown. Lieutenant Timothy Lee puts twenty officers on the streets to massage the knots out of the traffic. But it's difficult to overcome the math—especially in a sea of creative parkers and drivers delivering a steady stream of encouragement to one another. "Sometimes I have to ask them," says Lee, "Do you think if you keep beeping your horn that the car in front of you is going to disappear?'"
5. How Dry We Are An unbroken string of hot, sunny days are the bane of the gardener who scans the skies for clouds and the six o'clock forecast for rain. Public water supply managers aren't too fond of them either. The peak demands for water have been rising, driven in large measure by the proliferation of in-ground sprinkler systems. Summer ushers in the season of odd-even watering days. In communities like Jamestown, water conservation is not weather-dependent as much as a part of island culture and ordinance. There's more leeway in other systems—but not much. Susan LiCardi, director of North Kingstown's water supply, says that there's a growing consensus among water supply managers that the tactic actually increases consumption. "It used to be step one in demand management," she says. "In theory, you don't have those peaks that are the problems for water systems." Instead, it seems to reinforce the notion among the public that you must water every other day. LiCardi recalls the summer the town had to issue a ban on all outdoor water use. >> "We got calls from people with sprinkler systems—they didn't even know how to turn them off."
6. Beach Bums Second only to eagle eyes, powerful arms, legs and lungs is—apparently—a limitless well of patience, if your ambitions tend toward lifeguarding at the shore. "A day at the beach?" snorts Bernie Hawkins, DEM's manager for the state's South County beaches. "Come on down. I'll show you a day at the beach. It's more babysitting than 'Baywatch.' " Six feet above a blanket of sand affords a clear view of all breaches of beach etiquette: sunbathers as red as lobstahs, lost kiddies, litter bugs, range wars between swimmers, fishermen and surfers. John Burnett, waterfront director for Second Beach in Middletown, has also chased flashers, revived teenaged girls on fasts in the hot sun and fished boogie boarders out of the riptides. "They go right around the red warning flags into white water, looking for a better wave and it sucks them out," he says. "Then they panic. We do hundreds of rescues throughout the season. 'Oh, I was a lifeguard twenty years ago. I'm a strong swimmer'—I've heard that one numerous times."
7. The High Seas Bourbon and water do not mix smoothly when the latter is outside of the glass. Three summers ago, intoxicated passengers jumped off the Block Island ferry—en route. "You could classify that as a headache," says Chris Myers, operations manager for Interstate Navigation. The party continues on shore, lifeguards say, with the beachgoer's afternoon of discreet nips terminating in unconsciousness from dehydration. Last year, the DEM handed out eight violations for boating under the influence and another eight for refusal to take a breathalyzer test. But, says Mike Scanlon, DEM's boating safety program coordinator, the problem is much more widespread. A 2004 survey of Rhode Island boaters found that one-third of the operators and nearly half of their passengers drank while boating or just prior to shoving off. "A lot of boaters equate boating with drinking," Scanlon says. "They forget they are operating a dangerous piece of machinery and that there are serious differences between driving a car and driving a boat. The white lines, the sidewalks help people driving—even when impaired. But on the water, there are no such signposts. You have to concentrate more to maintain safe navigation."