The Short List
Where to buy those truly hard-to-find ingredients.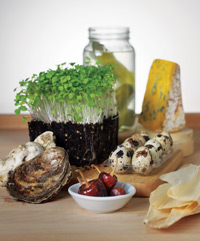 Wagyu Sirloin Kobe is the region and Wagyu is the cattle. Marked by heavy marbling for both texture and taste, Wagyu is commonly referred to as the foie gras of steak. A.J. Martin, once strictly wholesale, is now willing to sell its Wagyu to you, too. (You can throw some Hereford ground beef in while you're placing the order.) Call a day in advance and be aware that pickup is between 1 and 4:45 p.m. 51 Graystone Street, Warwick, 739-2500, ajmartininc.com.
Corn Husks These are usually dried before packaging, but soaking them in water makes them pliable enough to make tamales. And, no, you don't eat the husks; they're simply the wrapping on the present. You can find corn husks at most Shaw's supermarkets ($3.59 for 8 ounces; shaws.com), or you can order them (as well as masa harina) at mexgrocer.com.
Quail Eggs These speckled, pecan-sized eggs are as beautiful as they are tasty but can be hard to find. Asiana, a Japanese and Korean market, sells packages of ten for $1.79. 92 Warren Avenue, East Providence, 438-9992, asianamarketri.com.

Dill Pickles How hard is it to find pickles? Quite, if you're trying to avoid day-glow, rubbery cucumber sticks. Real Pickles (naturally fermented without vinegar) are sold at Whole Foods, but they're made in nearby Montague, Massachusetts, and can also be ordered right from the farm: 413-863-9063, realpickles.com.
Drum Rock Fis-Chic Wonder Batter Sounds odd; saves time. Fis-Chic is a light, all-purpose powder that can be used dry as breading or wet for coating. It's made in the heart of Warwick, but you can buy it at Whole Foods.