The Shopping List
To maximize your time in the kitchen, we've streamlined your prep list. Here's a cheat sheet of top-notch gourmet stores that carry all the specialty ingredients Casey Riley's recipes call for—and more.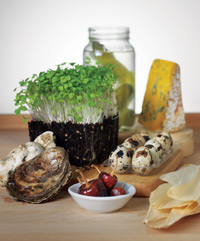 » Caviar
Though Riley calls for American Sturgeon, you can substitute the more readily available American Spoonbill (a.k.a. paddlefish) roe, which has claimed a formidable spot in the domestic market. Spoonbill (a cousin to sturgeon) is similar in appearance but slightly milder in taste with a clean finish. Prices run about $30/ounce. Farmstead, 186 Wayland Avenue, Providence, 274-7177, farmsteadinc.com.
» Oils and Vinegars
You can find a great basic assortment of olive oils and vinegars at Wickford Gourmet, along with all the serveware and kitchen utensils needed to make your soiree a success. 21 West Main Street, Wickford, 295-8190, wickfordgourmet.com. Hill and Harbour Epicurean stocks a good selection of European oils and vinegars, along with a deep inventory of flavored mustards for the deviled eggs and cheddar puffs. 235 Main Street, East Greenwich, 885-6600. With four dozen vinegars (including a balsamic glaze that any melon would welcome) and nearly a hundred olive oils (yes, truffle oil, too), Venda Ravioli has cornered the market on Italian condiments and fresh pasta. 265 Atwells Avenue, Providence, 421-9105, vendaravioli.com.
» Bread
In addition to ficelle, Olga's Cup and Saucer makes a mean sourdough and an irresistible raisin-fennel. 103 Point Street, Providence, 831-6666. Seven Stars carries their baguettes in sourdough and durum wheat (for those who don't do white in their diet). 820 Hope Street, Providence, 521-2200; 342 Broadway, Providence, 632-4496; sevenstarsbakery.com. If you're having a tough time finding small burger buns for the sliders, swing by Eastside Market. They carry brioche-like rolls in packs of twelve. 165 Pitman, Providence, 831-7771, eastsidemarket.com.
» Cheese
Farmstead carries an impressive array of artisan cheeses from New England, including some terrific cheddars and goat's milk cheeses. Milk and Honey Bazaar fills its shelves (and coolers) with a mixture of local and European treasures including aged Parmigiano-Reggiano, mild provolone and sweet blues. Another plus: Owners Tom and Jennifer Jansen are always amenable to placing special orders. 3838 Main Road, Tiverton, 624-1974, milkandhoneybazaar.com. What does Whole Foods have that others don't? Buying power. You can find a broad spectrum of international cheeses at affordable prices. Various locations, wholefoodsmarket.com.
» Oysters
One of Rhode Island's best local resources is Sakonnet Oyster Company, which plucks its briny prizes from the sparkling Sakonnet River. Orders can be placed via phone but must be picked up in Little Compton. Call owner/grower Peter Melanson to place an order: 635-8060.
» Olives
If your preference is for Italian (such as Itrana) and Greek (Kalamata, for instance) olives, then Tony's Colonial will fit the bill by the pound. 311 Atwells Avenue, Providence, 621-8675, tonyscolonial.com. Francophiles can pick up Picholine and Nicoise at Sid Wainer. 2301 Purchase Street, New Bedford, MA, 800-423-8333, sidwainer.com.
» Herbs and Chiles
Whether it's fresh or dried, paste or sauce, Not Just Spices carries chilies in every conceivable form. FYI: They also carry mango puree if you're too tired to chop for your tea sandwiches. 836 Hope Street, Providence, 831-1150. While farmer's markets are some of the best sources for fresh herbs (including micro cumin), they tend to close shop in November. In colder months, it's best to rely on supermarkets for winter herbs. Eastside Market, Dave's Marketplace and Whole Foods all carry microgreens from Warwick's Farming Turtles, an indoor farm that grows all of their goods year-round. Dave's Marketplace: various locations, davesgiftbaskets.com.
» Meats
If you're looking for meat that's been cured, smoked or stuffed in a casing, Tony's has it. Prosciutto, porchetta, capicolla, mortadella, sopressata…they even have homemade sausage in both sweet and spicy varieties.