The Shanty
The Warwick eatery has a friendly, retro vibe.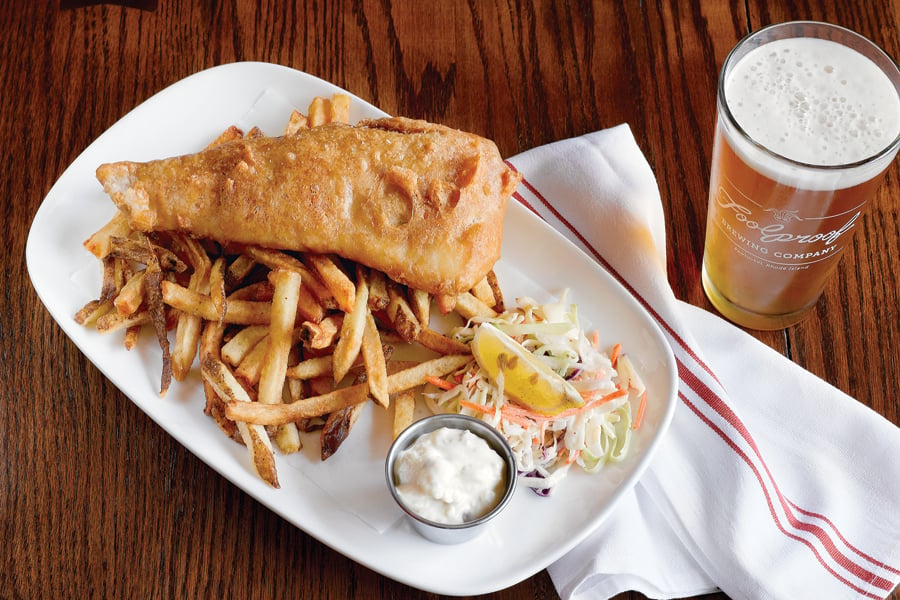 3854 Post Rd., Warwick, 884-7008, theshantyri.com. Open daily for dinner, Sat.–Sun. for brunch. Reservations accepted. Wheelchair accessibility is challenging. Lot parking.
Cuisine America: A retrospective from the last fifty years. Capacity Seventy-two, with bar seating. Vibe A hearthside drinking game. Prices Appetizers $1–$12; entrees $12–$25; dessert: $7–$8. Karen's picks Brats, fish and chips, TV dinner, burgers, bread pudding.
Key
Key
Fair
Good
Very Good
Excellent
Half-star
On the exterior, the Shanty is what it advertises: unassuming. Set on an unremarkable stretch of asphalt off of Post Road, its (perpetually full) parking lot is more eye-catching than the shingled building that pretends to be no more than a simple bar. But get this: The architectural cloak is a sly reflection of social progression.
While the number of restaurants owned by women hovers around 50 percent, female-owned bars are still a rarity. Enter Kara Neisinger, a Johnson and Wales grad whose culinary tastes were honed in far-flung Alaska as well as her native Northeast. Neisinger is quick to call the Shanty a restaurant but, in a sense, that's selling it short. Restaurants indulge individual endeavors — lone adventures in the privacy of an island table. Bars operate differently, creating communal spaces that encourage shared experiences: conversations over drinks, about drinks or under the influence of drinks. They're party-oriented and without exclusion.
The Shanty, however, refuses to choose between the two. Its main room is centered entirely around the kegs — a dozen or so — though the aesthetic doesn't conform to expectations. Televisions are tucked away in corners, a panoply of dangling filament bulbs hover overhead and black and white images frame the walls. Tables line the perimeter of the room but they play second fiddle to the almost two dozen seats that flank the rustic rectangular bar. So it's got to be a bar, right?
Steamed clams with grilled baguette. Big Ol' Burger on a toasted brioche bun with house fries.

Not really. The only thing that dominates the Shanty more than its love of draught beer and the occasional cocktail is the menu. Chef Stephen Houston plays the same shrewd game that Neisinger does: He refuses predictability. At first glance, the food is so familiar that it appears virtually cliche. Snacks include peanuts ($3), pickled veggies ($4) and Goldfish crackers ($1), ubiquitous to anyone with a toddler at home. Larger dishes are all American: burgers, ribs, a mid-century TV dinner, even a corn dog. It's a state fair with booze. Or it would be if Houston didn't have considerable skill behind his sense of humor.
As it turns out, the peanuts are dusted with keffir lime and thai chile; the vegetables are substantive and bright rather than wilting; the Goldfish are, well, those are just as you thought. Much of the menu really is an ode to American culture — as it once was and where it's going. The kitschiest example is the TV dinner ($19), served, of course, in a compartmentalized tray with everything you'd expect: fried chicken, mac and cheese, corn on the cob. But no one is paying $19 for a time capsule unless it's good. And it is. A server referred to the Swanson progeny as "a jazzed up KFC," which only makes sense if you're seriously into the drive-thru. Houston's Cornish game hen is damn good and his mac and cheese is better. The one disappointment is a dry prosecco shortcake that makes dessert the least appealing corner of the metal tray.
Most of Houston's interpretations are on the mark though. Few people would choose to reinvent the corn dog, but the Shanty's version ($12) is probably closer to where it should have started. In this case, bratwurst is covered with a decidedly sweet corn dough and split down the center to avoid awkward eating scenarios once the beer kicks in. It's entirely subtle and surprising, in part because expectations for the humble dish begin so low. The same can be said for a plate of fish and chips ($16), a hulking filet of local cod that's as good as the state's best (that's you, Matunuck Oyster Bar) and further elevated because of the artichoke tartar sauce.
Even a wedge salad, doused in house-made Thousand Island, earns its $17 price tag once it's covered in a storm of freshly plucked crab meat. (Proof, perhaps, that you can evoke both refinement and the era of polyester in a cohesive manner.) And, because he apparently cannot resist one last variation on a theme, Houston conjures a surf and turf ($25) that marries Midwest and Northeast. It's a heaping pile of sticky-sweet St. Louis ribs paired with lobster claws, a corn muffin and a puddle of bearnaise. The success of this approach probably lies somewhere in the rather brilliant idea to offer funny food to people who drink a lot. The slightly intoxicated are always willing to down a single plate of bad bar food but the happily inebriated will enjoy an endless stream of good stuff with the wild abandon of a groupie. ("I will have a plate of dinosaur-sized yam fries! My god, they're good!")
At its core, the Shanty is all about exceeding the hype. "We're a shack!" says the name — but there's charm in the space's design. And if the menu pretends to be derivative, that's a disguise as well. Servers are quick to call the menu "eclectic" yet it's clear that Neisinger and Houston have established something beyond diversity. They've succeeded in walking the middle ground between a boisterous beer hall and a subdued supper club. The Shanty is neither. And both. The evidence? For starters, the people eating span an age group of about sixty years, with single-digit kids negotiating a side dish of mac and cheese like it's a platter, seasoned locals hanging around the central bar and a dozen in-betweeners taking up the tables in the back. The posterior space lacks some charm but you can still catch a glimpse of glass jugs full of hard liquor with macerating fruits. It evokes some sort of prairie-life preserving image — which might feel out of place if you weren't in an evening-long endeavor to explore the country's cultural and culinary identity.
Chef Stephen Houston and owner Kara Neisinger behind the bar. Beer battered brats with a 'Gansett, honey-dijon sauce, paired with a Longtrail Limbo IPA. PB and J bread pudding.

Expectedly, the streamlined selection of desserts is also an interpretation of days gone by. While a white chocolate mousse is grainy, there's much to like about a PB and J bread pudding ($8) topped with fluffernutter gelato that is tart and fruity in some spots, unctuous in others. The challah-based trifle ($7), served in a canning jar and topped with spiced cashew praline, is equally balanced between sweet and satisfying. Of course, you can always end the night with a glass of port or whiskey. After all, the Shanty is a bar. Or at least masquerading as one.