The Secrets of a City Barber
Bob Lepore reflects on our changing capital city.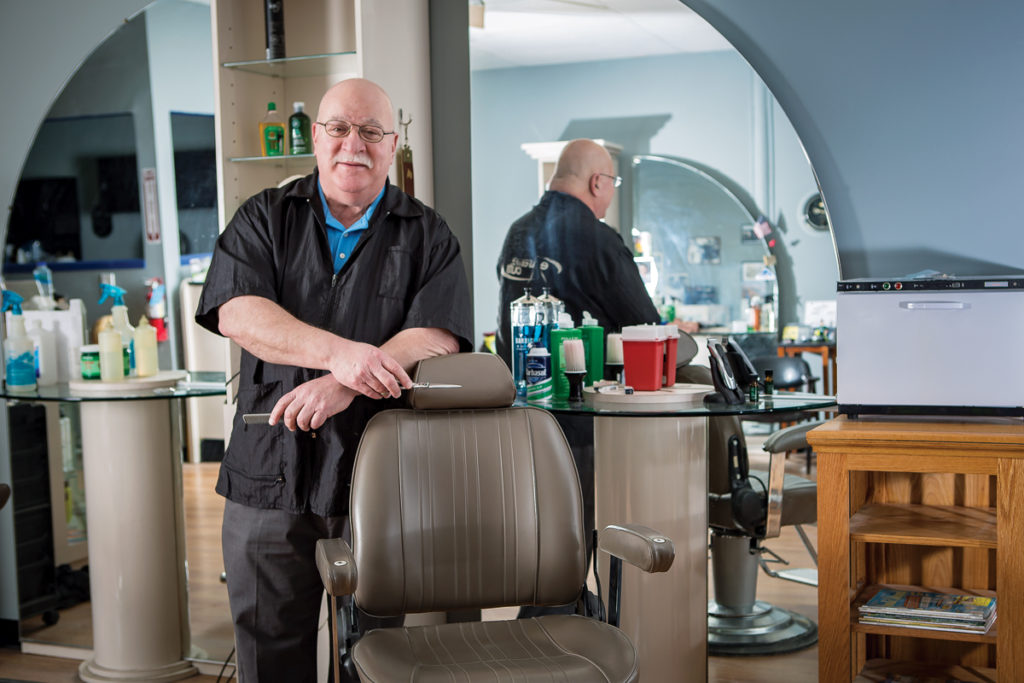 When Bob Lepore decided to become a barber nearly fifty years ago, he expected a "nice, easy job," settled in one spot.
Now he's cutting hair at his tenth Rhode Island location, the last six in Providence. As one of the only barbers left downtown, he's an eyewitness to the city's ebbs and flows.
"I feel like a wanderer," says Lepore in his newest spot at 15 Peck Street. His latest cause of displacement was in August, when 76 Dorrance Street, owned by Joseph R. Paolino Jr., turned into a mixed-use project, including microlofts. Lepore was there for seven years. "I knew something eventually was going to happen," Lepore says, and he enjoyed it while he could, customers drawn in by his plastic street sign and by word-of-mouth.
Lepore's style of barbering is as low key as his personality. He prides himself on using scissors and not just clippers like many barbers today. He goes with the flow in conversation, though the Patriots and thoroughbred racing are common topics.
After graduating Providence's Central High School in 1968, Lepore's first job was for $40 a week at Paul's Barber Shop on Chalkstone Avenue in Providence. After three years, he went to "the country" in Pascoag. Missing city life, he tried Pawtucket, Cranston and Warwick before he got his shot in 1984 at the big time: the ground floor of the Hospital Trust building.
"That's when the banks were going strong," Lepore says. Most customers were from the bank or other Providence companies, such as Amica Mutual Insurance and Edwards and Angell. A regular haircut was often part of the dress code.
Then came the decline of local banks. Next was 9/11 and increased security in downtowns everywhere. Days of easily circulating through lobbies, including to barber shops, ended when visitors were required to sign in to buildings. When RISD bought the Hospital Trust building, Lepore landed high in the Hospital Trust Tower. Life on the seventeenth floor was quiet, especially since he couldn't install a street-side sign. "It was lonely and I got a lot of sleep up there," he recalls. It lasted only three months.
Then Lepore moved on to the Arcade for three years until he and others relocated in favor of microlofts, and Dorrance Street served him well until he moved on to Peck Street this past summer.
"This city has changed a lot," Lepore says. Despite moving around, he still loves barbering for its independence and camaraderie. Loyal customers have followed him and he even has a fourth-generation customer.
He's not ready to stop. Being busy, he says, "is good for the mind and the bills."