The Scoop on TEN31's New Digs
The "make pretend" experts celebrate their new studio space with Night at the Haunted Museum.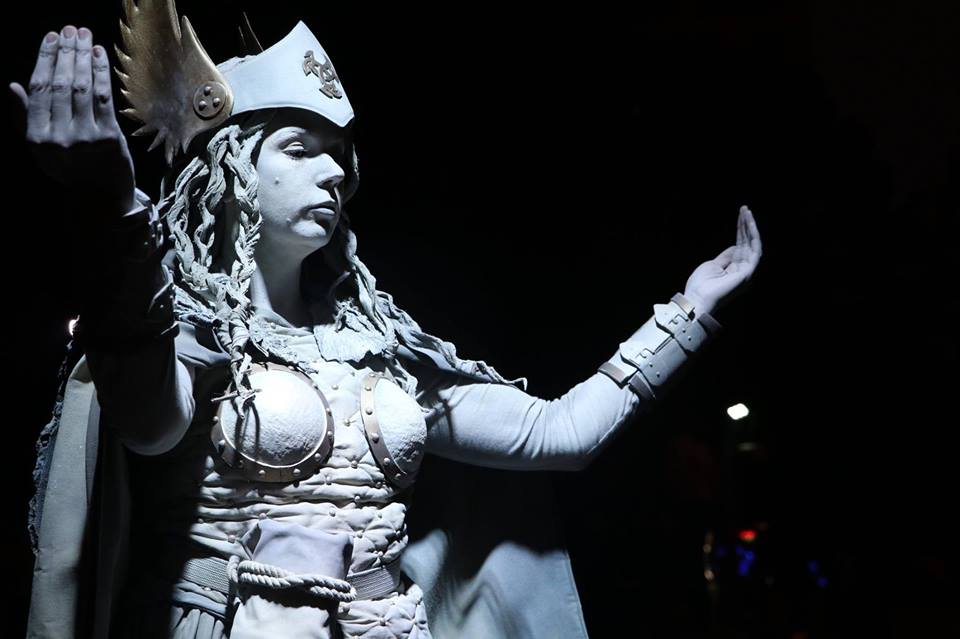 TEN31 Productions is best-known for making pretend; they have a staff of more than fifty living statues and character actors. TEN31 used to travel in order to perform, but now, with their own space within the Revel Factory in Pawtucket, they will host events of their own.
Check out their first event, Night at the Haunted Museum, this Friday and Saturday in the Revel Factory. According to Alicia White, studio manager and choreorgrapher at Ten31, "The name of our company is TEN31; Halloween is what we do best." We caught up with White to learn more about the new space.
Rhode Island Monthly: Take us through a visual tour of TEN31's space in the Revel Factory.
Alicia White: Our space is basically a revitalized old mill building. It has one big open room that we can transform into different sections if we want to like we are doing for the Haunted Museum event; or it could just be one, large event space. There are some big, round columns throughout that really give it this unique, sort of interesting vibe. They add more to the decor of the room versus just being columns that are in the way — so I love them. I think they are awesome. We have some big windows. So basically we just have one big open space that can be transformed into anything you want it to be.
Why did TEN31 decide to expand? What are some benefits from the move that you've noticed already?
The building we were in previously was sold so we were sort of forced to find ourselves a new home. When we did find this place, everything fell into line at the right moment…. The reason for it was to offer a place where we can host our own events and also offer a place where people can host their events and be able to use us and open ourselves up to the community that we are in now. We've been in Pawtucket for the entire sixteen-year span of the business but I feel like we've had more people just kind of come by and say "hey" and want to check out the space, which is awesome.
This weekend is TEN31's first official event at the Revel Factory. What is the preparation process and what are your predictions for the turnout?
This is our first big TEN31 production, essentially. We are creating a whole world here that we are opening up to the public for people to come and experience. It is the first of that kind of an event: immersive theater, walkthrough experience. We're working with Advanced Production and Design. We've had the guys in here the past couple of days helping us set up all of the pipes and drapes and section off the space to create the walkthrough. We've taken our open space and changed the layout of it. We send our staff detailed information about who their character is and how they all relate to each other. We ask them to prepare in that way so that it's different than just a haunted house that you walk through and they jump out at you. There are actually connections and a story between the characters…. It's not just about transforming the space; it's about creating a whole experience for people the entire time they are here…. The maximum for each night is around 240 to 250 people. We really don't know how many people we are going to get but we sold tickets online already for both nights.
What are some of the characters you will have in the upcoming event?
There are some pieces of art that are collected by Dracula. It's Dracula's mansion but we do not know if Dracula is here or not. So I can't tell you if you'll see him. I can tell you that there are various pieces of our art collection; there are people who may be affected by Dracula in some way, may be held captive by Dracula in some way and people who work for Dracula. So it's a wide variety of some of our living art and some people who are Dracula's encounters throughout his daily life.
What is the process like to turn a performer into a statue?
We tell our performers who they are and give them a history of their character. If it's a character that we created, we try and give them a background about who that character is; if they're being a historical figure, we tell them who they are and we ask them to think about who that character is, do a little research on them…see how they were posed, how they might stand. The costumes are all created from scratch essentially. Everything is hand-painted; we do purchase some stuff but if we purchase it, we put our little touch on it after. The performers all do their own makeup. We have specific makeup techniques for each of our finishes. Our statues have bronze [or] white marble patina. The performers each learn each of the different finishes and they have to do their own makeup and then they get into costume…. It's really up to the performers to sort of become that person.
What other events does TEN31 plan to have at the Revel Factory?
We're hoping to do something in the winter — potentially Alice in Wonderland-related. We want to continue to do Night at the Haunted Museum every Halloween so we are hoping to expand that to become a more regular thing. Outside of that, we don't have anything specific in mind. We just know that we can do anything and everything and we are really excited about diving in to seeing what people want and what kinds of things our fans or our guests are interested in…. It's going to offer endless possibilities and we are really excited to try every single one of them.
Tickets to Night at the Haunted Museum are $10. Buy them here. To learn more about TEN31 Productions, visit ten31productions.com.