The Scoop on Swansea's Famous Ice Cream Barn
A trip to this rustic ice cream spot presents a delicious dilemma, thanks to creative owners and some prolific local cows.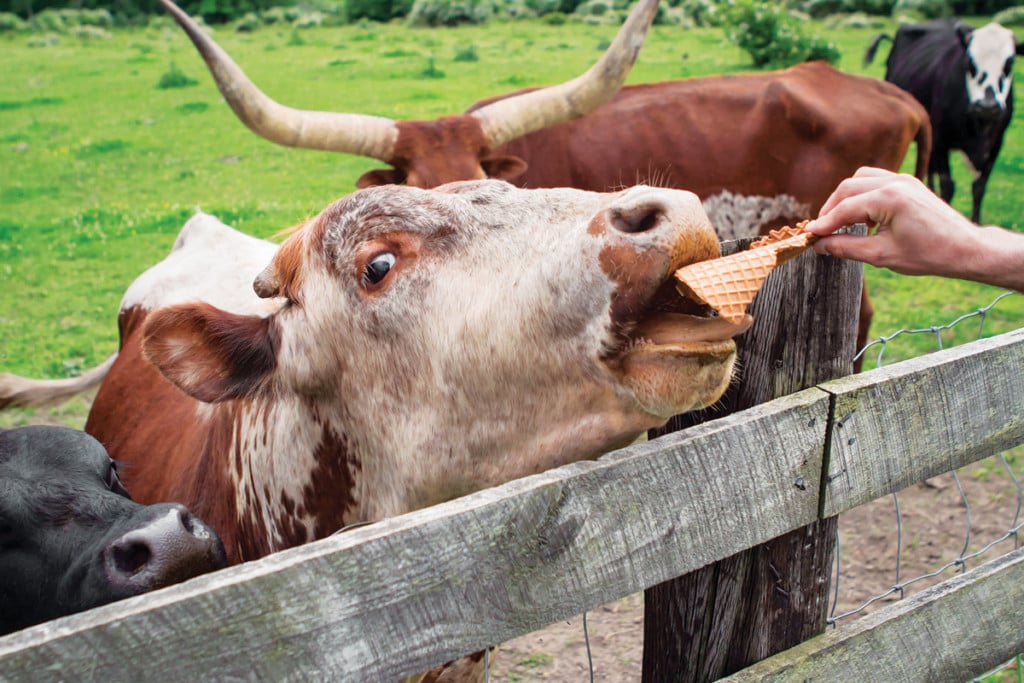 The late afternoon sunlight streams between the trees and the scent of fresh summer air rolls through my car's open windows. I cruise down the back roads of Swansea, Massachusetts, where fields of lush green grass sprawl for miles. I turn left into a pebbled parking lot and join a queue of cars patiently waiting to pull into the next open spot.
A line of people spills out the door of what looks like a red barn. The words above its door read: The Ice Cream Barn. I can hardly contain my excitement. I may be biased, but as an avid lover of the shop's churned frozen treat, waiting in line is a no-brainer.
As I step inside the doors, the aroma of freshly pressed waffle cones fills my nostrils. It smells heavenly. I look at the flavor board in the off chance I will stray from my usual choice of chocolate chip cookie dough, but decide to stick with my go-to. "Kiddie size cookie dough in a waffle cone," yells a girl wearing a Barn Crew T-shirt. I reach for my ice cream and take a lick. The milky, creamy goodness includes gobs of cookie dough and is packed with chocolate morsels. I munch into the waffle cone, savoring every bite. Children with ice cream dribbling down their chins shriek with glee and all I feel is the happiness this summertime sweet confection brings to me, too.
I step outside to catch the sun setting just behind the barn and hear the sounds of the longhorn cows across the street. I make my way to a bench made from tree trunks where I sit and consider opening my own business. Think: a pizza place or burger joint, but most likely an ice cream shop. Tom and Jocelyn Seiter, husband-and-wife owners of the Ice Cream Barn, had the same vision several years ago.
The idea began when the East Providence natives and current Warren residents were in high school, when Jocelyn worked at an ice cream shop and learned the ins and outs of the business. After college graduation, both Tom and Jocelyn decided to open their own local food business. They thought the agricultural system we relied on for our food was distasteful — they still do.
"We are so reliant on other systems and other parts of the world for food, we felt that more food needed to be produced locally," says Tom. "After graduation, we saw that Rhody Fresh Dairy had just started. They had a focus on local milk and we thought that using their dairy and other local ingredients would be the trifecta for making local ice cream."
Rather than buying the expensive equipment needed for a shop, the Seiters brought their push cart and pickup truck to festivals, farmers markets and WaterFire to sell their ice cream, previously coined Rhode Ilin Ice Cream. One day a week, they would even rent out Three Sisters ice cream shop in Providence. The Ice Cream Barn story, however, begins when forty-two-year-old Kenneth Baker, a sixth-generation farmer who inherited his family's 205-acre dairy farm — cue Baker Farm — approached Tom and Jocelyn at the Hope Street Farmers Market.
"He told us he was a farmer who had cows and wanted to do something out on his farm," says Jocelyn. "Although it took us awhile to get to know each other, sort through zoning and historical issues and construct the shop, we realized that this was our ultimate goal. You're on the farm with the cows that produce the milk for the ice cream. You truly can't get any more local."
The plot of land on Baker Farm where the Ice Cream Barn sits was previously an alfalfa field. Baker has worked hard to keep the family farm a viable agricultural operation through an APR conservation agreement, rather than sell the land for housing lots. Around 100 of the farm's 200-plus-acres are preserved as farm land and cannot be developed, which is important to Baker.
"Too much farm land is being developed, and although people have the right to develop land for housing, it is a great thing to not develop it," says Baker.
It took him about two years to finalize the agreement through both the state and the town, but Baker Farm and the Ice Cream Barn are more viable than ever.
To produce enough milk for the Ice Cream Barn's production, Baker gets up when the sun rises and begins his farming duties by milking the cows, usually twice a day. All of that milk goes into a 500-gallon tank, which is then picked up every Sunday by Alan from Winsor SB Dairy in Johnston. He runs the ice cream mix on Mondays and the Ice Cream Barn gets it back in two-and-a-half gallon bags, making it easier for them to handle as they make the ice cream batch by batch.
"This process is much like baking," says Tom. "It is very precise and the recipes are just like formulas."
Once other local ingredients, including strawberries from Quonset View Farm in Portsmouth, mint or honey are added, the ice cream is churned and frozen for eight minutes. It enters the final stage of hardening overnight for another eight hours at almost 20 degrees below zero.
Although the Ice Cream Barn currently produces more than twenty-five inventive flavors between the months of March through December, Tom and Jocelyn like to rotate selections and keep new ones rolling out every so often, too. Every year, they host a promotion through local elementary schools for students to design a flavor. One of the recent winners was chocolate brownie Oreo, a staple selection at the barn.
The key to serving more ice cream, though, is having more place to store it. With a bigger freezer, the owners plan to add even more flavors to the board, including a sorbet option for vegans. Eventually, the couple would like to get back to their roots of selling ice cream at local events, but for now, their main focus is on the storefront and reaching its maximum potential.
"Soft serve is something we have also always wanted to do," adds Tom. "With the local dairy, you can make it gourmet and taste really good, but we will see what the future has in store."
Whether it is frozen yogurt, no sugar added or the most decadent chocolate ice cream you have ever tasted, they give the people what they want. To both Tom and Jocelyn, the customers are everything.
"They are first your customers and then they are your friends," Jocelyn says. "They are just an amazing community of people."
While I may not open my own business anytime soon, it's quite all right with me to keep on enjoying the delicious offerings of the Ice Cream Barn. And hey, maybe I'll even get a pint — scratch that — a quart to go, too.