The Schools Issue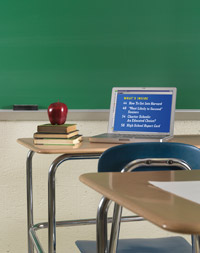 MARCH MADNESS could also refer to that nail-biting season when parents and teens weigh the fate contained within envelopes from college admissions offices. Competition is fierce: this year, for example, Brown University accepted 2,577 of its 19,059 applicants. Navigating the road to college acceptance can be tricky. If you opt for public over private, which public schools stand out? If private is your choice, image may seem like everything, but which institution is truly "best" for your budget and your child, given her strengths and weaknesses? We interviewed students, parents and educational consultants for our primer. You'll learn about the efficacy of charter schools and insider tips for scaling the Ivy League tower. Finally, we present a report card assessing the state's public high schools: average SAT scores, graduation rates, school performance and expenditures per student. We've done our homework. And just this once, you can peek at our answers.
» Crack the code: Getting into an Ivy
» Type A+ Seniors: Reveal the secrets of success
» Charter Schools: Are they making the grade?
» High School Report Card 2005-2006 (PDF)
Academic performance, SAT scores and more for Rhode Island's public high schools.