The Salvaged Beauty of an East Providence Ranch House
Nothing was wasted in the renovation of this waterfront home.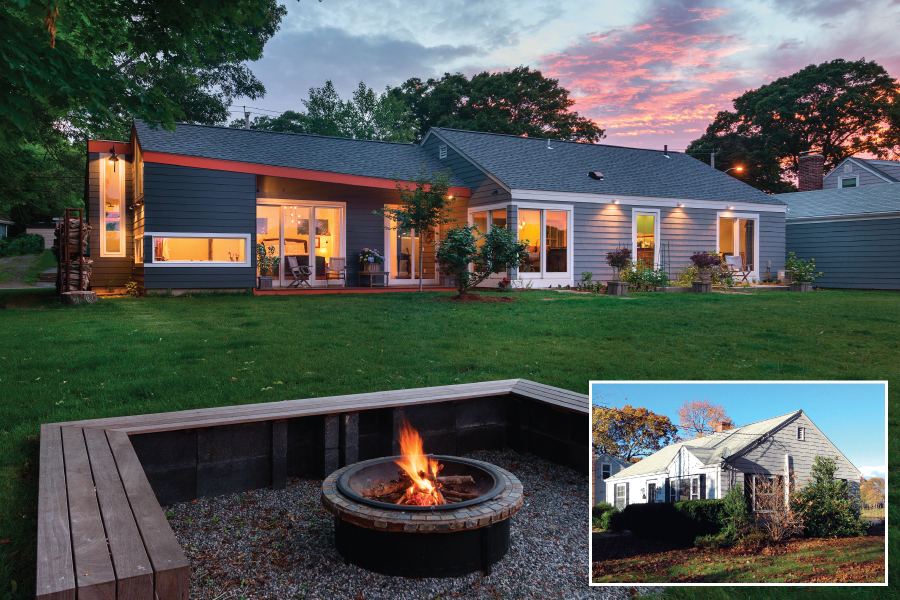 Growing Pains
Call it kismet, if you will. The wife had long admired the little East Providence house from afar. It was a happy day when she and her husband finally claimed it. Sweet as it was, though, the snug nest demanded updating. Alas, tight quarters were tough for a duo who love hosting family and friends. In stepped Providence's design/build studio, from [in] form, to lend a hand. RISD-schooled principals Jason and Adrienne Wood know just about everything there is to know about construction. What they label as their "holistic approach" translates that every idea is worth pursuing and nothing gets wasted.
An outdoor light illuminates the outdoor shower. The exterior palette, according to the owners, nods to Nantucket. Mahogany decking enhances the addition. Cedar planters and plants are from Peckham's Greenhouse in Little Compton.

Current Events
To remedy the space problem, along came a perfectly angled 400-square-foot addition. The ingenious tilt, as the Woods tell it, provides a see-through opening in the entry and thus a cool water view from the street side. The sleek revamped silhouette complements the lot too — better merging the house (inside and out) with its surroundings but not overpowering neighbors. Natural light pours through the cunningly placed windows in surprising ways, making the dwelling feel twice as grand. And all kinds of existing elements have new roles: original radiators are now pavers marking the path to the shore; aged pipes keep firewood in check; cement slabs from yesterday's porch help shape the burgeoning kitchen garden.
The open-plan layout pulls the landscape in at every opportunity. The kitchen cabinets are fashioned from antique barn wood. Chalkboard-fronted upper cabs were the wife's suggestion.

Team Work
Of course, none of this would have transpired without the involved owners' input. The wife is credited for snagging the top-notch appliances off Craigslist and for (what a deal she made!) the kitchen's handsome antique barn wood. All along the way, the couple worked with the Woods to hone details. "You know right away," says Jason, "when clients have a personal, not just surface, interest." The galley's handcrafted cabinetry is an example of the beneficial design collaboration, but so is its rugged concrete counter and floor. Augmented with blue pigment, the floor mimics the nearby water's ever-changing hue.
Glass doors afford the owners yard access. A battered work table has been repurposed as a vanity. The mahogany-sheathed shower flanks the sink.

Less is More
Still, it's the master suite that really highlights the fearless creativity of all the parties involved. How many would dare set a vintage tub on titanic hunks of wood (a means of synchronizing the fixture's height with the window for optimum views), display a salvaged sink like sculpture or forego a faucet for bare copper pipes? "Everything is about exposure. We didn't want to hide anything. Instead, we wanted it valued for what it is," says Adrienne. That's the original outside wall of the house we see beyond the rescued restaurant door safeguarding the couple's sleeping quarters. According to Jason, the delicate fusion of old and new is representative of the building's multiple lives. "This house has a past," he says, "but also a story that's just beginning."