The Rhode Island Red Awards
Our roundup of the dumbest moments of 2015.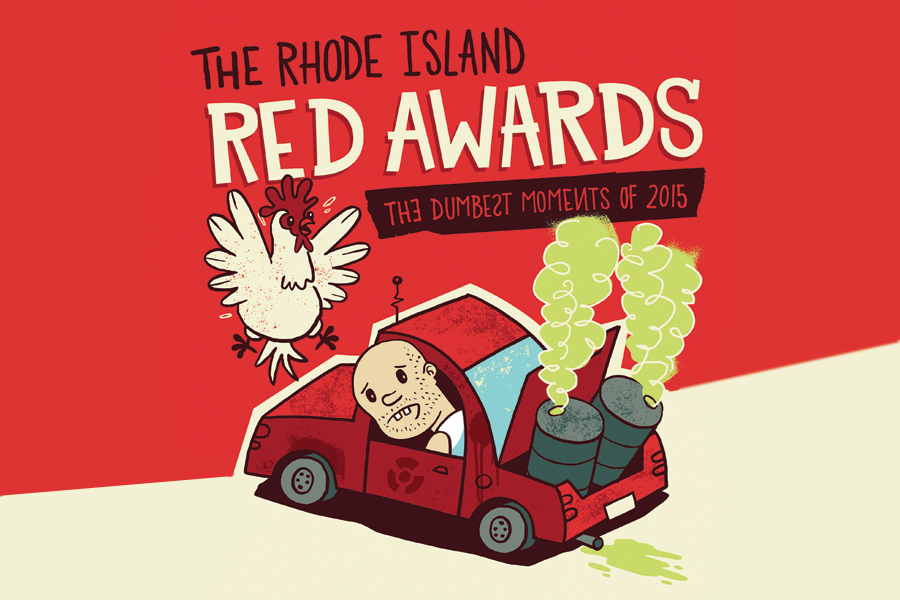 Some years it's hard to decide who's most deserving of our awards dedication, but not this time. This year our recipient, Kevin Lewis of Chepachet, explodes out of obscurity to claim the prize. Mr. Lewis, you may recall, was pulled over during a traffic stop by a Glocester patrol officer who detected a strong smell of acetone coming from his maroon Nissan Maxima. Police also found a freshly cooking batch of methamphetamine in the trunk, along with a completed supply in a cooler and two hydrochloric acid gas generators, a combo, we'd like to point out, with a gi-normous risk of blowing up. So here's to our favorite creative entrepreneur for thinking outside the box, or in this case, inside the trunk of the Maxima. Nice job, Science Guy!
Business as Usual
This is a surprise?
According to Travel and Leisure, Providence is the fourth quirkiest city in the country.
Don't you have to be smart to go to an Ivy?
Two Brown students were pulled from fifty-degree water after trying to swim a mile across Narragansett Bay from Barrington to the Conimicut Point lighthouse. Rescuers were hampered by thick fog, a strong current, stiff winds and the fact it was nine o'clock at night.
But who will fight for the metric system?
Former Governor Lincoln Chafee announced in October he was ending his quixotic presidential run after his poll numbers failed to register at even 1 percent. His support was so low, in fact, that comedian Conan O'Brien wrote a song about his ill-fated campaign and asked viewers to support Chafee's long-shot bid because "it seems like the nice thing to do."
Attention, all units, be on the lookout for two guys with bat ears.
A Warwick police officer pulled over what looked like the Batmobile near Oakland Beach, after a dispatcher alerted officers about "a vehicle possibly occupied by Batman and Robin." Turns out the vehicle in question, carrying the caped crusader and passenger, was a perfectly legal, tricked out motorcycle.
Animal House, just playing games division:
"Fox News" anchor Harris Faulkner filed a $5 million lawsuit against toy giant Hasbro, claiming the company wrongfully appropriated her name and persona with its toy hamster that shares her name. In addition, the suit claimed the hamster physically resembled her, including the shape of her eyes and elaborate eye makeup. Hasbro no longer sells the plastic rodent on its website.
Animal House, slithery houseguest division:
Riverside resident John Hunter was bitten by a two-foot copperhead after finding the venomous snake while watering his fenced-in city garden. Hunter, who said he tried to grab the snake, spent four days in the hospital recovering. "There are no venomous snakes in Rhode Island so why would a guy think it's a venomous snake [in his yard]," said Timothy French of Roger Williams Park Zoo. Then again, he added, "picking up a snake if you don't know what it is probably isn't the smartest thing to do."
Animal House, fowl play division:
A wild turkey burst through a second story window of a house in Warwick and planted itself on the bathroom vanity, turning on the hot water faucet and flooding the downstairs garage, bathroom and newly refinished family room. According to homeowner Nancy Page, the bathroom was trashed and full of feathers and turkey poop. DEM official Anthony Esposito suited up and extracted the turkey, the first in his twelve-year career. The bird was freed, unhurt.
This spud's for you!
Barrington police informed residents on Appian Way they were violating a town ordinance after they began blasting potatoes out of a cannon from their waterfront location into Narragansett Bay.
Celebridiculous: Tay-Tay Troubles, the saga continues
A twenty-four-year-old Westerly resident was charged with trespassing at Taylor Swift's Watch Hill mansion, after police say he attempted to deliver a letter and a poem, telling them he was "there to see someone who was not there at the time."
Celebridiculous: Pauly D, bargain hunter
Vegas DJ and Johnston native Pauly D bought professional poker player Dan Bilzerian's black-on-white Lamborghini for the low, low price of just $450,000. At more than 700 horsepower, with a V12 engine, the 2013 used Lambo was a steal, originally priced at $500K on eBay.
You mean they won't keep the light on for us?
Warwick police say Motel 6 management called them to the Jefferson Boulevard location seventy-nine times and made seventy-five arrests, between 2014 and 2015. Among the charges: sex trafficking, domestic assault and manufacturing crystal meth in a motel room. In October, the building reportedly went up for sale with an asking price of $4 million.
Talk about a taxing situation.
More than 200 taxpayers using direct debit had their bank accounts overcharged by the state division of taxation because of a "programming error," officials say. The overcharged amount totaled $450,000, including one taxpayer who was hit with $290,000 in double billing.
Now they tell us!
According to a survey, Rhode Island has the highest vehicle property taxes in the country. We also have the sixth-highest tax burden for the wealthy. On a brighter note, Providence tops the list of cities with the least amount of body waxing, and comes in as the number one city with a sweet tooth. Which may explain why we're also in the top twenty when it comes to wearing sweatpants.
---
True Crime!
Because truth is stranger than, ya know, that other thing.
Alex and Ani senior vice president of digital Ryan Joseph Bonifacino was arrested for allegedly breaking into a house in Jamestown, throwing a party, then stealing a jet ski that crashed into a rock, sending two women to the hospital.
East Greenwich resident Anthony Delfarno was sentenced to five years in prison for fraudulently filing fifty-eight tax returns and claiming refunds totaling $3.5 million.
Two Woonsocket men were charged with larceny after police spotted twenty orange traffic cones on the back seat of their car.
A thirty-year-old Central Falls man was arrested for the forty-first time after a car he was in was pulled over for a traffic violation. Police said he had three bags of pot and a loaded nine-millimeter pistol, which he'd slid under the seat.
Twenty-four-year-old Jose Rivera Lopez was charged with assaulting a bus driver after his mother recognized him in a photo and told her son to turn himself in to police. Lopez, who'd been in a fight, jumped on a RIPTA bus and told the driver to take him to the hospital. When the driver refused, Lopez punched him in the face.
A man and a woman were arrested for indecent exposure after onlookers saw them having sex behind a Woonsocket dollar store. A video of them in the act was posted the next day on Facebook and YouTube.
4 reasons we love our public servants!
They recycle
An employee at the Rhode Island Veterans Memorial Cemetery pleaded guilty to stealing more than 150 granite gravestones and turning them into flooring for his garage and a shed.
They keep a low profile!
Former State Senator John Celona, who owed the state more than $178,000 in late filing penalties for not submitting campaign finance reports on time, asked the state board of elections to secretly consider his plea to reduce his fines. The board refused. Celona had previously been sentenced to two and a half years in prison for influence peddling.
They care about our four-legged friends!
State Senator Walter Felag Jr. proposed a bill requiring all cats to be licensed and collared. "Every owner of a cat shall cause the cat to wear a collar around its neck distinctly marked with its owner's or keeper's name and with its registered number," the bill stated. Cats out of compliance would be sent to the pound.
They're proud to lead the cupcake lobby!
State Senator Frank S. Lombardi introduced a bill allowing bake sales near polling places, which the board of elections had barred.
---
Rock Around Rhode Island
Rhode Island: the most popular brand searched by Ocean Staters on Google is Victoria's Secret
Rhode Island: Scientists say super lice have come to the Ocean State
Narragansett: An underground blast caused by trapped gases at Salty Brine Beach sent a Connecticut woman to the hospital Cumberland: the DOT is investigating why 128 sewer covers are sinking into the pavement
Burrillville: a black bear made a guest appearance on a homeowner's deck, getting up close and personal with its nose against the slider
Providence: the American burying beetle has been named the state's official insect
---
Quotables!
"Nineteen out of twenty-nine people enrolled in this program were paying more. It was obvious this was not doing what it was intended to." North Smithfield Tax Assessor David Dolce on a 2006 law meant to shield the town's older population from rising property taxes that ended up costing them up to $500 more.
"We're not out to arrest people. We just don't want it happening." Cumberland Mayor Bill Murray, explaining a new town ordinance banning appearing naked in public.
The regulation was in response to a neighbor's complaint that a man was going outside and collecting his mail in the nude.
"I want to bring scary back." Rhode Island native and current Naples, Florida, resident Wrinkles the Clown, who says he's raking in hundreds of dollars each time a mom hires him to frighten her kid into behaving.
"He's given enough to the people of the state." Marcus LaFond on why his husband, former House Speaker Gordon Fox, would not be commenting prior to heading off to federal prison on bribery and corruption convictions.
"I call upon the director of the DOT and the governor for an investigation internally, criminally if necessary." House Speaker Nicholas Mattiello in the aftermath of the closure of the Park Avenue Bridge, a block from his Cranston office.