The Rhode Island Red Awards
The Dumbest Moments in 2013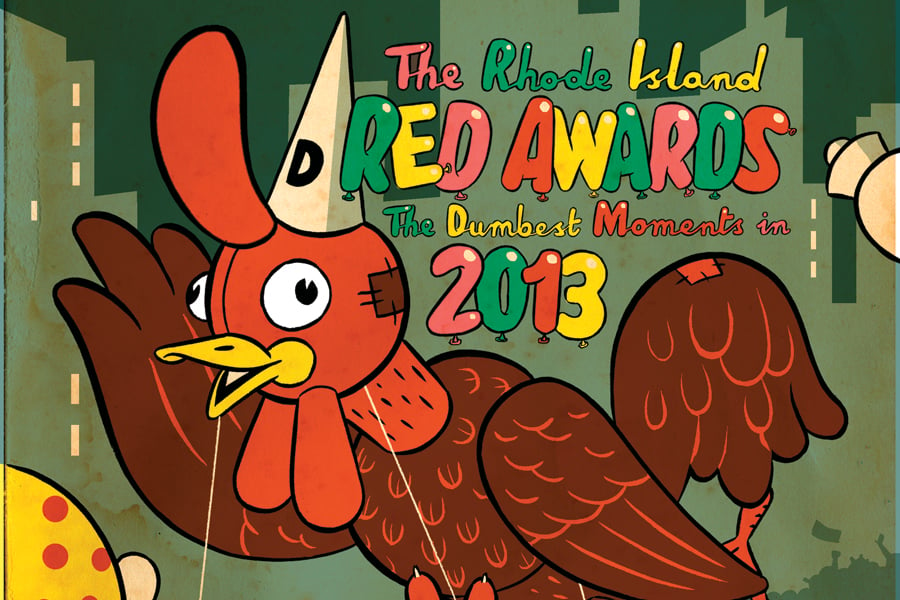 Here at Reds HQ, we like to think we can fritter time away with the best of them, but even we're impressed that at least 23,300 hours of contractor time have been wasted in an effort to update a DMV computer system. (Did we mention it's four years behind schedule, $6.7 million over budget and still not working?!) Director of Administration Richard Licht assures that things are on track for a 2014 finish. We like to think so, and in solidarity, we're dedicating this year's Rhode Island Red Awards to our shiny, new, taxpayer funded — if still not functioning — $15.5 million computer project. Fingers x'ed, everyone. We'll be watching!
► We thought it was Snoopy and the Red Baron. Thanks to federal budget cuts aka "sequestration," this year's flyover by Air Force jets at the Bristol Fourth of July parade was canceled. Instead, the flyover was performed by two small private planes.
► Survey says…. According to Gallup, we're the country's second most stressed-out state, behind only West Virginia, and Rhode Islanders hate going to work more than anywhere else in the U.S. On a brighter note, the Daily Beast says that Providence is the tenth drunkest city in the country.
► We love deep-fried octopus legs! Warwick rep Joseph McNamara introduced legislation to make calamari Rhode Island's official state appetizer. "As any gourmet would recognize, you always start with the appetizer," he said. "Who knows? We might go on to entrees next year."
► In fact, we love deep-fried anything! Two Central Falls brothers in their seventies pleaded not guilty after the government alleged they stole 200,000 gallons of used cooking oil from local restaurants and sold it in New Hampshire.
► Let's hear it for the Lone Star state. Charlestown police responded to a call from alarmed residents after nine men in a low-flying helicopter fired at an abandoned Hyundai with hand guns and assault rifles. When asked if he thought it was a good idea, chopper pilot Dean Scalera said he believed he was flying low enough to be safe, and pilots have done the same thing in Texas.
► Another use for duct tape. Johnston Mayor Joseph Polisena closed the BroadRock Gas Services power plant after repeated complaints that the facility was stinking up the neighborhood. According to Polisena, the facility was using duct tape and broomsticks to vent the unpleasant smells. (BroadRock denied being the source of the problem.)
► Er, isn't this already illegal? The General Assembly passed a law making it a crime to cheat at casino games.
► We thought he looked flushed. A fifty-four-year-old Cranston man was arrested and charged with stealing an automatic toilet flusher from a McDonald's in Johnston. Police say he'd been implicated in similar plumbing thefts.
► They need a survey for this? According to a study by Allstate Insurance, Providence drivers are the third worst in the country.
Quotables!
"Drive Rhode Island and we'll rock your ride." Newport adman Paul Fleming's proposed slogan to get Rhode Islanders through pothole season.
"I hate public defenders. I'll represent my damn self." Ex-con Vaugh Watrous, after pleading not guilty to robbing five banks in a week.
"We started getting calls within days." Warwick official David Picozzi explaining why the city mailed a single corrected 2013 calendar page to 30,000 residents because the month of July mistakenly started on Sunday instead of Monday.
"Silly Olivia forgot one thing…the crown." Olivia Culpo, Cranston's Miss Universe, on "Extra" about packing woes during a trip to Indonesia.
True Crime Blotter
Because truth is stranger than…ya know, that other thing.
True! A forty-three-year-old Providence woman was charged with possession and conspiracy after police said she'd hidden eleven bags of crack and seven bags of heroin in her hair.
True! East Greenwich police were called after two men, wrestling on Main Street, fell through the plate glass window of Raw Bob's Organic Juicery. The owners declined to press charges.
True! Warwick resident John Ryder was arrested after getting trapped between two walls of a JC Penney store during an attempted early-morning robbery. The twenty-five-year-old had been trying to evade police and had to be rescued by the fire department.
True! A Providence woman was charged with drunk driving after she backed up very fast and plowed right into a police SUV.
True! South Kingstown police declined to press charges after receiving four phone calls complaining about a snow sculpture that appeared after the February 8th blizzard. The sculpture in question, on private property, was a ten-foot phallus.
True! Narragansett police charged former Republican congressional candidate Michael G. Riley with drunken driving and resisting arrest. According to police, Riley said he was going home, then began screaming, "I ran for goddamn Congress, you're f***ed."
Rock Around Rhode Island
Johnston: Former pig farm owner and trash hauler Louis Vinagro Jr. was charged with trespassing and vandalism after police say they saw him use a backhoe to throw tires onto his nephew's property. Vinagro told police he was merely "returning" them.
Warwick: Police say ex-boxer Vinny Paz smashed two barstools one night in a pub. The Paz acknowledged he'd thrown them in a "friendly" way. "You pick it up and toss it gently."
Westerly: Police charged a local doctor with breaking and entering after he was found in a stranger's house at 4 a.m., saying he was looking for a sick friend. Police also discovered six grams of pot in his car.
Central Falls: Ray Guillen, twenty-seven, pleaded no contest after admitting he ran an illegal dental practice out of his apartment. Police found a dental chair in the living room, along with drills, retainers and X-ray equipment.
Providence: A special ed assistant presented Nicole Mathis, principal of Nathanael Greene Middle School, with fifteen grams of pot as a gift for winning Providence principal of the year. Police charged the assistant, who was suspended without pay.