The Rhode Island Red Awards
This year, it was especially hard to decide who was most deserving of our Reds dedication. There are so many contenders: the Iway construction, the state budget, that guy with all the rats. Our fair state didn't let us down. Which is why we here, at Reds HQ, are already looking forward to 2010.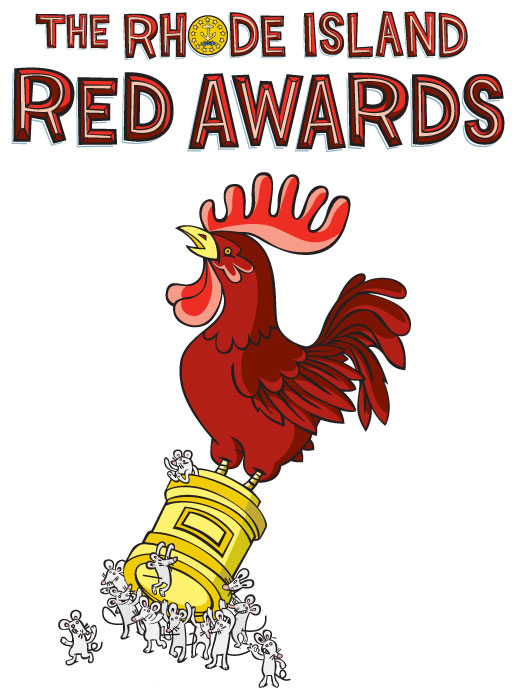 I can't sugarcoat this. Westbound traffic will actually get worse.
DOT head Michael Lewis responding to questions
about the opening of a new section of the Iway, at $610 million the state's most expensive highway project, and designed to improve traffic flow

I've never heard of Max Man, and if there was a costumed superhero running around here, I would've known.
Westerly Y director Kristin Webber, when asked if Nathan Hannon, an employee of the RI Resource Recovery Corporation, had visited with a cartoon character as part of his education outreach job. Hannon was later fired after his bosses said he'd never been to that or other appointments, but had been reimbursed for travel expenses.

The town is full of visiting old folks, stuffy people and is not conducive to having a good time.
Shaun Sullivan, owner of Newport-based Model Cruises, announcing that his planned charters, featuring women dancing in bikinis, would not be offered due to a lack of reservations and lack of enthusiasm from fellow Newporters.

"I've been doing this a long time and I can't find anything that says it's illegal for a sixteen- or seventeen-year-old to take her top off and dance."
Providence youth services Sergeant Carl Weston in response to reports that underage girls were working as strippers in city clubs.

"The emotional distress suffered by the plaintiffs is so severe that no reasonable person could be expected to endure it."
A lawsuit filed against Verizon by Warwick residents Robert Bourne and Denise Roy and their two daughters in which they claimed they'd experienced "great pain, anxiety, nervousness and mental anguish," due to unauthorized transmission of the Playboy channel.

Oh, just give them the finger.
No, no, the other finger!!
Rhode Island Hospital was fined $150,000 after surgeons operated on the wrong finger of a patient. It was the fifth wrong-site surgery at the hospital since 2007.

Hope that medical coverage includes a prescription for Lipitor.
The General Assembly reported that in 2008, members ran up a $167,648 tab for beverages and food that included platters of veal and peppers, meatballs, turkey sandwiches, mustard pecan chicken and "assorted fancy desserts." The annual food and drink budget is just one of the perks enjoyed by legislators, along with free dental, vision and health insurance.

And that white stuff you see outside in the winter is called s-n-o-w.
On January 13, the R.I. Emergency Management Agency issued a media advisory warning Rhode Islanders, "This Thursday through Saturday we may experience extreme cold temperatures."

Running a stop sign?
Careening around on an expired license? Winding up on the wrong side of the road?
Sounds like a typical Rhode Island driver to us. Former Governor Bruce Sundlun was cited by a Jamestown police officer for driving with an expired license, failure to obey a stop sign, and crossing over the double yellow lines. Six months earlier, a Jamestown school bus driver reported Sundlun had gunned it past the bus while its red lights were flashing.


Five Reasons we love our public officials.
They're diplomatic!
Rhode Island's Republican Senate members ended their leadership standoff and re-elected Dennis Algiere minority leader for a seventh term. The two versus two battle over who would lead the four-member party had lasted more than a month.
They're generous!
The state has given more than $87 million in tax breaks to businesses during the last two years, even though officials have no idea if the companies have lived up to their end of the bargain.
They're energetic!
State representative Grace Diaz apologized to Karen LaFlamme after receiving an email from her stating that she had seen Diaz flip another driver the bird on the Route 6/10 connector. LaFlamme complained that Diaz, who was behind the wheel of a green mini-van with legislative license plates and talking on her cell phone, was changing lanes and cut the driver off.
They're worldly!
Providence officials hired a Nashville advertising firm to develop a campaign promoting the city as a "Creative Capital" for innovative entrepreneurs.
They're informed!
Two weeks after state treasurer Frank Caprio's blog debut, several of his sports and pop culture posts abruptly disappeared. Turns out the treasurer (or rather his spokesman Tim Gray, who was doing the actual posting) will no longer be sharing his thoughts on Jessica Simpson's weight issues, a new book by Joe Torre, and a made-up conversation between Gray and Mickey Mouse.


[True] Crime Blotter
Could we make this stuff up?
TRUE! State police investigated reports that employees of the R.I. Department of Labor and Training were running personal errands or staying home during the work day. The state workers were members of the department's fraud unit.
TRUE! Trahan Pires of Fairhaven was fined $500 after pleading guilty to assaulting a Chuck E. Cheese mascot. Officials said Pires ripped off the mascot's headpiece, pointed a finger at the man in the mouse suit, and yelled at him.
TRUE! Providence lawyer Kevin McKenna was arrested for shoving his paralegal out of his office after the man asked for gas money to run the lawyer's errands. According to police, McKenna yelled, "I'll show you about being reimbursed," at his assistant.
TRUE! Natalie Dosthene of Providence was charged with assault after stabbing her neighbor, Alex Stanichuk, also of Providence, following an argument over a stolen vacuum cleaner.
TRUE! Police cited David Mercer of West Greenwich with several driving infractions after he admitted to text-messaging while he was driving and crashing into an empty police cruiser on I-95.
TRUE! North Providence police arrested Nadirson Delgado, twenty-two, and his sister, Doris Fonseca, twenty-seven, after Delgado smashed his sister's car with a piece of cement. According to police, Fonseca had earlier slashed all four tires of her brother's car, after he removed three pieces of birthday candy from her vehicle and began eating them.
---
The Weird World of Frank Williams…..
Chapter 1
April 3: Taxpayers learn they've spent nearly $43,000 to renovate a new courthouse office for Frank Williams
who continues to work as a judge after his retirement in 2008 as RI Supreme Court chief justice.
Chapter 2
October 15: Frank Williams acknowledges hiring the mother of his former driver, Pamela DosReis, as a part-
time cleaning lady at the courthouse. A week later, a spokesman tells reporters that Williams had hired the niece of his former driver as an intern for three summers.
Chapter 3
October 21: Frank
Williams steps down
from the court after being linked to a messy divorce involving his former driver, Pamela DosReis, and her husband, Frank. During the hearing, Pamela and Frank testify that Williams, the godfather of their six-year-old daughter, pays her private school tuition, has keys to their house and regularly sleeps over in his own room. In addition, Frank testifies that Williams has watched his goddaughter being bathed, and accompanied the two to a father-daughter dance.
---
Animal House
Who says men don't like to clean?
Toby Duffany of Providence was arrested after abandoning more than 250 rats by the side of the road in Foster. Duffany told a reporter his girlfriend had just had a baby and DCYF said he couldn't bring his daughter home until the rats in his house were gone.
Now that's getting a buzz on.
East Greenwich officials were forced to close Middle Road and kept students indoors at Hannaford Elementary School after construction workers destroyed a house and set loose 30,000 bees. Sergeant John Carter, a beekeeper himself, was called to the scene and stung several times. According to the EG police chief, however, "it doesn't even faze him."
Did you say streaks or steaks?
A $100 reward was offered to anyone
finding Aysla, a missing six-month-old Scotch High-land calf that bolted from the Washington County Fairgrounds and disappeared into the woods. Aysla, who was scheduled to be part of a beef show, was described as having "blond highlights around her shoulders with streaks of blond."

Big smelly things in Little Compton
On June 20, workers attempted to bury a two-ton humpback whale that had washed ashore. The whale, full of buoyant gases, proved more than a match for a backhoe, and popped up repeatedly through the sand.
Big smelly things in Little Compton, the sequel
On June 21, Mystic Aquarium staff members cut loose a 1,500 pound pilot whale that had washed ashore in Little Compton, hoping it would drift out to sea, which it did. And then came back. Beach manager Ron Bogle nixed the idea of explosives, which had been used on a beached whale in Oregon. "They had raining blubber coming down for quarter of a mile. One lady's car hood was flattened," he said.