The Return of Lady Hermione
She saved our butts during the Revolutionary War. Now, a full-scale replica of the famed French tall ship has set sail, arriving in Newport next week.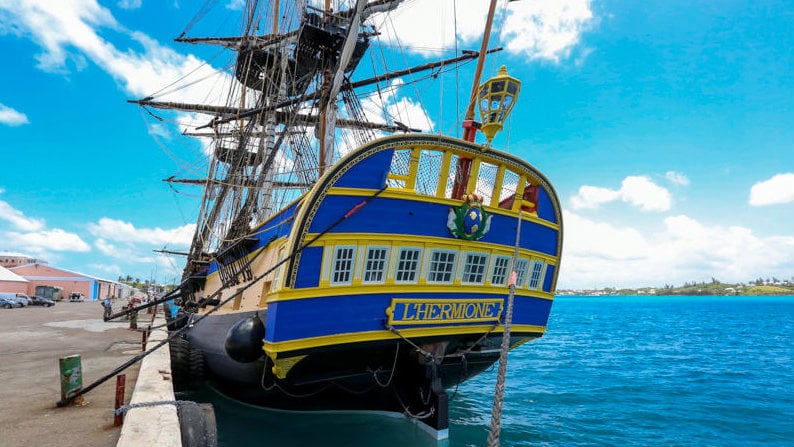 The year was 1780. Our American revolutionaries weren't exactly failing, but flailing, yes. They were flailing.
The winter was a tough one: Mutinies broke out among the American troops, which weren't getting the supplies needed to survive, and the British had firm control over our prosperous little port city of Newport, among other places.
Until L'Hermione showed up.
The French had a vested interest in the American Revolutionary War. France's King Louis XVI — who would lose his head in his own Revolutionary War thirteen years later — was worried the British would reconcile with the colonists, then point their greedy sterns toward France's territory in the West Indies (spoiler alert: they did). So Louis pushed for total American independence, and sent the tall ship, L'Hermione, and George Washington's best French buddy, the Marquis de Lafayette, to make sure it happened.
According to biographer Harlow Giles Unger, Lafayette was considered "a knight in shining armor from the chivalric past, come to save the nation." And a year-and-a-half later, after providing some much-needed muscle for the Americans in naval battles, Lafayette maintained that reputation. Lafayette and L'Hermione returned to France in December of 1781. Two months later, the British Parliament voted to seek peace with the Americans.
There you have it, folks: L'Hermione was mega-important to both the French and the Americans — Newporters in particular. That's why, since 1997, a group of dedicated historians in Rochefort, France, have worked to replicate the famed tall ship in full scale. They wrapped construction in 2012.
In April, the 216-foot vessel — complete with fifteen miles of rope, 1,000 pulleys and eighty-four crew members — set off from France to recreate the original 1780 voyage, landing in Yorktown, Virginia, earlier this month. L'Hermione arrives in Newport on July 8 and sticks around for another day before heading up to Boston, Maine and Nova Scotia.
To celebrate, Newport will host a series of events next week. Here's what you need to know:
JULY 8, 1:30 p.m. L'Hermione arrives in Newport. Can be viewed from various points in Newport; no tickets required.
JULY 8-9, 10 a.m.-5 p.m. The Museum of Newport History (127 Thames St., Newport) hosts a special exhibit that highlights the relationship between Daniel Lyman, a Continental Army officer and Newport resident, and the Marquis de Lafayette. Exhibition continues through October. Free; donations accepted.
JULY 8-9, 10 a.m.-4 p.m. Fort Adams hosts a variety of Revolutionary-era activities, lectures and military demonstrations, plus public tours of L'Hermione and Newport's favorite tall ship, the Oliver Hazard Perry. Adults $6, children $3, younger than six free.
JULY 9, 11 a.m.-2 p.m. A team of costumed interpreters share their thoughts about the French occupation during the Revolutionary War at the Colony House on Washington Square. Be sure to check out the Colony House's latest exhibit, "Fraternité: The French in Newport," which runs through October. Free; donations accepted.
JULY 9, 6 p.m. Farewell Soiree at Fort Adams with a parade, lowering of the flags ceremony, cocktails, dinner with classic Colonial fare (including Lafayette's favorite dessert, gingerbread with creme anglaise and Irish vanilla bean ice cream) and a lighting of the torches. $115 per person.
JULY 9, 6 p.m. Sailors and Soldiers Supper, a picnic-style event that includes hearty food with a complimentary ale or wine. $45 per person.
For more information about L'Hermione, visit hermione2015.com.