The Return of Billy the Kid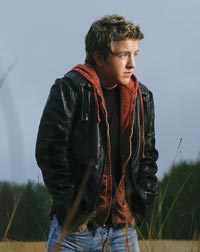 Billy Gilman is about five. He toddles up to the frosty door in the frozen vegetable aisle of the Westerly Stop and Shop, sticks his head inside and sings, curious if the echo might sound like he's on a stage. He likes what he hears and with a smile, scribbles an approximation of "Now starring: Billy Gilman!" on the freezer door's temporary condensation marquee.
"That's my earliest recollection of singing," says Gilman, now nineteen, surreal superstardom just behind him, god-only-knows-what ahead. "I'd stick my head in the door just to see what the echo was like, how clear it was."
The future was once that clear for Gilman, a little kid with a huge voice who used to sing with his toy karaoke machine as a toddler, wowing friends and family with his natural ability before turning professional. To make a surprisingly long story short: Gilman shot to country music fame with his song "One Voice" at eleven, becoming the youngest soloist ever to appear on Billboard magazine's country charts, breaking Brenda Lee's record set in 1957.
It went gold in a month, platinum in three. Grammy nods came next, the first time that ever happened to one so young, and records kept dropping like tears at a sappy country song: Youngest ever to win the Favorite New Country Artist award from the Americana Music Association. Youngest country artist to have a gold record. Youngest artist in any genre to go platinum. He even sang at Liza Minnelli's ill-fated wedding to David Gest.
Things happened fast and furious for the blue-eyed, amazingly composed and supremely confident kid from the Rhode Island woods. New album releases, friendships with the likes of Christina Aguilera and Hilary Duff, appearances on the shows of Jay Leno, David Letterman, Oprah Winfrey and Regis Philbin, posing with Presidents Clinton and Bush.
The future was so bright, what could go wrong?
Puberty. His voice changed. What had been so easy to do — belting 'em out loud and clear — was now painful. It hurt to sing and then worse yet, it hurt not to.
"We were at an after-party one night with Patti LaBelle," Gilman says, not so much name-dropping as just recalling a fateful night with a famous friend. "They were messing around, singing, and I went to sing — and nothing happened."
The fame rocket went into a coast. He stopped singing for more than two years as his voice settled down. It's now just as clear, but lower and stronger. He sits in his grandmother's home in a room bedecked with all things Billy — pictures, magazine covers, awards, you name it — and smiles as he ponders the big question about his future:
Exactly what is his one voice telling him to do?
Surprisingly, despite making his name in country and given his family's love for that musical genre, he wants to get out of it. Maybe he'll become a crooner, do a little rock, a little jazz. He's certainly got the chops and connections to do it.
"This year, something big is gonna happen," he beams, eyes wide and hands clasped before his slender, boyish five-foot-seven frame. "This year," he adds in true show biz fashion, "a new door will open and the trumpets will sound."
More importantly, he says, "The fire is there again."
Fran Gilman sighs. Here in the pleasant-but-nothing-fancy basement of the Gilman home, which sits on sixty-acres in Hope Valley, it's clear that Fran and her husband, Bill, avoid playing favorites with their children. The plaques, awards and photos on the walls and shelves are equal parts Billy Gilman and his younger brother, Colin, a high school athlete.
How old was Billy when she knew he had something special? "God, two or three?" Fran replies, more as question than answer. "He was very young. I remember him being in front of the television and hearing Pam Tillis singing 'Queen of Denial' and pretty soon he's singing it back."
At five, his parents got him a little karaoke machine. The tiny singer would haul it via his Big Wheel to his nearby grandparents' house to entertain guests. He was the talk of the family to be sure, and then the town. His grandmother, Ginger Woodmansee, figured others might like to hear the eight-year-old, singing wunderkind, so she contacted Angela Bacari, a Westerly-based manager and vocal coach, and a singer in her own right.
"To be honest, I wasn't too crazy about the idea," says Fran Gilman, as opposite from a stage mom as you can get. "I mean it's wonderful, sure, but it can be so hurtful. I didn't know if I wanted him exposed to all that."
For her part, Bacari, upon hearing about this fabulous grandchild, thought, "Yeah, right, every grandmother says that." She agreed to give a listen. Billy came over — and floored her.
"He walks in, adorable, big blue eyes, almost white hair it's so blond, and he's so energetic," Bacari says. "Then he sang. I fell back onto the couch and said, 'What am I hearing?' It was amazing."
His voice was crystal clear, strong, high-pitched, decidedly unlike any average eight-year-old. Bacari worked with him slowly for two years, bringing him along, getting him gigs at local country fairs and festivals. In Austin, Texas, Ray Benson of the country band Asleep at the Wheel got wind of the kid from a friend who played a show that Billy opened in Rhode Island.
"He said, 'Ray, we couldn't get on stage for a half hour; this kid's out there signing autographs,' " Benson says with a laugh. "I got hold of Angela, and she sent me a tape of him on karaoke doing 'Broken Wing' by Martina McBride. He had an unbelievable mastery of vocal gymnastics that kids just don't have."
The ball began to roll, rapidly. Billy went to Austin to work with Benson, cut some songs that Benson shopped around, taking him on the road with the Dixie Chicks and George Strait. Then there were tours with Reba McEntire, as well as performances with Tim McGraw and McBride. "One Voice" skyrocketed in 2000, and things went from crazy to insane: talk shows with Letterman and Leno, three albums out by age thirteen, his own sixty-city tour, all the while being home-schooled and tutored in and around meeting presidents and making more records.


The kid racked up more frequent-flier miles in a couple of years than most people do in a lifetime. There was a show at Robert F. Kennedy Memorial Stadium in Washington, D.C., for 60,000 screaming, mainly female fans (he's always been hot with women of all ages). He even made the tab rags, one declaring incorrectly in blaring boldface that his parents had stolen all his money.
Then the shoe dropped with his voice. Bacari knew instantly what had happened, even as Billy denied it.
"I didn't think it would happen, I just fluffed it off," he says. "I told Angie it hurt now to get the high notes out, and she knew exactly what it was."
"He took it hard," Bacari says. "It was a frightening experience going from what he was to god-knows-what he was going to be, after being such a superstar."
She and his family kept him grounded, and he had his work as national youth ambassador of the Muscular Dystrophy Association to keep him busy. Years earlier, he'd befriended Mattie Stepanek at Larry King's show. Stepanek, now deceased, was a teen poet with the disease, and Gilman was struck by the boy's resolve and razor-sharp mind. Gilman continues to work for the association to raise money and awareness, including hosting an annual fundraiser at the Westerly Armory.
He is slowly coming back, releasing more songs and is scheduled to appear at the Country Music Association Music Fest in Nashville this month. He's kicking a second act of life into gear at an age when most kids don't even know what the first one is going to be.
The early video tapes of him show a little boy in a towering cowboy hat, possessed of that amazingly big voice, strutting his stuff on stage. But now, for the first time, he's scared. "At a show recently, I was clinging to the curtain before I went out, and Angela had to push me," he says. "I was afraid I couldn't do it."
Not afraid of the work or the crowd or performing. Afraid his voice would betray him again.

"In a way, the voice change was the best thing that could have happened to him," says his mother. "I think he took some of what he had for granted, and then it was taken away."
"It's brought me to a place where I could begin a real career," Gilman says. "At eleven, I had a number-one record instantly. There was no struggle, no hardship. Now there is, a little. I mean it's easier now of course, but I have to climb every day. I have a taste of what it's like to kiss butt in this business, and I never had to do that before. I sometimes talk to fifty radio stations a day to get them to play me."
He knows that early on, he was a cute curiosity, a musical mascot, an amusement for adults who wanted to be photographed with him as they patted his head and marveled at his little-big voice. That's gone now. He's nineteen, his voice is lower, his hair darker, and while still looking like a fresh-faced kid, he's teetering on the edge of adulthood, where on the other side awaits another lifetime of responsibilities, joys, sorrows, triumphs, travails and uncertainty. As it does for us all.
"I was a gimmick in the beginning," Gilman admits with a sigh, a shrug and a smile. "Now, I gotta prove myself."
Chronologically, Billy Gilman is still pretty much a kid, but his years in show business have left an impression. His responses to questions are measured and careful, just like his performances. For example: how does he describe himself?
"I'm simple yet complex, unattractive but handsome, selfish and giving," he says with an album-cover smile that's somehow still more genuine than affected. "I can be mean and rude, sure. I'm a regular person who gets altered in the limelight. Some say I'm haughty or whatever, but I think I'm the same as I was."
He felt resentment from some local friends, some of whom dropped away but have slowly come back as they — and Gilman — have matured. During his hiatus, he's tried to live as normal a life as a superstar-on-hold can, such as mimicking stunts on the popular "Jackass" TV show, including flipping all-terrain vehicles over in the nearby woods with his friends.
Stories like that are cringe-inducing, but warn him about the perils of stardom and its excesses, and there's a predictable response.
"I know, I know," he says, having heard it before from his family. "Believe me when it comes to that stuff, I put up a wall."
Uh-huh. A good-looking young man of nineteen surrounded by gorgeous girls, sycophants and hangers-on eager to please him? He swears it won't get to him, as his mother looks on nervously.
"I'm not perfect, I'm a nineteen-year-old, but because that image of me at eleven is frozen in time, I have this squeaky-clean image, that I'm like a robot, but I'm not," he says. "I have experienced relationships with girls, and people can't understand that. I mean if I let out a cuss word, people look at me like I'm on drugs."
Even more interesting is his thought on "One Voice," the song that made him famous. Ask him about it and he smiles warily: "I hate that song."
Rather, he hated that he couldn't belt it out, as is his style, because nowhere in the original preachy little tune about the power of prayer was there a strong part. So Bacari wrote it in, he sang it loud and strong and the rest is musical history. And he's smart enough to add that he knows it's his signature song that concertgoers wait for.
"I've done that song like 800 times, but I have to make it fresh every time," he says. "I know if it's boring to me, I'll sing it boring, and I never want to do that. So I have to sing it the best I can. It made me me."
Now that "me" might be morphing into another musical entity all together. He says he's excited about changing paths from country to…whatever suits his fancy.
"Country was my passion, yes, but it doesn't click for me anymore. Something inside felt dry about it," he says. However, he's wisely decided to keep on doing it to some extent so as to not alienate long-time fans as his friend LeAnn Rimes once did. "I want to rock it. I want to do something that's not quite Michael Buble or Justin Timberlake, but somewhere in there."
And from all accounts, the kid can do it. Al Gomes, producer with Big Noise of Rhode Island, a production and marketing company that handles Gilman and other stars including Aguilera, says Gilman is poised to achieve superstar status again, any way he chooses. "Because he has a track record, his next move is whatever he wants it to be. And he'll take responsibility for whatever decision he makes," Gomes says. "He can do anything at this point."
Benson, who helped discover Gilman, says Gilman remains down to earth, thanks to a family who won't let him get away with any star nonsense. "They didn't push him; they facilitated his career," he says. "When his voice changed, they backed off and let Billy be a teenager. Which is good, because I've seen this stuff bust up families and get real ugly."
"There's no denying he's one of the great voices of his generation," Benson adds. "Now it's just a question of what path
he takes."
Rhode Island's country music radio station WCTK played "One Voice" a lot, says program director Steve Giuttari. "It wasn't a great song," he says. "It was a good song, but it got a lot of play because an eleven-year-old kid was singing it."
As to playing Gilman now, Giuttari adds, "Sure. It comes down to one thing, though: Is it a good song? If it is, we'll play it."
Dave Malloy agrees. Malloy co-wrote and produced "One Voice." Is Gilman a sustainable talent? "Sustainable in this business is your next hit record," he says. "It's all about that."
As to reinventing himself, Gilman has to decide who he is, Malloy says, "not with all the people around him, but who he is inside himself. He's becoming an adult and will go through the soul searching we all go through. This is a business of passion. You have to follow yours, keep it alive. It's a long, hard road and very few make it. Billy will have to figure out what his passion is and chase it down."
As to having the gift of a rare and marketable talent, "he has it," says Malloy. "There is no doubt about that."
Every time Gilman pops a tape into the VCR of himself as a little boy singing at a country fair, his grandmother's eyes fill with proud tears. "They grow up so fast," she says.
But Gilman grew up years ago, or grew into that part of his life that made him what he was. What he is now is anybody's guess and totally up to Gilman, the young man. That little kid on stage in the cowboy outfit belting out songs looks amazingly composed. Gilman smiles. "Yeah, I wasn't nervous at all," he says. "I just knew this is what I had to do."
Sandy Linzer, the producer and songwriter who is working with Gilman now on phase two of the young man's life, says Gilman is in great shape for another run to the top, adding, "He's changing. He's gone from preteen to teen; he's filled out."
Some celebrity kids claim show biz is their life, he says. "They swear they need it and got to have it. But Billy really does."
If Gilman weren't in the business, what would he do? He seems jarred by the question, his blue eyes going a bit wider, a surprised smile on his face.
"I…don't know," he replies slowly. "There is no fall back. I'm not good at anything else. I don't think I have the common sense to do anything else. And I guess that's scary.
"This," he says, as he shrugs at the photos of himself lining his grandmother's wall, "is all I know."