The Restaurant at Weekapaug Inn
With new owners and an impressive renovation, a favorite inn radiates upscale, old-school comfort with a menu and prices to match.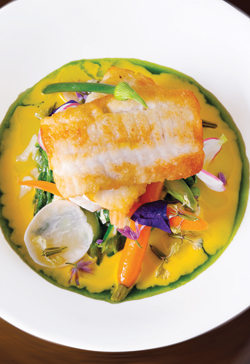 The Restaurant, Weekapaug Inn
25 Spray Rock Rd., Westerly, 637-7600, weekapauginn.com. Hours Open daily for breakfast, lunch and dinner. Reservations accepted. Wheelchair accessible. Valet parking. Cuisine New American. Capacity 100, including private rooms; far more spread out on the lawn. Vibe Martha Stewart invites you to spend the weekend and she's in a surprisingly good mood. Prices Appetizers $12–$19, entrees $24–$44, desserts $8-$17. Karen's picks Braised lamb with hand-rolled gnocchi, scallops with fava bean puree, seafood, frozen lemon souffle.
Key
Fair
Good
Very Good
Excellent
Half-star
The Weekapaug Inn is a bit like Bobby Kennedy was to JFK. It's slightly less showy than its older sibling, but its pedigree, purpose and league of enthusiasts are no less pronounced. While the Ocean House exudes grandeur in its view, expansive lawn and spiraling turrets, Weekapaug lures in the Nantucket Reds crowd in a more subdued fashion. Though both properties, renovated by financier Charles Royce, actively seek out-of-state travelers in search of a water view, the vistas make such distinctions clear. Ocean House abuts the crashing ocean; Weekapaug sits alongside Quonochontaug Pond. The feeling is far less European and more homegrown, imbued with the sense that secrets are kept rather than revealed and that lineage is a frame of mind.
The Restaurant (that's the name; simplicity at work) overlooks the pond with a patio and lawn available for dining and seasonal functions. The internal scheme of beige and white is decidedly residential, with buffets of heirloom silver and a seating area just outside the restaurant proper. Servers scoot around in matching oxfords, modest khaki skirts and with praise for any choice that diners make. "Still or sparkling?" asks an enthusiastic server. "They're both complimentary," she adds after ensuring she has everyone's name properly pronounced. The goal is to make everyone feel at home — a very privileged home — and, if it all seems disconcerting on the first go-around, that's what return visits are for. Weekapaug's history includes generations of families, a pattern Royce and partner, Lang Wheeler, don't intend to break and the fundamental reason that the hotel and dining room don't tread too far into modernity.
Accordingly, the kitchen focuses on seasonal ingredients and technique rather than innovation. Chef Jennifer Backman, whose previous experience comes from the Ocean House and Castle Hill, is well acquainted with the tools necessary to serve a summer crowd looking for a week of indulgence. In some sense, the group is homogenous; well tailored, subdued and generally accustomed to entrees that hover around $40. But the age span is marked: grandmothers in pastel Pulitzers escort matching toddlers while three generations of men in topsiders lean back in wicker chairs. Photos of the inn and its occupants at the turn of the century grace the menu, reassurance that the location binds everyone to an advantaged American past.
Naturally, the emphasis is on local farms and fishermen; one could hardly expect less. As a result, dishes evolve a bit each night to highlight the day's catch. Every appetizer — meat, seafood or salad — is punctuated with herbs, edible flowers and minute greens.
Even a tender braised lamb is usurped by a shower of fried baby Brussels sprout leaves and melting shallot confit. Paired with hand-rolled gnocchi, it's an exceedingly delicate meat-and-potatoes dish that nearly vanquishes the sticker shock of a $19 appetizer. The same holds true for deeply seared scallops ($18) paired with fava bean puree, a tart malt vinaigrette and a brunoise of chorizo so genteel that one can only think of vermouth being waved over a dry martini. Precision is, with everything on the property, mandatory. After all, every vacation entails planning but the best ones don't require you to share that responsibility.
Main dishes still have nuance but they don't work as effectively to block out the formidable prices. Still, it's very possible to walk away from a $24 vegetable plate feeling good, given the artistry that goes into the melange. With a focused eye, it's easy to appreciate how poetic the plate is: layers of translucent candy-striped beets sit beneath baby carrots, turnips, rabe and a host of other vegetables that serve as muse for a dedicated kitchen. Even dandelion blossoms and a quick sweep of red pepper coulis find their spot on a painter's palette of produce. It's harder, though, to make that case for a locally sourced sirloin that, at $44, is paltry given that it presents itself in two reasonably small slices that appear to weigh, maybe, six ounces.
Nevertheless, other dishes, like lemon sole ($32) served with a sweet carrot emulsion, are pleasant — and surely no one expects a three-pound fish to end up on their plate, thereby marking a harmonious meeting of appetite and aesthetics.
That's not to say exuberance doesn't exist inside the walls of Weekapaug. For an esteemed property, there's an amiable air, not only because the waitstaff is young and relaxed, but because drinks and dessert are less formal. Margaritas are stuffed with citrus fruits, mousse cakes ($10) arrive with miniature creamsicle sodas and donuts ($10) are served fondu-style. Overindulgence may be a concept the kitchen is still working on — donuts are no bigger than half-dollars — but the evening ends with a sense of familiarity for even the inn's youngest guests.
And that's the underlying philosophy here. So much so that the desire to please is nearly limitless and slightly Disneyesque. One server, looking at a half-eaten frozen souffle, wondered aloud if it might make the journey home. When a hearty guest proclaimed that it might not make it upstairs, she shook her head and added that it seemed such a shame given how delicious it was. Coffee in French press pots and bite-size banana truffles also grace the table and, hours later, it's tempting to bring it onto the patio to watch the sun set over the pond.
Weekapaug is in fine company given the small number of restaurants, most of them anchors to an inn, capable of conjuring up this kind of culture. The difference is that this space does a better job convincing diners that they're actually in their summer home as opposed to guests in someone else's. Of course, one's own dining room might be more concerned with sating hunger than safeguarding civility but everyone likes to gild the lily once in a while. Even on vacation.