The Rescuers
They're not lawyers or social workers, but these volunteers go to court to advocate for abused kids when no one else can.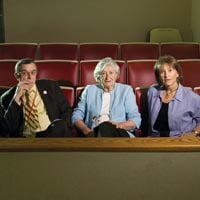 The wide fifth-floor corridor in the J. Joseph Garrahy Judicial Complex is teeming just before 9 a.m. On this typical weekday in downtown Providence, it is as busy as a day-before-Thanksgiving airport terminal. The hallway outside the family courtrooms is humid and stuffy as lawyers in pinstripes and business chic mingle with toddlers, men in jeans and work boots, teens with drooping pants and women in jogging suits. Some people stand with their arms entwined around stacks of file folders. Others drag file boxes behind them on wheeled dollies.
Walter Szeliga of Pawtucket has grown used to this hubbub after two years as a volunteer Court Appointed Special Advocate. He is one of 150 CASA volunteers in Rhode Island who work alongside lawyers and social workers to ensure the state's most vulnerable children are given the best chance at a brighter future. Volunteers like Szeliga do not come to the program as legal experts, nor are they social workers or child psychologists. They are nurses and teachers, photojournalists, entrepreneurs and computer experts who share a desire to help troubled children.
At any given time, CASA represents 3,000 abused or neglected children, who may be separated from parents and siblings, whose parents may be drug addicts or alcoholics or struggling with mental illnesses. These are children, like all children, who just want love and a permanent place to call home.
On a gray day, Szeliga waits outside one of the family courtrooms that are closed to the public when a child's case is being heard. He is waiting for the latest chapter to unfold in a story in which he has played a vital role. He will be invited into the courtroom once his case is being heard.
He has spent hours both inside and outside this building, poring over documents in the sprawling records rooms, presenting reports to judges, consulting with lawyers and social workers. He has heard parents and children yell and watched them cry. He has patted backs and lent encouraging words. He has driven hours to speak with children's mental health workers, visited families in their homes, gone to children's schools. He has written court reports that he's tossed in the trash and rewritten after detecting too many sentences that could be interpreted as personal opinion.
"My perk in this is the satisfaction of seeing a kid come through a really difficult time and knowing I can help them," Szeliga says.
After a brief court session, Szeliga is off to the child's school, where he will tell the child what transpired in court today.
Many kids end up in the system following a phone call to the state's child abuse hotline. The following is typical: A teacher calls the hotline after seeing bruises on a little girl's arms. The state Department of Children, Youth and Families investigates and brings the girl's case to the attention of CASA and the family courts, but recommends the child and her sister remain at home.
The CASA lawyer working the case asks that a volunteer be assigned, since the children were kept at home following the abuse complaint, an unusual move, but one the DCYF deems appropriate after careful review of the circumstances surrounding the case.
Within a month of the hotline call, the volunteer is at work. He first reads the DCYF case file, where he learns that after the children's mother died, they lived temporarily with their grandparents and then moved into their current home with their father and stepmother. The family has lived in Rhode Island for only a short time.
Within a week of his assignment, he meets with the DCYF social worker and visits the parents and both children. He knows the goal is to help the family stay together and work with the parents so they can learn to be less harsh when disciplining their kids. On his first visit to the family's home, he discovers both parents are eager to improve home life for their children, but mental and physical health problems, anger and the new mother's own difficult upbringing are obstructions. He ends up working thirty hours in the first month and attends three court sessions in eight weeks, trying to accept and improve the family's situation without judging it.
"She obviously loves these kids," the volunteer says. "If you can get the parents to open up and talk about themselves, you really learn a lot. A lot of them have had hard times."
the idea of allowing trained volunteers to work on sensitive child welfare cases was revolutionary when it was introduced in 1977. A Seattle judge was troubled when he was forced to make far-reaching decisions based on sketchy details. He believed volunteers could dedicate the time necessary to gather complete information from the children and their parents, guardians and involved professionals and hasten the children's return to a stable and loving permanent home.
Rhode Island was the second region to begin a CASA program and this year marks its thirtieth anniversary. At first, CASA in Rhode Island was just a handful of volunteers in Providence County. It's now a staff of ten lawyers and five social workers, plus administrators and support staff, who participate in cases in all four state jurisdictions.
"CASA is very important," Family Court Chief Judge Jeremiah S. Jeremiah Jr. says. "The attorneys can have 400 cases each, but it's most important to represent the child, and the volunteers are a very important part of this. They assist the department in finding out the facts about the child."
The cases are seldom simple, and it's not unusual to have setbacks. The volunteer who worked on the one that started with the child abuse hotline call noted in his third-month report that the family members were regularly attending individual and group counseling sessions. He saw that the children were interacting well at school, that they were earning good grades, and that the father's employer was allowing him time off to get the children to school in the morning and be home when they returned. Just one month later, however, circumstances changed drastically; the stepmother started using illegal drugs and moved out.
To keep a closer eye on what was going on, the volunteer began eating lunch with the children at their school once a week. He saw one child frequently upset and the other struggling with schoolwork and made a point to time home visits when the children were due to return from school. He frequently spoke with the school nurse and principal. That month he logged twenty hours.
There are enough volunteers to work only about 12 percent of the neglect and abuse cases—often the most complex ones—and they are the eyes and ears of the court, CASA Director Jim Pickett says. "Sometimes as a lawyer, you get caught up in the system. The volunteers have a more common sense approach." Many volunteers say they first heard about the program when reading about the sad and seemingly hopeless cases that sometimes splash onto the public's consciousness, children who are severely abused or even killed by the people they trust the most. What keeps them volunteering is something they say the general public seldom sees: The vast majority of the children who enter the system in desperate situations end up in happy, healthy homes.
"What the kids have been through is very hurtful to your heart," says Carol Falcone of Cumberland, a CASA volunteer for almost four years. She has witnessed many cases close with joyful reunifications between parents and children, solid placements where children can thrive and happy adoptions.
Janice P. Harrall, CASA deputy director, says the program is not a typical volunteer experience. It requires extensive training, deep caring without personal emotional attachment and an eighteen-month commitment (most volunteers stay thirty-seven). Cases can be open from six months to many years and it is best when volunteers see them through from beginning to end.
When Christine Egerton, a CASA volunteer coordinator, and her colleague Erin Fitzgerald role-play with the would-be volunteers, they tug at heartstrings with questions the kids may ask: Can I go home with you? Do you know I'm in this homeless shelter, and it's freezing, and I have no coat and only these sandals for my feet? Will you take me to my mom? I'm so lonely and scared.
Or they might play the angry adolescent: Why do you care about me? No one else does. Sure, you say you'll represent my interests, but I've been lied to over and over in the past.
Volunteers shouldn't make promises, shouldn't try to be a parent or big brother, shouldn't become too emotionally attached. "They have to care, but they can't care too much," Harrall says.
The volunteer whose case began with a child abuse hotline call says about nine months into the case, the mother returned home after she tested negative for drug use on several occasions. He found the parents were over-disciplining the kids, loading them up with unrealistic chores for a five- and eight-year-old. He talked to the mother about what was appropriate for such young children.
On another visit, the five-year-old pulled him aside and told him her parents had taken away her pretty clothes when she didn't do her chores as well as they wanted. She was being teased in school because she was being forced to repeatedly wear the same shirt.
He reported what he saw and heard. The counselors and social workers knew their work with the parents had to continue.
New CASA volunteers undergo thirty hours of intensive training on the law and family courts, substance abuse, domestic violence and interviewing skills.
"They get three years of law school in thirty hours," Harrell says. The majority of volunteers have full-time jobs and do their CASA work in the evening and on weekends. Nearly a third of Rhode Island's volunteers are sixty years old or older.
Fran McDonough of Warwick is one of Rhode Island's longest serving CASA volunteers. She has been with the program eighteen years and estimates she's worked with nearly ninety children. She was employed at Nynex in Boston when she began volunteering and stepped up her efforts after retiring in 1994.
She worked with one family in which there were six children in separate foster homes spread throughout the state. Another case extended eleven years—from the time the girl involved was eleven until she turned twenty-one. "What we basically do is listen," she says.

It sounds deceptively simple. Consider that in a single case a volunteer might need to listen to school and private counselors, nurses and physicians, teachers, parents, foster parents, a DCYF social worker and police. Each one has a unique perspective. Volunteers also read official records, attend family court sessions when necessary and may attend district court proceedings if a child or parent is involved in criminal cases. They keep a record of a child's academic grades and their school absences, watch them interact with other children, observe family life and ask professionals about bruises and scars. Parents can be intimidating or hostile. One or more family members can be dealing with complex mental health problems. Family members can close doors, or open them onto filthy, roach-infested houses. Parents can make promises but break them because they are battling addictions.
"Sometimes you just want to yell at a parent, 'Get rid of those drugs. Don't you understand you're going to lose your children?' " McDonough says. "But then you have to remember that this is an addiction and why they are addicted. They might have been abused themselves."
Ultimately, volunteers listen to and represent children. Kids can be the easiest piece of the puzzle because of their honesty and openness, but meeting with them can pose challenges. There might be multiple siblings in separate foster homes. They might be infants or toddlers who cannot yet talk. They might be hostile adolescents who have been in and out of the system for years. Even dealing with children who want to open up can take time.
McDonough says she has sat and colored plenty of pictures with children. "We don't want the kids frightened by questioning," McDonough says. "So you have to find the best way to talk to them."
Falcone recalls watching at the edge of a basketball court as one boy shot hoops. She waited for him to talk while he played. Any parent knows no child simply opens up on demand and trust has to be earned.
Joan Caldwell of Rehoboth, a CASA volunteer for eight years, remembers a girl who was removed from her parents' home the night before Christmas. Caldwell told her she would visit on Christmas morning. When she actually showed up at the door, the child, who had encountered many broken promises, was flabbergasted. "To this day, I think of her," Caldwell says.
Despite the need to keep an emotional arm's length, the children and their stories pack a punch. McDonough recalls one seven-year-old boy who had been separated from his mother for a long time and consistently begged to visit her. The mother was not cooperative and visits had been scheduled only to be cancelled.
"There was a really long time between visits with his mom, and we had all worked hard to get a visit to happen," McDonough says. "It finally was granted and it went well."
When the visit was over, the boy sat with tears streaming down his face. McDonough asked him whether he was okay.
"He said he was so happy his heart hurt," she says. "I just went out and cried over that one." Ultimately, he was reunited with his mother.
Betsy Angeletti of Narragansett, a seven-year CASA volunteer, recalls one child who wrote a letter outlining her desires and asked Angeletti to deliver it to the judge hearing her case. "The children quickly pick up that you are empowering them," Angeletti says.
The wide corridors at the year-old Kent County Courthouse flood with sunlight from towering windows. The floors sparkle and chrome accents gleam. Inside the CASA office, staff lawyer Jennifer J. Kelly sits with a foot-high pile of file folders on a small, round table in front of her. She is reviewing cases with Falcone, one of about thirty volunteers with whom Kelly works. Falcone generally works four cases at a time. Today, they discuss a boy who seems to be adjusting well to a new foster home, although Falcone is concerned he's been teased in school. The lawyer and volunteer say they are optimistic about the case.
They have a myriad of issues to discuss at each meeting—a family with some strained relationships, one with a father battling addiction, one who will be back in court within a few weeks. A mother might seem in denial about the abuse her child suffered, a child could be worried about being snatched in her sleep and another may long for a reunification with a dad.
"Jen and I are always talking," Falcone says. She estimates spending two or three hours weekly on her CASA volunteer job. "But then there are the challenging cases or crises and it's a lot more."
Falcone says she knows she is helping children. "The only frustration is that everyone is so overworked," she says. "Everyone in the system is overloaded."
The caseloads affect the amount of time children can be in the system and that is something Walter Szeliga says was an adjustment when he began volunteering.
"I come from a business environment, where the decisions were immediate," he says. Still, he has the utmost respect for DCYF workers, CASA lawyers and social workers and family court judges, who all work to ensure the children have better futures.
Children have a way of staying in a heart. The volunteer whose case began with a call to a child abuse hotline worked some 320 hours over sixteen months on the case. He attended eight court sessions and visited the two little girls weekly.
When the case was closed, the girls were happy and thriving in school. The mother had stayed clean. Both parents had relaxed the ways they disciplined their kids.
Six months after the case closed, the volunteer called the mother to ask if he could drop in. She welcomed his visit, as did the children. When he arrived, he was greeted by wide smiles and two big hugs. There could be no better reward.