The Real Creative Capital
Rhode Island needs to get behind its artists so that they (and the rest of us) can not only survive, but emerge from the downturn ready to realize our potential.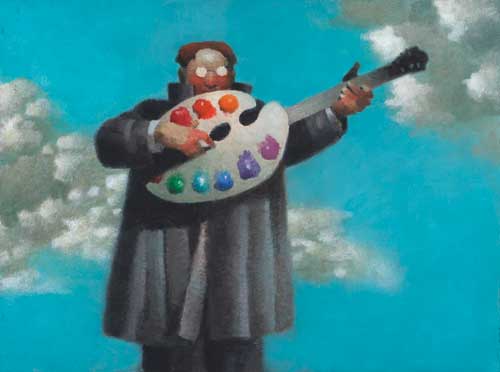 In 1935, the U.S. Treasury Department paid a New York illustrator $850 to paint a mural depicting "The Economic Activities of the Narragansett Planters" for the Wakefield post office. The Great Depression had thrown a quarter of the 
labor force out of work. The Treasury Relief Art Program (TRAP), one of several federal efforts to employ artists, paid commissions for decorations in public buildings.
Ernest Baker's fourteen-by-six-foot liquid image flows from a rum-running galleon roiling on the sea in the background to a herd of sheep streaming down the sloping shore to the foreground. Muscular, shirtless slaves drive the grain-laden cart and stack cheeses. From his vantage point astride a bay horse, a colonial planter bespoke in a scarlet waistcoat sternly points down on one laborer.
In the first eighteen months of the Depression's most famous relief program, the Works Progress Administration spent $40 million (about $600 million in 2007 dollars) hiring actors, painters, writers and musicians.
"People in charge of the WPA thought it was better to pay 
a first-rate violinist to play music than to pay him to become a second-rate road laborer," says Nick Taylor, author of American-Made —The Enduring Legacy of the WPA. "The WPA's 
genius was trying to find jobs for the skills people had, instead of forcing round pegs into square holes, even though it would have been more acceptable politically to put everyone to work building roads and bridges."
Through squinted eyes one may see parallels between Baker's seventeenth-century plantation owners, enriching themselves on slave labor, and today's financial wizards fattened on the exotic financial products that siphoned away our retirement accounts. But for artists, it's a long way from TRAP to TARP (the Troubled Assets Relief Program to bail out banks).
The arts have been hit as hard as any other sector in the downturn and February's economic stimulus package, which included a total of $50 million for the arts, will not launch 
a wholesale rescue. Rhode Island's share — about $291,500 
allocated by the Rhode Island State Council on the Arts and another unknown pot of money that might be granted directly by the National Endowment for the Arts to nineteen eligible local entities — will not go far, concedes Randall Rosenbaum, RISCA's executive director.
"You want to give whatever limited resources you have to something that will actually make a difference. These grants will only preserve jobs for a limited pe-riod of time, so you want this job to be meaningful and maybe you've helped the organization stabilize itself, so it can survive beyond that limited time period," Rosenbaum says. "That's a tall order."
A recent briefing paper raised the alarm about the fate of some of the state's most august arts institutions. Nearly all of the city's nonprofits and mid-sized cultural organizations are suffering. 
And the report was peppered with grim 
predictions: "Contemporary dance and 
experimental theater are in jeopardy." "Nonprofits will die." A 2008 RISCA 
survey found that 72 percent of arts organizations saw a drop in contributions.
"It's very challenging out there," acknowledges Victoria Hutter, an NEA spokeswoman. "Arts organizations are both thinly capitalized and more sensitive to downturns. Their sources of income — earned income, grants from public organizations and foundation support — they are getting hit on all fronts 
in a dramatic way."
Faced with a 30 percent drop in its endowment, the Rhode Island School of Design is targeting a zero percent salary increase for all employees in the coming year's budget. Trinity Repertory Company discounted tickets to fill the house, laid off four staffers, and suspended its commissions of new plays.
For the Rhode Island Philharmonic Orchestra & Music School, the deteriorating economy is an all-hands-on-deck emergency. In the last twelve months, corporate giving was cut in half; its endowment is down by 30 percent, and the subscription renewal rate and ticket sales last fall noticeably weakened. The entire organization threw off whatever ballast was possible: Each board member pledged to donate an extra $2,000, some staffers cut their own hours, the unionized orchestra voted to accept a 6 percent pay cut. In some respects, says Executive Director David J. Beauchesne, the experience was positive. The crisis pulled everyone together. Still, by March, the Philharmonic was looking at "a very big hill to climb" before reaching the end of the fiscal year.
"We can't run a deficit," Beauchesne says. "When you perform a Beethoven symphony, you can't do it without a brass section. We have a cost structure that doesn't have a lot of flexibility in it and we have narrow sets of options for reducing expenses without harming our core mission."
The pain has not been felt equally.
AS220, Providence's twenty-four-year-old incubator for visual and performing artists, expects to meet the demands of its $1.5 million budget with a minimum of belt-tightening.
"We own real estate, we have commercial tenants, we have a bar, we rent studio space," says founder and Artistic Director Umberto Crenca. "We have a unique model, so it's tough to compare AS220 to a presenting organization. We have a lot of ways to earn income."
Bert Gallery owner Cathy Bert was surprised to find that the recession had actually motivated a third of her regular customers to buy more art.
"I have a very aggressive group who feel that this is an opportunity," she says. "People will put pieces on the art market that have never been available. I have people asking: Has anything else come in? Keep me in the loop."
For the rest of the public, art requires the hard sell. Providence's art, culture and tourism department has been feverishly holding strategy sessions with the arts and design communities on ways to work together to stimulate the culture sector. It was scheduled to release its Creative Providence plan to sustain that community this month.
"The mayor understands that cities are the future of the global economy," says Lynne McCormack, director. "For cities to thrive, they have to think creatively and that is why arts and culture have a seat at the table, along with public works. Our question now is: How do we move quickly enough to respond to what's happening?"
Providence has more than violinists' jobs at stake. Its restaurants and parking lots thrive on theater and concert goers. Trinity's theater education programs 
affect 60 percent of the state's schools, while the Philharmonic's music school cultivates the next crop of Perlmans. Artists have delivered a cachet to the city once famously insulted as a "smudge on the road" from New York to Cape Cod, and their presence is a veritable pitch 
for all those pricey, trendy loft spaces.
Artists argue that's too reductive a view.
"We are more than just the end product," says Trinity's artistic director Curt Columbus. "Everyone is focusing on the point-of-sale part, but it's not just about that — it's the process of it, the making 
of it, and the having it in the air that's vital."
RISD's new president John Maeda wants to make artists as ubiquitous as air. He envisions RISD graduates embedded in politics, manufacturing — any enterprise requiring creative capital.
"I have an optimistic view of what this population of artists can bring to the twenty-first century," he says. "These are people who are difficult to categorize as thinkers, and we need to re-contextualize them as thinkers, who can innovate and think around corners because that is 
the craft here."
The record is silent on the effect of the post office mural job on Ernest Baker's bottom line, but after the economy recovered, Baker went on to have a successful career as an illustrator for The New Yorker and Fortune magazines. As the current economy struggles to regain its footing, people who can bring coherence to random notes or make a thing 
of beauty entirely out of scraps belong 
in the plan.
Artists may have been starving for as long as there have been artists, but when they are impoverished, so are we.
Ellen Liberman is an award-winning 
journalist who has reported on politics and government affairs for television, public radio, newspapers and magazines for more than two decades.