The Purge 3 Filming Continues in Providence
Providence and Woonsocket will play Washington D.C. in the upcoming film to be released in July.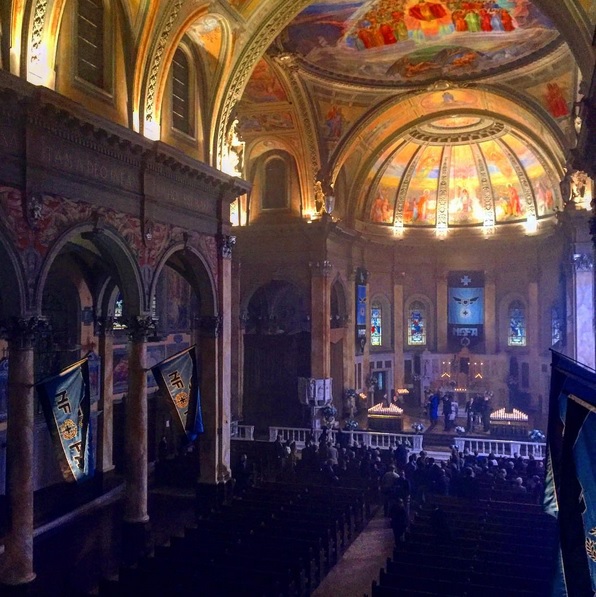 The Purge 3 is filming more scenes in Rhode Island since last Friday through today. The movie, created and directed by James DeMonaco, is set in Washington, D.C., and depicts a government-issued twelve-hour period each year during which all crime is legal.
Filming took place along Main Street in Woonsocket back in September, then continued this past Friday at Woonsocket's St. Ann's Art and Cultural Center, often called Rhode Island's own Sistine Chapel. Actor Frank Grillo posted an Instagram photo from inside the movie's nighttime filming.
Yesterday, The Purge 3 moved inside the Rhode Island Statehouse. According to the Rhode Island Film and TV Office, the areas to be pictured include the Speaker's Office, the Governor's State Room, the Capitol Rotunda and the State House basement. Production work in the State House was made possible through the collaborative efforts of the Rhode Island Film and TV Office, the Rhode Island State Council on the Arts, the Governor's Office, Speaker's Office and Senate President's Office, along with the Department of Administration, the Capitol Police, the City of Providence and the Purge 3 production. Scenes involving the use of fake weapons or action sequences were scheduled for after work hours.
Today, filming concludes on the Rhode Island College campus through 9 p.m. Three hundred extras, including RIC students, will appear in a town hall meeting scene. The Parking Lot A on campus will be closed from 4:30 through 9 p.m. Street parking on First Avenue in front of Sapinsley Hall will also be blocked off. Additionally, after 8 p.m. on Tuesday evening, the area in front of the fork in Cole Road (East Campus) will be closed.
If you hear of any other filming locations, please let RI Monthly know in the comments.